I'll never forget the first time I tried coconut water. I was at a brand event about 5 years ago and saw it offered in the selection of drinks. I had wanted to try it forever and now was my chance. I love sweetened flaked coconut and anything coconut flavored so of course I'm going to like coconut water, right?
Wrong, so wrong. It was all I could do not to spit it out. I thought maybe it was just an acquired taste so I tried a few more sips but nope.  I knew no amount of time was going to convince my taste buds that coconut water was delicious.
Fast forward two years and my dad thinking he was being thoughtful, bought an entire case of coconut water at our local warehouse club. He thought he would surprise me on my visit. He was so sure that since my husband and I love coconut and healthy drinks we must love coconut water. After I broke the news my parents tried it themselves and couldn't agree more with my assessment.
Coconut water tastes nothing like actual coconut. It may be "water" but has a very unusual taste.
Which is unfortunate because coconut water has some really great health benefits. But now I can enjoy these benefits in a new and delicious way with Welch's 100% Juice with Coconut Water!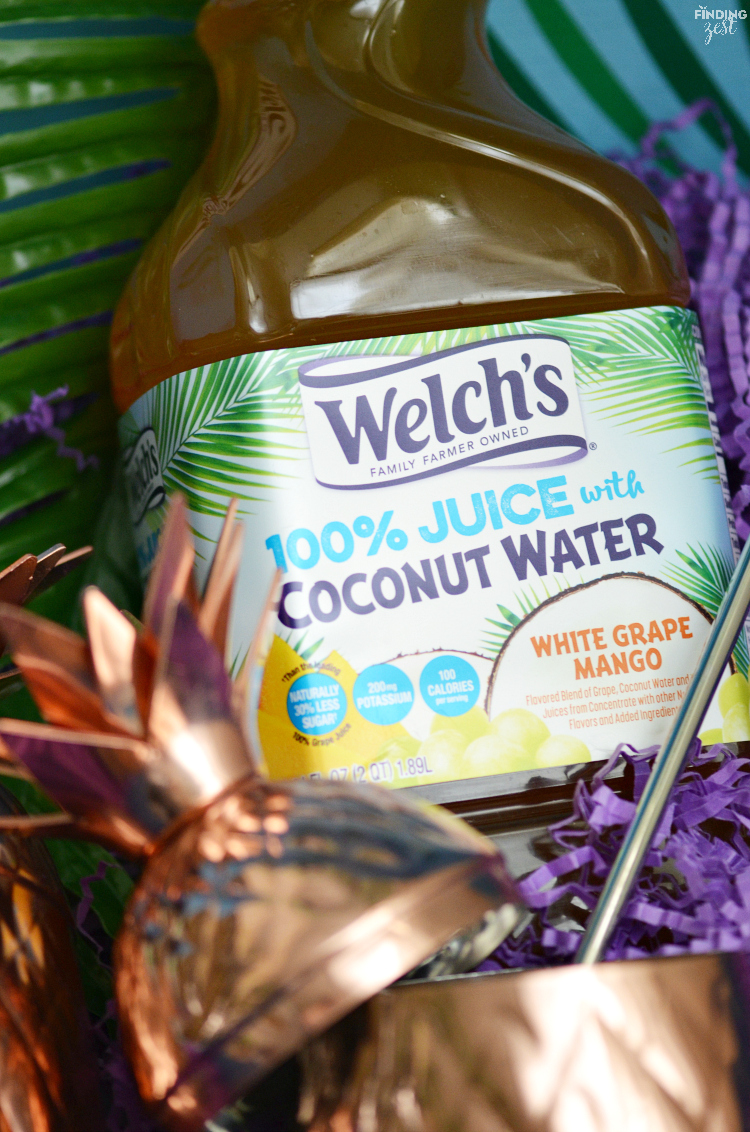 Now coconut water has been combined with all the awesome benefits of Welch's 100% juice. The Concord grape is a super fruit when it comes to heart health and with Welch's you get all the nutrition since they use the entire Concord grape, including skin and seeds!
Benefits of Welch's 100% Juice with Coconut Water
Naturally 30% less sugar
100 calories per serving
No added sweetener or sugar
No artificial flavors added
2 servings of fruit in every 8oz glass
Sounds pretty awesome, right?  I also received a fun package from Welch's last week. You can see my unboxing here:
Do I want to rejuvenate deliciously? Yes, please! Both Tropical Berry Grape and Welch's product page are right up my alley.
I couldn't wait to try out these fun pineapple moscow mule cup with straw and poured myself some of the Welch's 100% Juice with Coconut Water White Grape Mango variety.
The new Welch's 100% Juice with Coconut Water is the perfect addition to my morning routine. I do try to watch my juice intake to limit sugar and calories. Now I can feel better knowing I'm having a little less without a watered down taste.
I was able to purchase more at my local Walmart Supercenter which is good since my whole family enjoys it!
What are your thoughts on the new Welch's 100% Juice with Coconut Water? Have you tried it? 
To find out more about product benefit and and where to buy be sure to visit the Welch's product page!