Grape Pineapple Italian Ice
This post may contain affiliate links. Please read my Disclosure and Privacy Policy.

I love offering my family sweet treats that I can feel good about.  Italian ice is one of those snack options that are not only refreshing, but can be made with fresh fruit or juice and ice.  We made Strawberry Mango Italian Ice last spring and it was a hit with my family.  I wanted to try another flavor so last weekend I made this Grape Pineapple Italian Ice with my four year old.  It is so good and only requires three ingredients!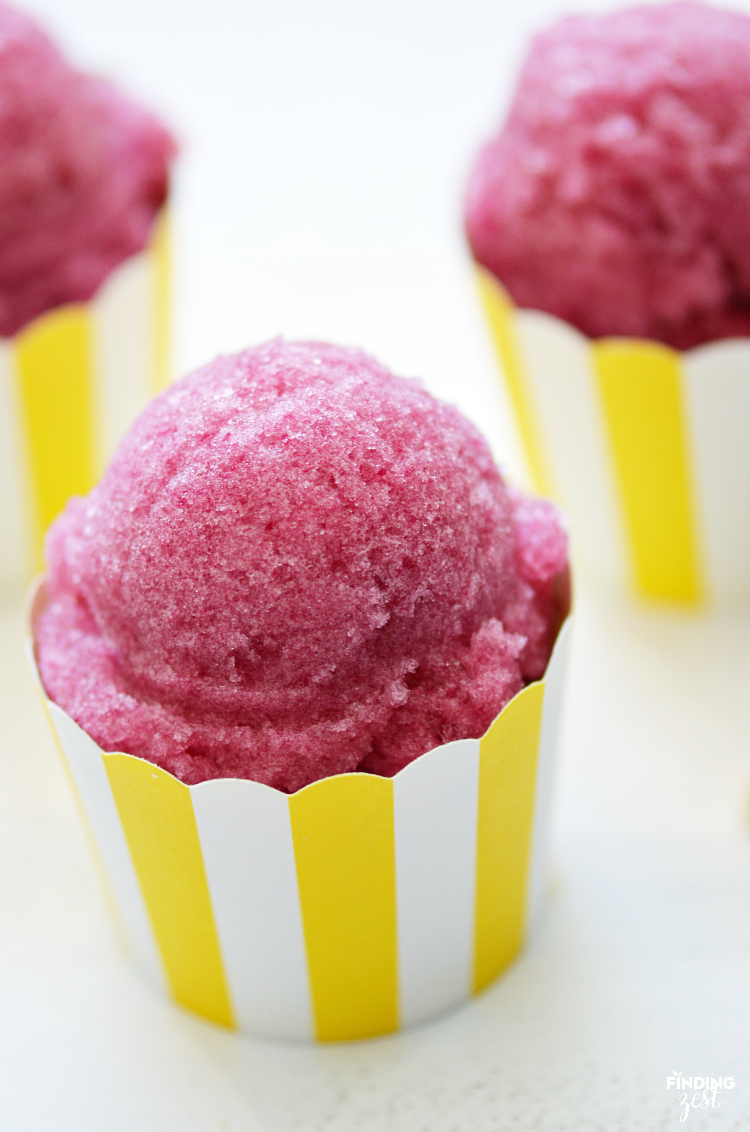 With  health benefits and no added sugar, this kid-friendly dessert is perfect to have on hand in your freezer.
For this recipe I used Welch's 100% Grape Juice. It is made by pressing whole Concord grapes (colorful skin, tiny seeds and flavor-packed pulp) to capture the grape's big taste and natural polyphenol goodness. That is not something I could easily do myself, so for this recipe it makes sense to use juice versus the fresh fruit to get the benefits.
Did you know?
Concord grapes are harvested and in season during just a few short weeks each fall, plus they don't travel well – so, it can be hard to find them in the grocery store. Research says that, thanks to the Concord grape, 100% grape juice helps support a healthy heart by promoting healthy circulation—which helps keep your blood pumping and energy flowing.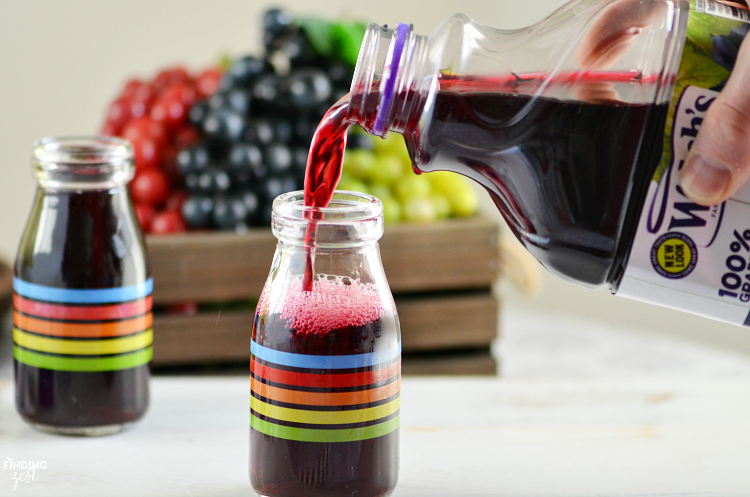 Each 4-oz. glass of Welch's 100% Grape Juice counts as one servings or 1/2 cup of fruit with no added sugar, color or flavor and an excellent source of the antioxidant vitamin C. Yum! I find that colorful glasses and straws make drinking juice even more fun for my family.
My little guy, Welsey, was more than happy to help me make this Grape Pineapple Italian Ice.
For this recipe you will want to use a very powerful blender to break through all the ice. We used our Ninja blender and it blended everything easily.
After about two hours in the fridge, you'll want to break up the mixture with a fork.
It took around 4 hours total to get the right consistency. You can also freeze it overnight, just be sure to take it out ahead of time to soften it up a bit.
With my 3 tablespoon scoop, I served ours up in this fun paper baking cups.
I also noticed that this recipe perfectly matches the colors for my football team, Minnesota Vikings! I'll have to make this again for our game day spread.
Grape Pineapple Italian Ice
Ingredients
2

cups

Welch's 100% Grape Juice

1/2

fresh pineapple

4

cups

ice
Instructions
Add all ingredients to blender, leaving out half of the ice.

Blend until ice broken up. Add remaining ice and blend until smooth.

Spread into ungreased 9"x 13" baking dish.

Freeze for 1/2 to 2 hours.

Break up mixture with fork.

Freeze again at least two hours or until completely frozen.

To serve, let sit at room temperature until you can scoop out ice.
You can also have fun using milk glasses, stickers and straws to dress up your juice. My kids would love receiving this 100% grape juice for their Valentine's Day breakfast!
Special Savings
Be sure to download this money saving coupon so you can save on Welch's 100% Grape Juice made with the Mighty Concord grape!  While it may be American Heart Month, this is a nutritious and delicious beverage to enjoy year round to help lead a heart-healthy lifestyle.