Ever wonder how food bloggers get inspired? For Mini Chef Mondays especially, I like to browse stores looking for items that catch my eye. Maybe it is a fruit that is now in season and on sale or perhaps a long time favorite that we haven't eaten for a while. For this week's recipe, it was these delightful gummy fangs at Target. For just under $3 you have a fun food prop that is awesome for Halloween. I thought what could I possibly make with them?  They don't sit flat so I couldn't just slap them on any treat.  I turned to my trusty marshmallows.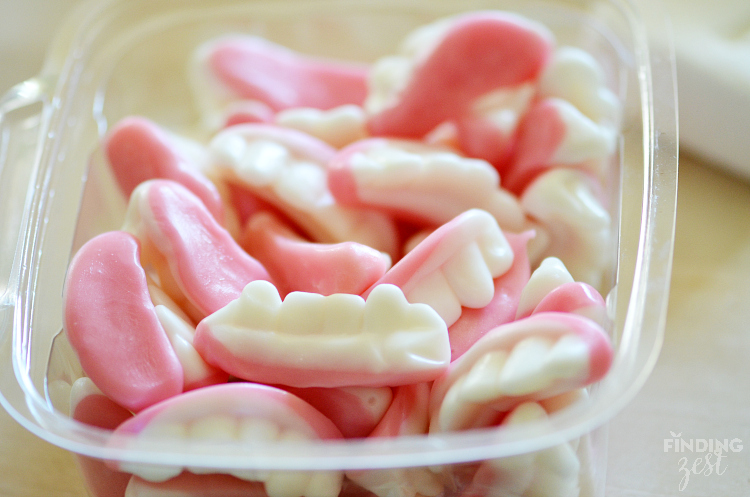 I know, I know. I probably post recipes with marshmallows a little too much. They certainly aren't a healthy treat for my kids, but I promise you, they are a special one.  And they are easy to work with because you don't have to actually make a treat to decorate. The are a clean slate. And so we got to work making some cute Halloween Vampire Marshmallows.
We used black Wilton candy melts to create hair on these flat s'more style marshmallows. Wes had fun applying it with a small silicone scraper. We used a toothpick to create a pointed hairline.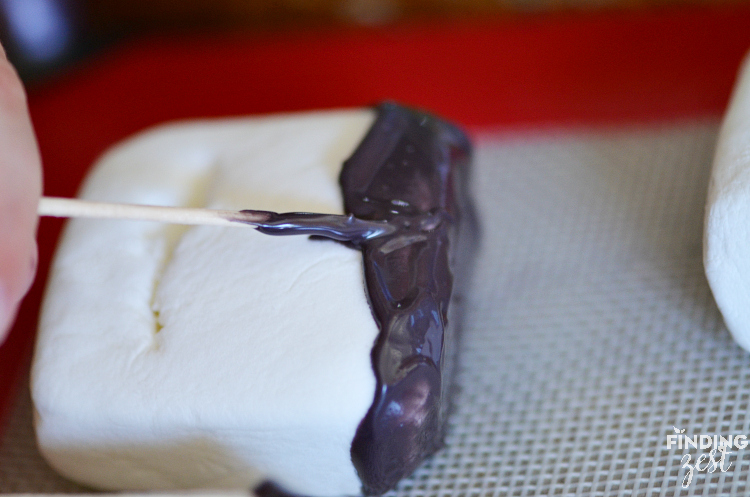 Wes also used a toothpick to apply some chocolate to the back of these red vein candy eyeballs.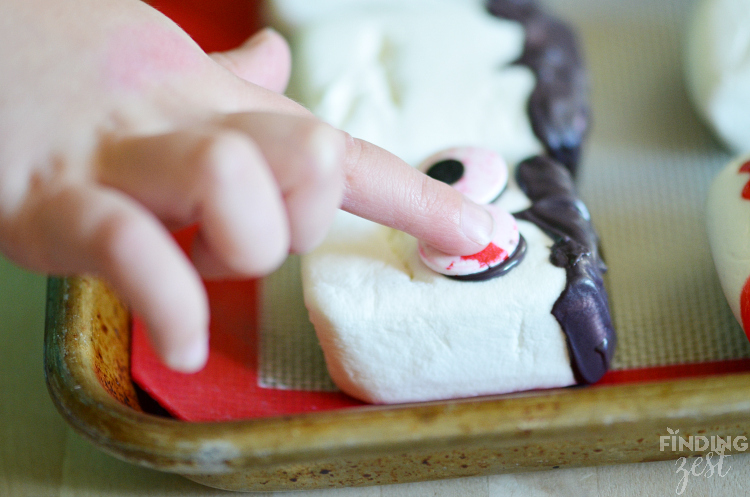 The fans are surprisingly easy to add just by slicing a pretty deep cut in the marshmallow. I did this step before we began and it definitely made it easier than trying to do it once the chocolate was on. We also played around with whether it was easier to add the eyes or fangs first.
Then it was time to add the sparkle gel blood because of course any good vampire has a little leftover blood on their fangs. Of course. Wes thought that part was so cool!
Silly, right?
We also made some vampire marshmallows with just the fangs. These can easily be made in just a few minutes  with no chocolate to dry!
My kids loved these!
Halloween Vampire Marshmallows
Ingredients
8 Kraft S'more Marshmallows
8 gummy fangs
½ cup black Wilton Candy Melts
16 candy eyes
red sparkle gel (blood)
Instructions
Cut a deep slit along marshmallow for the mouth, using the length of the gummy fangs as a guide.
Melt candy melts according to package instructions.
With small spatula, spread chocolate along top of marshmallow to resemble hair.
Place on lined baking sheet. With a toothpick, create a small point going down in the center of the hairline.
Gently spread slit in the marshmallow and insert gummy fangs.
Add small amount of chocolate to the back of the candy eyes and place two on each marshmallow.
Add sparkle gel to fangs for dripping "blood" effect.
Allow chocolate to dry completely before serving.
Store in airtight container.
If you are looking for more fun sweet Halloween treats, check out
TheBestDessertRecipes
. I love these
Chocolate Peanut Butter Spider Cookies
. Aren't they adorable?
What have you been up to with your mini chefs?
I am hosting Mini Chef Mondays along with 5 fabulous bloggers, find out more about the Mini Chef Mondays Team!
Join our facebook group to find even more recipes and share recipes too!
Get featured and follow us too!
Be sure to check out each of their Mini Chef posts as well!