Thank you to Scholastic for sponsoring this post. All thoughts are my own.
For the past two months I've been sharing information about the Scholastic Summer Reading Challenge. Reading is a big part of our daily lives and my kids thankfully don't need a lot of encouragement to read. Unfortunately that isn't the case for all kids. Whether your kids love reading or need a little prompting, The Scholastic Summer Reading Challenge makes it fun for all!  Now in its 9th year, the Scholastic Summer Reading Challenge is dedicated to stopping the "summer slide" by encouraging kids to read throughout the summer months when school is out. Every year they introduce a new challenge theme and this year it is "Power Up & Read," powered by ENERGIZER®.
How does it work?
Through September 4, 2015

, kids can log their reading minutes (online and via mobile) as they read to break last year's world record of 304,749,861 minutes.
Parents can sign-up their kids at www.scholastic.com/summer. It's FREE!
Kids can also enter monthly sweepstakes to win fabulous prizes, and earn digital rewards when they complete weekly reading challenges.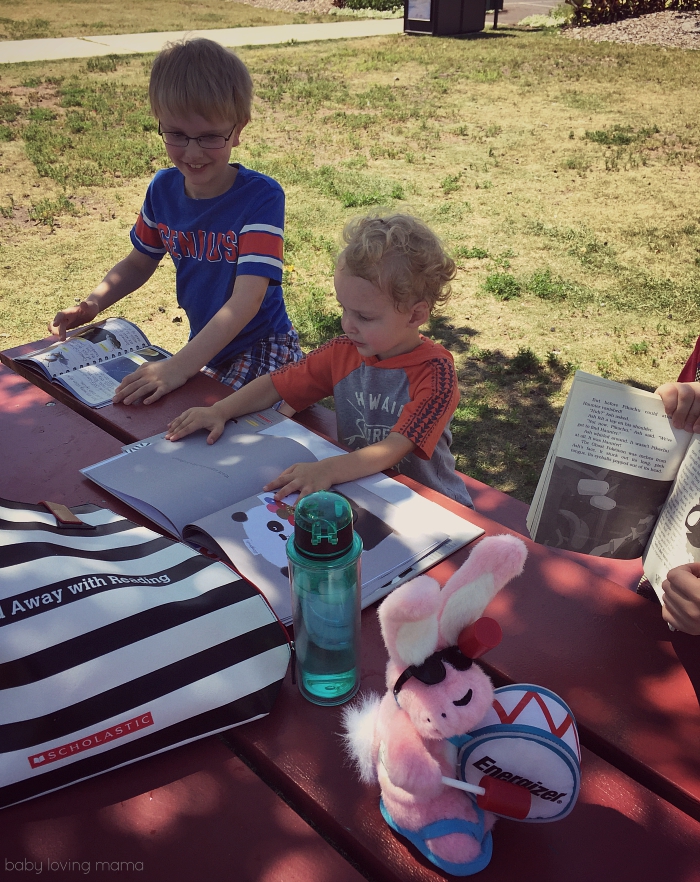 For the past three weeks my boys have been having fun reading with the ENERGIZER® Bunny. We've enjoyed reading outside in our newly built tree fort, at night with our Magic Bus Science Kit and in the shade at the park on a hot day!
Week 1: Reading Outside
Week 2: Night time Reading
Week 3: On the Go!
Offering a few new books and some out of the ordinary ways to enjoy them has really made reading extra fun this summer.

MONDAY MINUTES GOAL
In an effort to log as many minutes as possible through the Scholastic Summer Reading Challenge AND to break the world record for summer reading, Scholastic is setting special weekly goals for young readers. Every Monday we'll be announcing a #MondayMinutesGoal, the number of minutes for kids to read together in one week (by the following Monday). Whether your child or student is reading independently aloud or together with you, let's share their success and keep the momentum going! Here's how:
Have your child log his/her minutes on the SRC website or on a paper log/piece of paper
Take a picture of him/her proudly displaying their minutes
Share it on social using #MondayMinutesGoal and #SummerReading!
FIND OUT MORE:
I hope you'll join me by signing your child up for the Scholastic Summer Reading Challenge to encourage more reading this summer. Watch for one more post this summer sharing our journey with the reading challenge!
WIN IT:
One of my lucky readers will win the INNOVATION BOOK PACKET, a collection of Scholastic titles showcasing wonderful fiction and nonfiction books for kids to get lost in a great story about the world of science, STEM and inventions. The INNOVATION BOOK PACKET includes:The Magic School Bus and the Electric Field Trip
The Invention of Hugo Cabret
Extreme Science Careers
Extreme Experiment
Scholastic Summer Reading Challenge materials including reading logs, pledges, bookmarks, and more!
US addresses only, prizing provided by Scholastic.
a Rafflecopter giveaway