We've made it already to the fourth week of Mini Chef Mondays! Because I think helping in the kitchen is such a great learning experience for children of all ages,  I'm on a team of bloggers sharing new recipes that we've made with our kids. I do hope you'll link up with us this week! (See more information at the bottom of this post.) If you didn't catch my previous posts, we've already shared a Chocolate Chip Banana Cake, JELL-O Cranberry Cookies and Cherry Banana Smoothies. This week we decided to make some Homemade Berry Granola.
Homemade granola is not something new in our house. The taste of fresh granola just can't be beat! It is also a great opportunity for kids to play a part in choosing what ingredients you include in your granola or ways in which to enjoy the granola when it is finished!

This recipe has plenty of opportunity for children to measure, stir, whisk and pour.
My middle son saw us working and decided to come and help as well. It is a great group activity.
We really enjoy adding nuts and additional dried fruit to our granola.  It adds some additional flavor but also color and texture as well. We picked up this organic Super Berry Fusion variety from our local Target.
I wasn't able to take too many photos of our finished product before little hands kept trying to sneak some granola. 

I had to actually stop by three and seven year old from eating it because they could have kept going. It really is that good!

Homemade Berry Granola
Ingredients
3 cups old-fashioned oats
½ cup chopped walnuts
½ cup shredded coconut
1 tablespoon orange zest
½ teaspoon cinnamon
¼ teaspoon kosher salt
¼ cup coconut oil, melted (canola oil or melted butter can be substituted)
3 tablespoons real honey
3 tablespoons real maple syrup
1 teaspoon pure vanilla extract
½ cup chopped dried berry fruit mix (dried cranberries, cherries, blueberries and raspberries)
Instructions
Preheat oven to 325 degrees F, making sure your racks are in the center of your oven.
In a large bowl mix oats, walnuts, orange zest, coconut, cinnamon and salt together. Set aside.
In medium bowl whisk coconut oil, honey, maple syrup and vanilla until combined. Pour over oat mixture.
Place the granola on a sheet tray with sides lined with parchment paper, silicone baking mat or sprayed with cooking spray Spread out evenly.
Bake for 15 minutes, stopping halfway through to stir granola and flatten again for even cooking. Once removed from oven, immediately place granola in a bowl.
Toss in dried berries. Cool before serving.
Store in airtight container for up to 2 weeks.
Serve this homemade berry granola for breakfast either with milk or as nice topping for your yogurt. It also makes a great snack just to munch on!
This week I'm featuring Smarty Pants Mama and her Baked Apple Chimichanga Recipe! Doesn't it look amazing?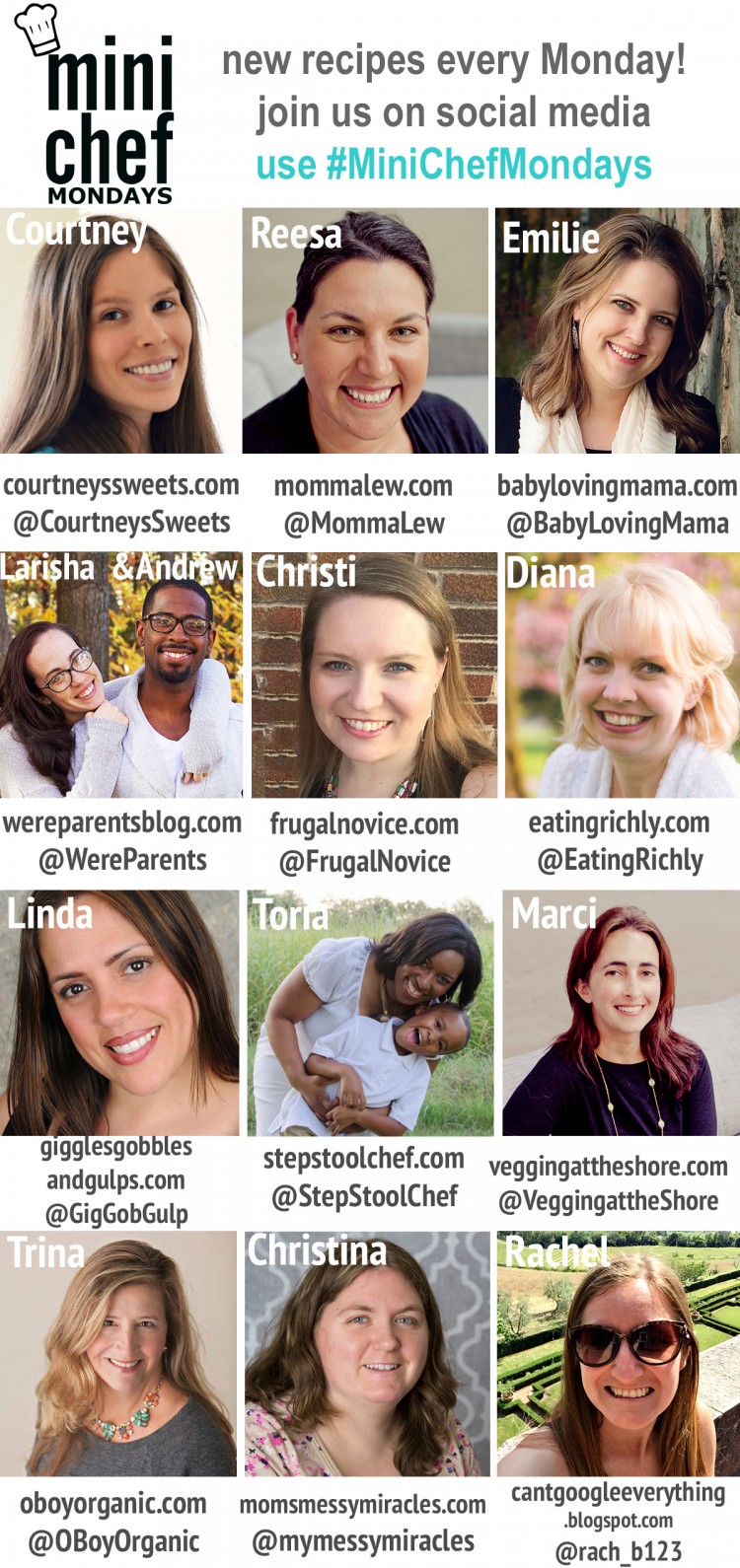 I am hosting Mini Chef Mondays along with 11 fabulous bloggers!
Be sure to check out each of their Mini Chef posts as well. We would love it if you would share your Mini Chef posts with us each week, too! Follow along socially and join in on the fun by using our hashtag #MiniChefMondays to share creations your mini chef created in the kitchen. Additionally, if you have a kid-friendly recipe that kids can easily recreate link up! Don't have a blog? Share the URL of your instagram photo in our linky below.