'Tis the season for making a list and checking it twice. ThinkFun asked me to share a few of their newest, award-winning games for your list this year. These games are geared for kids starting at ages 6 or 8 but can be enjoyed by the older kids or adults in your family as well. We're a big fan of ThinkFun for any gift-giving and our own shelves are filled with their games. I'm always excited to see their newest releases.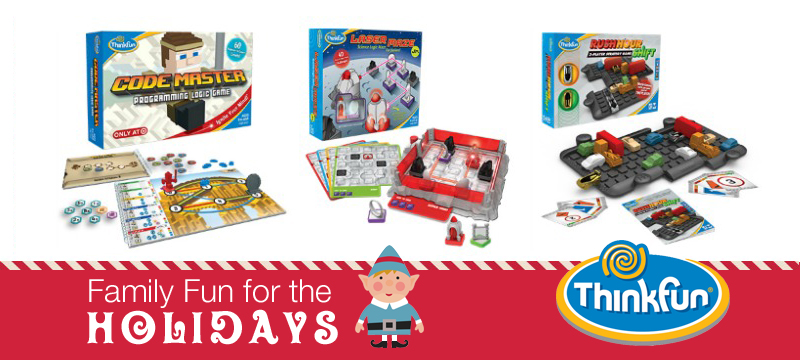 Be sure to watch the video accompanying each game description below to get a sneak peak into the newest award-winning games from ThinkFun.
Do you have a child interested in coding? Check out Code Master for hands-on puzzle fun while learning computer programming.
Parents Love to Buy It + Kids Love to Play It = Surprise Holiday Gem 
Code Master– Just launched in August, Code Master is a new puzzle board game that takes kids on the ultimate coding adventure.  The big brother to Robot Turtles, Code Master is easy enough for any kid to play, but challenging to master. Albeit a single-player game, friends can collaborate to solve the puzzles while learning coding logic and computer programming.
BUY IT:  MSRP 19.99. Available exclusively at Target.  (Ages 8+).
Does your family love the traditional ThinkFun Laser Maze? They've recently released a version for the younger kids on your list.
Real Lasers + Kids = Coolest Game Ever
Laser Maze™ Jr.– Your mission: Expertly transport the laser beam to the rockets so that it can safely return to earth! Younger players can now experience the fun of the award-winning game Laser Maze with an age-appropriate design and challenge for grade school children with real lasers.
BUY IT:  MSRP 29.99. Available at Amazon and neighborhood toy stores.  (Age 6+)
Encourage time played together with ThinkFun's Rush Hour Shift, a variation of their best-selling logic game.
Rush Hour for 2 Players + Moveable Board = Perfect 4 Kids
Rush Hour® Shift– The best-selling sliding block logic game is now available for two players! Every move counts in this race as you strategically plot to move your car and cross grid-lock traffic before your opponent. The potential moves are endless and the shifting Traffic Grid and Instruction Cards add a whole new dimension to play.
BUY IT: MSRP 24.99. Available at Amazon and neighborhood toy stores. (Ages 8+)
Of course you could also consider ThinkFun's new interactive music composition game, Compose Yourself, for the music lover in the family. Be sure to check out my full review here.
Do you like these gift ideas from ThinkFun? Feel free to share with a pin of the image below!
Disclosure: I received a sample of these ThinkFun games however all thoughts and opinions are my own.