This homemade chili recipe post is sponsored by Conagra, but opinions expressed are my own. 
Homemade chili with turkey is an easy dinner option on busy nights! Prepare this hearty meal quickly and let it simmer on your stove and fill your kitchen with a wonderful aroma. Your whole family with love this healthy dinner featuring Hunt's Diced Tomatoes and Rotel Original Diced Tomatoes & Green Chilies. Eating healthier doesn't mean you have to sacrifice on taste. This turkey chili recipe is loaded with flavor!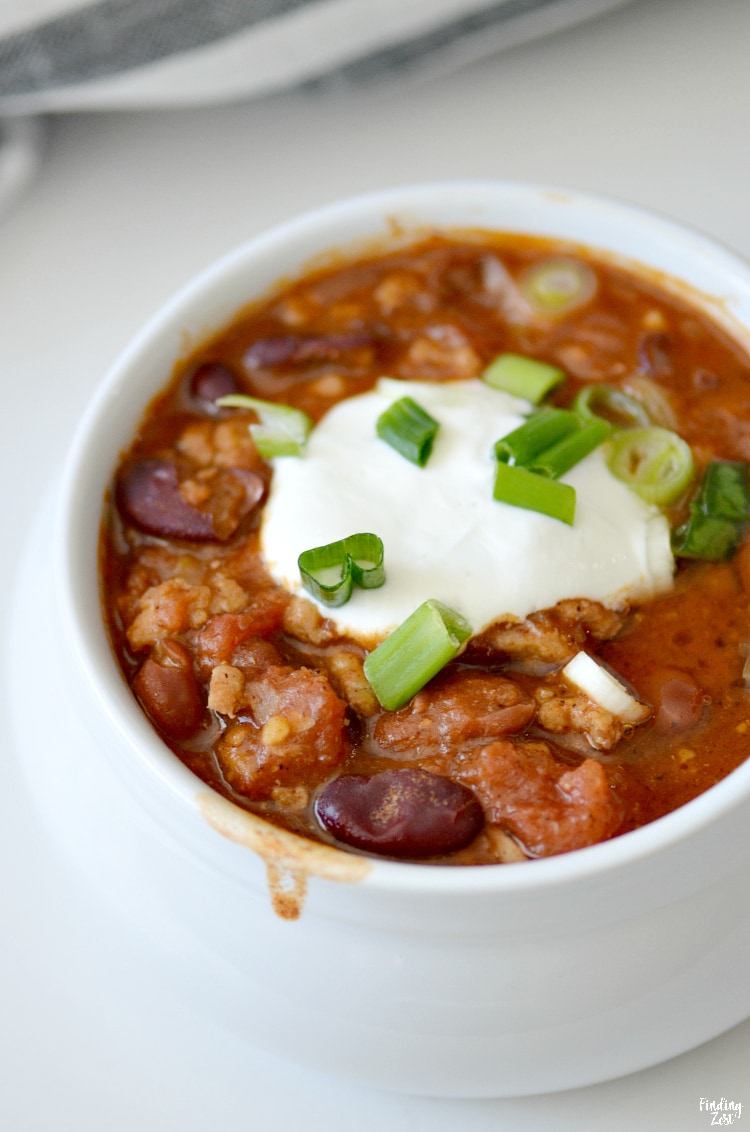 Homemade chili is really the best. If you are like me and love a chili loaded with beans and vegetables, it is naturally a pretty healthy dish. If you replace the usual hamburger with ground turkey you can make it even healthier! For toppings, skip the cheese or sour cream and instead opt for a protein-packed plain Greek yogurt and some chopped green onion.
Homemade Chili Ingredients
To make this healthy chili recipe, you'll need the following ingredients:
ground turkey
olive oil
onion
green pepper
light kidney beans
dark kidney beans
chicken broth (or water)
minced garlic
chili powder
paprika
dried oregano
ground cumin
ground cayenne pepper
salt
pepper
Walmart Grocery Pickup
Have you tried Walmart Online Grocery Pickup yet? I was thrilled when they finally brought this service to my area last year and it has become my new favorite way to shop!  Now I fill my Walmart online grocery cart at home while I plan my menu each week. I reserve my preferred one-hour window pick up time and let Walmart do all my shopping for me! They even fill my vehicle with my groceries. I love that they offer substitutions if any items are out of stock and I can choose to accept them or cancel the item. It is such a time saver and absolutely free. All you need is a $35 order to take advantage of this amazing service.
Check Your Ingredients
When choosing your chili ingredients, you'll want to make sure you check the labels.
Ground turkey is a great alternative to beef with less saturated fat. I chose a 93% lean variety. In a recipe like this with a lot of flavor being added, you can hardly tell the difference.
Kidney beans are a super healthy choice as long as you are choosing beans with nothing added.  I like to include a can of both light and dark red kidney beans to up the protein in my chili and add color contrast.
Chili isn't the same without tomatoes. I like to use Hunt's Tomatoes because they are high quality and 100% natural, with no artificial preservatives. Hunt's doesn't use sugar, corn syrup, or other sweeteners in its canned tomatoes and they have only 30 calories per serving.
Rotel Original Diced Tomatoes & Green Chilies are an awesome way to add a ton of flavor easily with just one can and 25 calories per serving!  Did you know that this product is made from vine-ripened tomatoes, zesty green chilies, and a mix of spices to give that special taste? Keep a can on hand to kick your recipes up a notch!
How to Make Turkey Chili
This healthy turkey chili recipe comes together in a snap. You'll want to start by sautéing your onion, green pepper and garlic in a little olive oil. Once your onions are translucent, add in your ground turkey and cook until no longer pink.
Next, add in your light and dark red kidney beans, Hunt's Diced Tomatoes, Rotel Orignal Diced Tomatoes with Chilis, chicken broth and all the spices. If you don't have chicken broth you can substitute water, but I love the flavor it adds!
Stir and simmer on your stove. You'll notice that the consistency is thin, but that is ok! We will thicken the chili with just a simple step.
How to Thicken Chili
Chili is meant to be thick and hearty so it is critical to thicken your chili, otherwise, it will taste a lot like taco soup. There are multiple ways to do this, but I like to lightly mash the ingredients down halfway through the cooking process.  By pressing down on your chili ingredients with a potato masher, you release starches from the beans and vegetables which will naturally thicken the chili.  You can also add other ingredients like cornmeal or tortillas, but I'm not a fan of the way in which they change the texture of the chili.  As your chili continues to simmer after it has been lightly smashed, it will continue to thicken.
After your turkey chili has had a chance to simmer for at least 30 minutes,  it is ready to eat!
Turkey Chili Recipe Video
This recipe comes together so easily! See how to make this recipe step-by-step in this turkey chili video.
How to Garnish Homemade Chili
There are so many delightful ways to garnish your chili.  Cheese and sour cream are a personal favorite but I've discovered that a dollop of plain Greek yogurt is just as good! I honestly can't tell the difference in recipes and it is a good way to add protein with no fat with the same great taste of sour cream. I love green onion and it adds more flavor, crunch and some color to the top of this chili. Jalapeños would also be a healthy and delicious choice.
How Hot is this Chili Recipe?
While my husband loves hot and spicy foods, I kept this recipe more mild to medium in heat intensity. If you like spicier foods you can kick it up a notch by adding additional ground cayenne pepper or using Rotel Hot Diced Tomatoes with Chilis.
You'll find that this chili gets even better as it sits. While I really enjoyed it right off the stove, I found the leftovers to be even more flavorful. This recipe is a new favorite!
Homemade Chili with Turkey
Homemade chili with turkey is a healthy dinner that your whole family will love!  This one-pot meal is hearty and loaded with flavor. Give it a try on a busy weeknight and fight over the leftovers!
Ingredients
1

pound

ground turkey

2

teaspoons

olive oil

1

medium onion

diced

1

medium green pepper

diced

2

cups

chicken broth

(or water)

1

14.5 oz can

Hunt's Diced Tomatoes

1

10 oz can

Rotel Original Diced Tomatoes with Chilis

1

16 oz can

dark red kidney beans

(drained and rinsed)

1

16 oz can

light red kidney beans

(drained and rinsed)

1

tablespoon

minced garlic

1 1/2 

tablespoons

chili powder

1/2

teaspoon

paprika

1/2

teaspoon

dried oregano

1/2

teaspoon

ground cumin

1/8

teaspoon

ground cayenne pepper

1/2

teaspoon

salt

1/2

teaspoon

ground black pepper

plain Greek yogurt

optional

sliced green onion

optional
Instructions
Heat oil in a large pot over medium heat.

Sauté onions, green pepper and garlic until tender.

Place turkey in the pot, and cook until evenly brown.

Add broth, tomatoes, kidney beans and all spices. Bring to a boil.

Reduce heat to low, cover, and simmer 15 minutes.

Using a potato masher, gently mash ingredients to break up the vegetables and beans. (Doing so will help the chili to thicken)

Simmer an additional 15 minutes.

Top with plain Greek yogurt and sliced onion before serving, if desired.
Recipe Notes
Chili will thicken as it sits. Store leftovers in an airtight container in the refrigerator. 
More Easy Chili Recipes
Be sure to visit Chili Time to view more quick and easy chili recipes like this turkey chili. Don't forget to take advantage of Walmart Online Grocery Pickup to make it even easier to get all your chili-recipe ingredients including Hunt's and Rotel!