Air fryer tilapia is the fish dinner you didn't know you were missing! Featuring just a few ingredients, this tilapia recipe without breading is a healthy dinner idea that can be ready to eat in under 15 minutes. Fresh tilapia, Garlic, herbs, oil and salt and pepper is all you need for a flavorful fish recipe the whole family will love!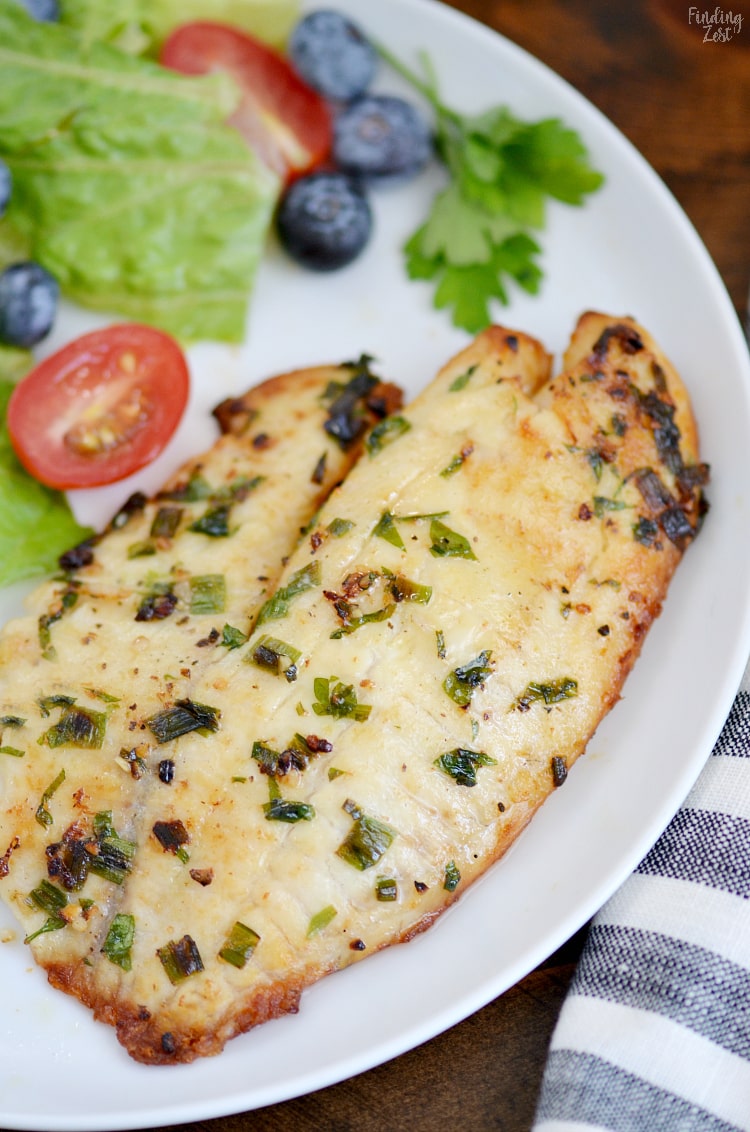 This tilapia recipe is low carb, gluten-free, Whole30 and paleo compliant. While it is healthy you won't feel like you are missing out on any flavor, even though this is a fish recipe without breading. Tilapia is my favorite fish which is why I also have a lemon pepper tilapia dinner on a sheet pan, and broiled tilapia, both of which are also Whole30 and Paleo compliant and naturally gluten-free!
Air Fryer Tilapia Ingredients
To make this tilapia in the air fryer, you'll need the following ingredients:
fresh tilapia filets
olive oil
fresh chives
fresh parsley
minced garlic
salt
pepper
That is it! With just a few simple ingredients you can have a healthy fish dinner ready in 15 minutes.
How to make tilapia in the air fryer
Air fryer tilapia is a ridiculously easy and healthy recipe that will become your new weeknight favorite! To make it, you'll start by patting dry your fresh tilapia fillets. You can also use frozen tilapia that has been thawed, but I've found that fresh tilapia is by far the best. (I like to buy mine in bulk from the fresh seafood case my local Sam's Club.)
In a small bowl, stir together olive oil, chopped fresh chives, chopped fresh parsley, minced garlic along with salt and pepper (to taste). Brush over your tilapia with pastry brush.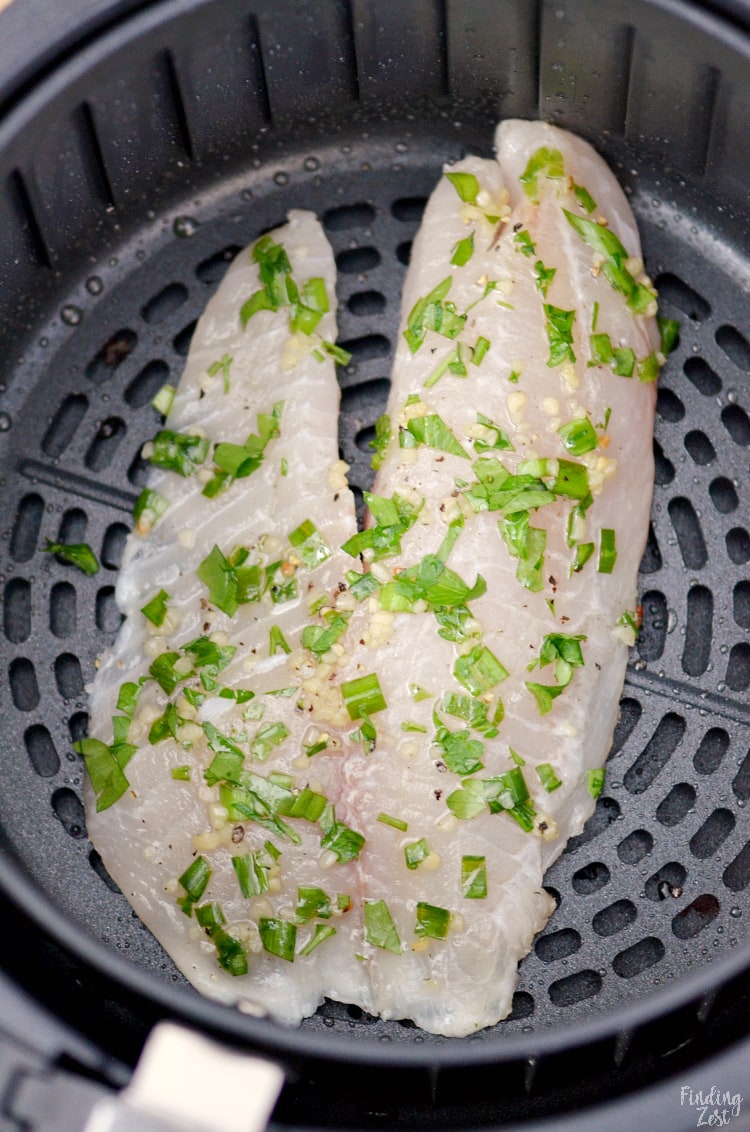 In a preheated air fryer, spray cooking spray or brush a little olive oil over your air fryer basket before placing your fillets inside. I have a 4 quart Habor Air Fryer. Since the basket is smaller, I only cook one or two fillets at a time. You do not want to stack your fish when cooking. So if you have smaller tilapia fillets or, a larger air fryer, you can make more at once.
How long to cook tilapia in the air fryer?
Exactly how long to cook your tilapia will depend on several factors like size of fillets, temperature and how many you cook at once. I am using a 4 quart air fryer and it took approximately 9 minutes for one fillet and 10 minutes for two fillets in a preheated air fryer at 400 degrees F. I have only tested this recipe with one or two larger fillets at a time. I recommend not over packing your air fryer when cooking this recipe for the best results. You'll want to make sure you go long enough to get your fish a golden brown color and so that your tilapia flakes easy with a fork and is opaque (no longer translucent).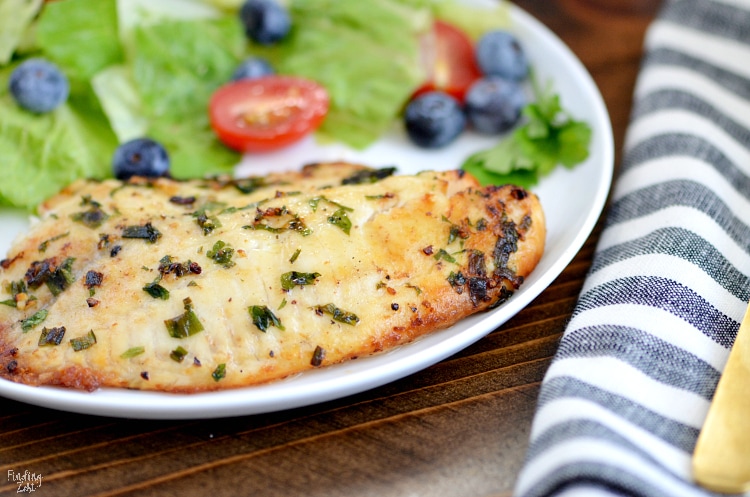 Do you need to flip over fish in air fryer?
While it is typically a good idea to turn or shake the basket for even browning in an air fryer, it is not necessary for this tilapia recipe. I tried it both ways and they were equally delicious. With larger pieces of tilapia, it is nearly impossible to turn over your fish without breaking it unless you cut your fillets into smaller portions. You'll still get gorgeous browning, even if you skip that step.
This recipe results in flavorful fish that is flaky and a beautiful golden brown. My whole family loved it!
Air Fryer Tilapia
Air fryer tilapia is super easy and healthy with just a few ingredients. Get golden brown and flaky fish every time by cooking your tilapia in the air fryer. You won't believe the results!


Ingredients
2

fresh tilapia filets

approximately 6 oz each

2

teaspoons

olive oil

2

teaspoons

fresh chives

chopped

2

teaspoons

fresh parsley

chopped

1

teaspoon

minced garlic

freshly ground pepper

to taste

salt

to taste
Instructions
Preheat air fryer to 400 degrees

Pat fresh tilapia fillets dry with paper towel.

In small bowl, stir together olive oil, chives, parsley, garlic, salt and pepper.

Brush over top of tilapia fillets.

Brush a little olive oil over bottom of basket or spray with cooking spray.

Cook for 8 to 10 minutes or until fish flakes easily with a fork and is no longer translucent.
Recipe Notes
Do not overlap tilapia in basket. 
Turning fish over half way is not necessary and may break apart your fish.
Oven instructions: Broil until fish easily flakes with a fork and the top golden brown. Approximately 6 to 8 minutes.
What to Serve with Fish
This tilapia pairs well with a variety of options. I like to pair it with easy side dishes like this tomato salad, biscuits, rice, sauteed asparagus, or instant pot green beans. Makes for a great weeknight meal or lunch option. I found it does heat up well for leftovers if you like to meal plan.
I hope you give this recipe a try and let me know what you think!