One of the most popular ways to serve ice cream currently is with a dipped cone. If you've ever wondered how to make chocolate dipped cones, you might be surprised just how easy they are to make yourself in just a few minutes.  While you can buy them already dipped, they taste even better if you make them. Plus, you can take your dipped waffle cone to the next level by adding colorful sprinkles to your ice cream cone. And who doesn't love that?
This post is sponsored by Kemps but the content and opinions expressed here are my own.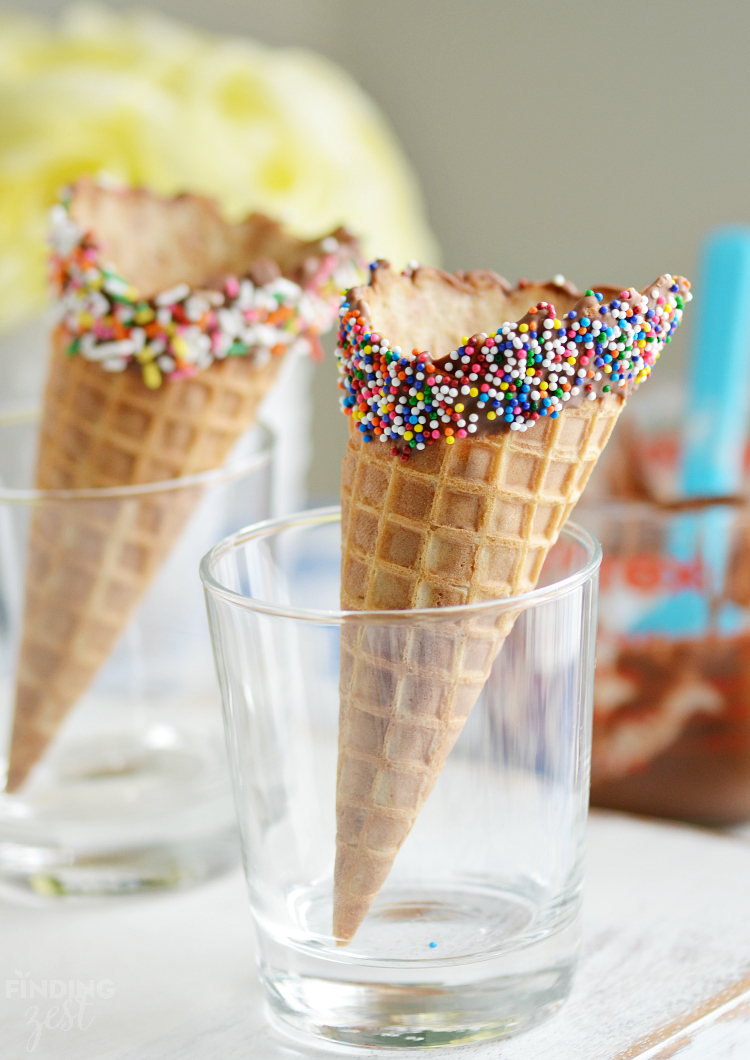 To make them, you simply need some chocolate chips, cones, sprinkles, a small rubber scraper and a sort glass to dry them.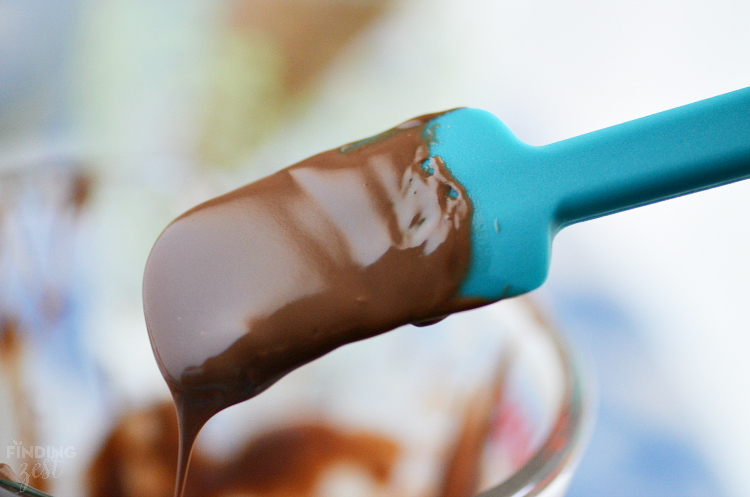 I like to paint the chocolate on the cone upside down with the rubber scraper rather than actually dip them so I can control exactly where the chocolate goes.  The short glass works great for waffle cones so they can have a chance to dry. If you are using traditional cones you can skip the glass altogether.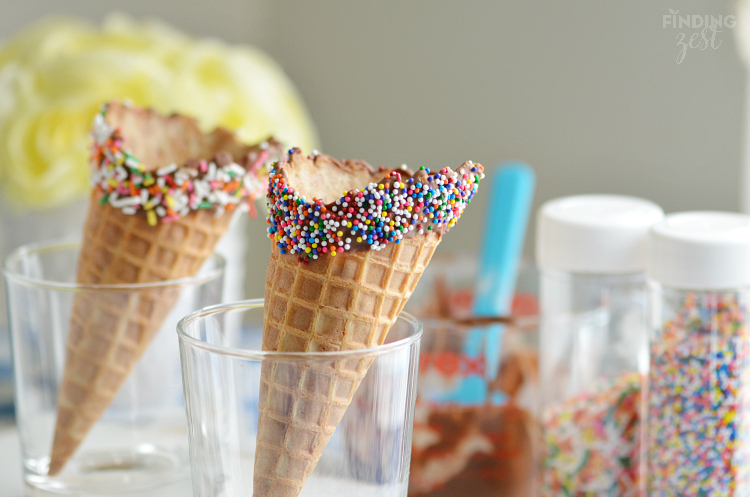 How to Make Chocolate Dipped Cones
Ingredients
6 waffle cones
¼ cup chocolate chips
½ teaspoon vegetable oil (optional)
assorted sprinkles
Instructions
Melt chocolate in microwave, just until melted, stirring often.
Stir in oil (if desired) to create an extra smooth consistency.
Tilting cone down slightly, paint melted chocolate all around the edge with a small rubber scraper.
Immediately sprinkle your favorite sprinkles over the chocolate.
Place cone in short glass to dry.
Store in airtight container if not serving immediately after chocolate is set.
Once I was finished with our cones, I knew just what
ice cream
I wanted to serve in them.
Kemps Cherry Fudge Chunk has been a family favorite for years. I actually shared my thoughts on Instagram when I discovered the flavor several years ago.
And since anything caramel is loved as well, I decided to try the Kemps Caramel Cow Tracks.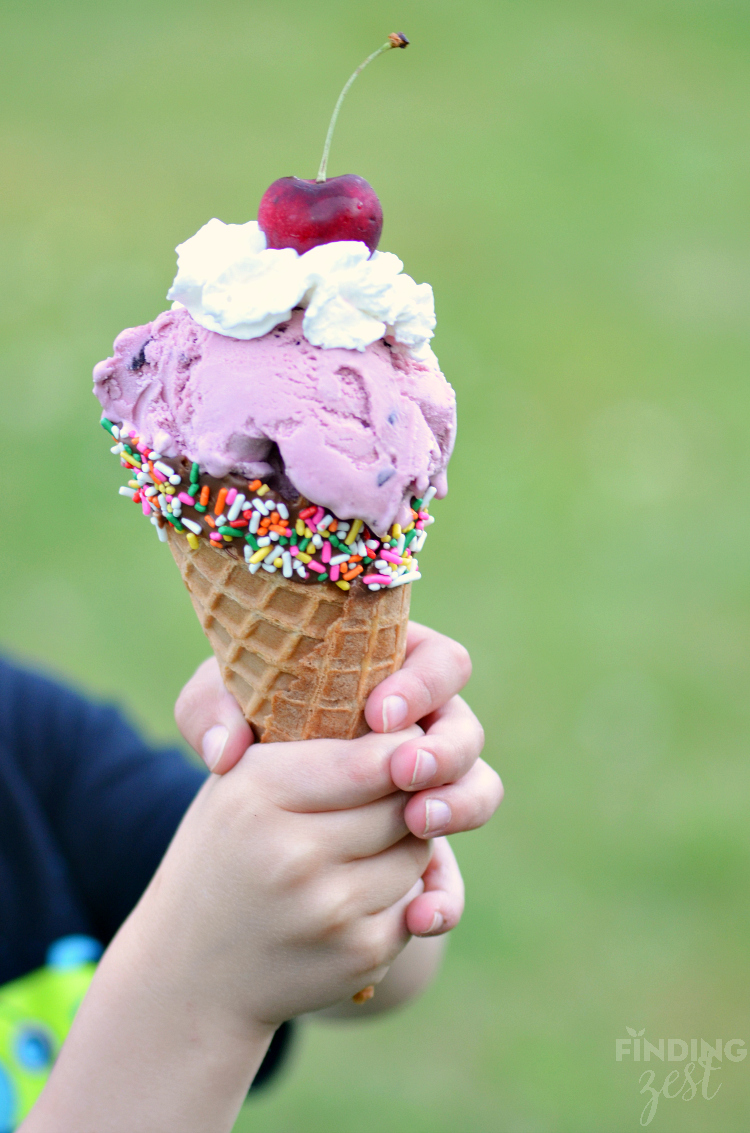 I surprised my youngest cherry ice cream lover with a dollop of whipped cream and a cherry along with the chocolate dipped cone with sprinkles. You should have seen the look on his face when he saw first saw his dessert.  It was huge for such a little guy, but I helped him to finish it all.
My two oldest boys really wanted to try out the Caramel Cow Tracks.
While they loved the ribbons of caramel, they especially loved the cow chocolates filled with a caramel surprise.
Yum!
Now we have another regular to add to our favorite ice cream list. We had so much fun sitting outside enjoying our ice cream on a hot day while the sun was going down.
Since July is National Ice Cream Month, it is the perfect time to celebrate with these special chocolate dipped cones with sprinkles. If you happen to live in Minnesota or Wisconsin, you can also fill your dipped cones with one of Kemps' 40 delicious ice cream flavors. With so many to choose from, you can definitely find one that your family will love. Surprise them with special cones and enjoy your quality family time this summer!
How would you like to try these ice cream flavors yourself?
Giveaway:
UPDATE: GIVEAWAY IS CLOSED. WINNER IS NONA C.
If you live in an area that sells Kemps products, I've got five $5 coupons totaling $25 for Kemps ice cream to give away to one lucky winner!
Coupons are redeemable at any store carrying Kemps Ice Cream products. Expiration date is 12/31/17.
HOW TO ENTER:
Visit Kemps to learn more about the product offerings, then return here to leave a comment about the flavor (or flavors, it is hard to pick just one) you'd most love to try!
Giveaway ends 11:59 CST on July 21, 2016.
U.S. residents 18+ only. The winner will be drawn randomly and will have 72 hours to respond to winning notification email before I draw another winner. Limit one entry per person, per household.