If you have ever had the pleasure of viewing a bulb garden, or even a field of flowers that is covered in hundreds of bulbs, you can understand why creating a garden that is filled with hundreds of bulbs might be a gardener's personal goal. Planting bulbs for the spring can become a labor intensive project depending on the number of bulbs you have and how prepared the garden is in advance. By the time you get to that last bulb you are grateful that the job is done and wondering why you ever bought so many varieties in the first place.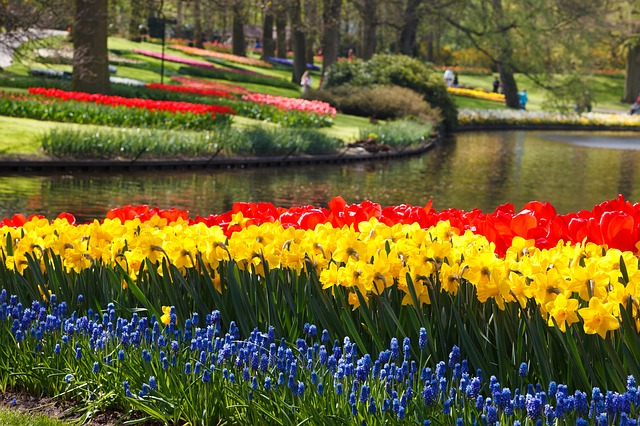 When you want to create a massive bulb garden or are just interested in planting your bulbs as quickly and easily as possible, there is a better way to get the job done.
Start With a Non Bed
Rather than starting with an already prepped and ready to go garden bed, you want to hold off and begin from the beginning. In order to get the bulbs in quickly, skipping a lot of the labor of digging and going bulb by bulb, you are going to need a bed that is not complete and filled in already. Do not fill your garden bed with compost rich soil, rather, leave the garden bed depressed or unfilled, and if you are planting outside a bed, look for an area that is not level with the surrounding soil and could do with some filling in.
Decide On Your Bulb Layout
You can do this project with a single type of bulb, or several different varieties. However you want the bulbs to be laid out though is important and needs to be determined at this point. If you want squares, rows or no pattern at all, use a natural, safe substance to mark out areas in the ground where you want specific bulbs to be placed. Once you begin planting, these lines will be your guide to making sure that bulbs of the same type are all where they should be.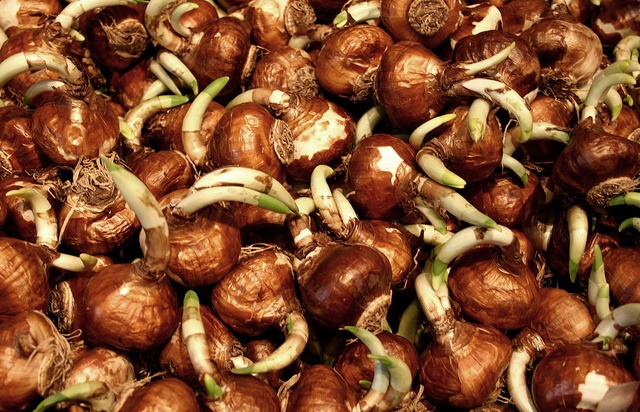 Place Your Bulbs
Rather than digging up holes for each bulb to be added to the soil, set your bulbs on the ground, facing up, and then move onto the next. Place the bulbs as close or far apart as you would do if you were actually digging them their own hole. Remember that the roots go facing the ground. If you are working with different colored bulbs of the same type of flower, think about patterns or just scatter them for a random, natural look. Place bulbs over the entire area until you are out, a few hundred can take you a couple hours, but it is a fraction of the time it would take to plant them the traditional way.
Fill In Your Bed
Once all the bulbs have been added to the garden, fill in the bed with good topsoil that has organic matter mixed into it. It is important that you use soil that is going to feed the bulbs, especially if you want to leave the bulbs in place for next year– which is entirely possible. FIll in the bed until it is level, and if you are planting in a depressed area outside of a bed, fill in until it is flush with the surrounding soil.
Not Sure When to Plant in Spring?
If you are planning to  plant your bulbs in spring, but aren't sure about the best times to plant, check out this handy Spring Planted Bulbs Guide.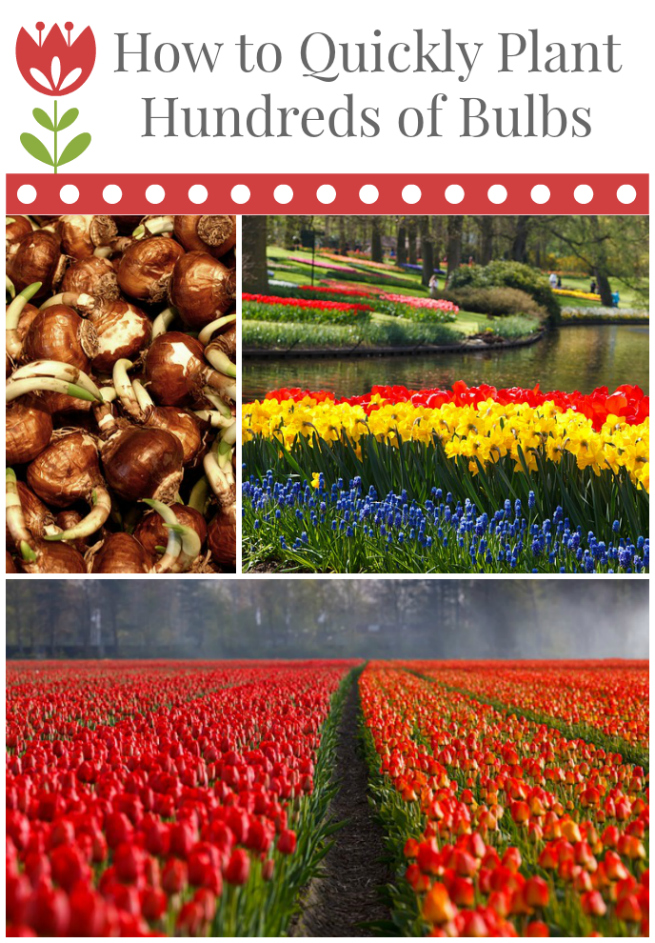 Special thanks to Sophie Sanchez for sharing her gardening knowledge with this guest post!  Photos courtesy of pixabay.com.