I  was recently introduced to the Lilliputiens line, exclusively distributed in the US by HABA, which features adorable plush toys that go way beyond being simply a stuffed animal or doll. I received a sample of this adorable Wolf Handpuppet and the Three Little Pigs set from the line. Isn't it adorable?
Lilliputiens is based in Belgium and its toys are made by hand with care in Asia. The toys, patterns, fabrics, characters, are all 100% its own creations, designed by a team of five young and trend-conscious moms who ensure that in a world full of little wonders, every toy has its own fun story. Lilliputiens' numerous mascots each have their own magical universe. Soft materials and disarming characters engender trust, while the many shapes, colors and noises will continuously challenge a child's inquisitive spirit. Designs and fabulous fabrics necessitate hand sewn, handmade results.
I wish I could say that my children always play with toys that spark their imagination. Those that are high quality and will stand the test of time. The toys that aren't filled with batteries to make crazy sounds, play music or have flashing lights.  They do have plenty of toys that do those things. Yet even with all that stimulation, it won't be a guarantee that that it will keep them entertained for very long.  That is why I appreciate the toys that are classic. Those that require being creative and role playing.

When this set arrived at our house, I'll be honest. I was surprised that my 6 and 5 year old were so excited about the set and were begging me to open it so they could play. I had originally picked it out for my 14 month old Wes but quickly realized it was a toy they could all enjoy together, despite the age difference!

The older boys immediately set to acting out scenes from the Three Little Pigs storyline. It was so cute I couldn't resist getting a little video.  (Be sure to un-mute it to hear the sound!) Wes was attracted to their play and was having fun watching them.
The set includes the three little pigs, each of them a finger puppet allowing for more movement in the play acting and each recognizable by their outfits which represent their home structures of straw, wood and brick.
Also included are three different cone shaped structures to represent their three homes, in three different sizes. They are perfectly sized so that one pig can fit into the first house, two into the second and three into the brick. It is perfect for acting out the story!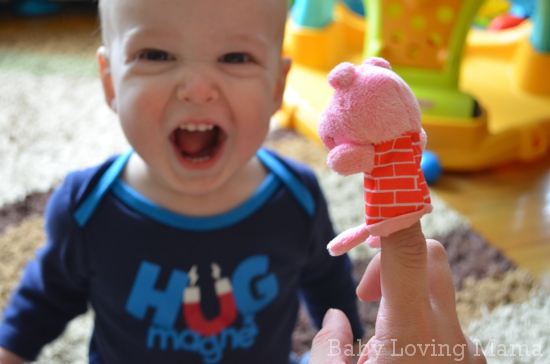 Wes loves both the little pigs and the wolf when I have them talk to him. He can't help but giggle at the funny voices I create or the silly movements!
The quality of the wolf puppet is really extraordinary. Every detail and each stitch shows me how much care went into both designing and creating this toy. The back of the puppet doubles as a storage solution for the pigs and their houses. This is perfect for keeping all the pieces together! A handle for easy carrying is also included.
At first I wasn't sure what to make of the price. This set retails for $64.99 and originally I felt that might be a bit high for a plush toy set. But after seeing this set up close, feeling the fabrics and watching my kids interact with it, I no longer feel that way at all. It is worth the price tag! This is a toy that I won't be giving away but one that I will keep for my grandchildren.

BUY IT:
The Lilliputiens line can be purchased directly from HABA USA and is affordable with prices starting at only $13.99. (A majority are in the $15-$30 range!) You can also find them at our affiliate Amazon
.
Follow HABA via social media to stay up to date on all of their latest product news and sales, including Facebook, Twitter, YouTube,  Google+ and Pinterest.
WIN IT:
One lucky reader will be able to pick out any of the featured Lilliputiens' toys in the above graphic. This is up to a $65 value! a Rafflecopter giveaway
Disclosure: I received a sample for the purpose of this post. All thoughts remain my own.