Whether you've seen the original made for television mini series or seen the recent remake in the theaters, the It movie is one that stays with you. Pennywise is a very memorable character that feeds on fears and tries to lure children, promising them, "You'll Float Too".  If clowns naturally scare you then Pennywise is the scariest thing, ever. I've seen both versions and enjoyed them both, although I distinctly remember being significantly more freaked out as my 10 year old self watched the t.v. mini-series, all by myself.  Regardless of which is your favorite, It makes for an amazing Halloween or birthday party theme. David Murphy created this set of IT movie party favor bags and note cards for me, sure to please any It fan!
It Movie Party Favor Bag Supplies
Wilton Shaped Treat Bags 4-1/2×7-1/4 100/Pkg-Clear
Wilton 1912-1294 100 Count Party Bags, Clear, Mega Pack
Neenah Bright White Premium Cardstock, 96 Brightness, 65 lb., 8.5×11 inches, 75-Sheets (90905)
Darice GX-2200-06 50-Piece Card Stock Paper, 8.5 by 11-Inch, White
For the It party favor bag printables, you'll get four cards per page that can be easily cut out on card stock and folded in half for a bag topper. Whether you use larger party bags like the shaped treated bags that I used, smaller party bags or even ziploc bags, you can easily fold them down and secure with staples.
Fill the bags with your favorite red and yellow candies. Large red gumballs work great to represent balloons but other option include the red cherry sours or sixlet candies that I show here. Solid color M&Ms would also be fun!
It Movie Party Favor Candy Options
Gumballs Red Bubble Gum 2 Pounds 0.5 inch Mini Gumballs
Candy Shop Yellow 1-Inch Gumballs (1 POUND)
Candy Shop Red 5/8 Inch Gumballs (1 Pound)
CHERRY SOURS CHEWY 5lb
Sweetworks Sixlets, Red, 2 Pound
Sweetworks Celebrations Candy Sixlets Bag, 14 oz, Yellow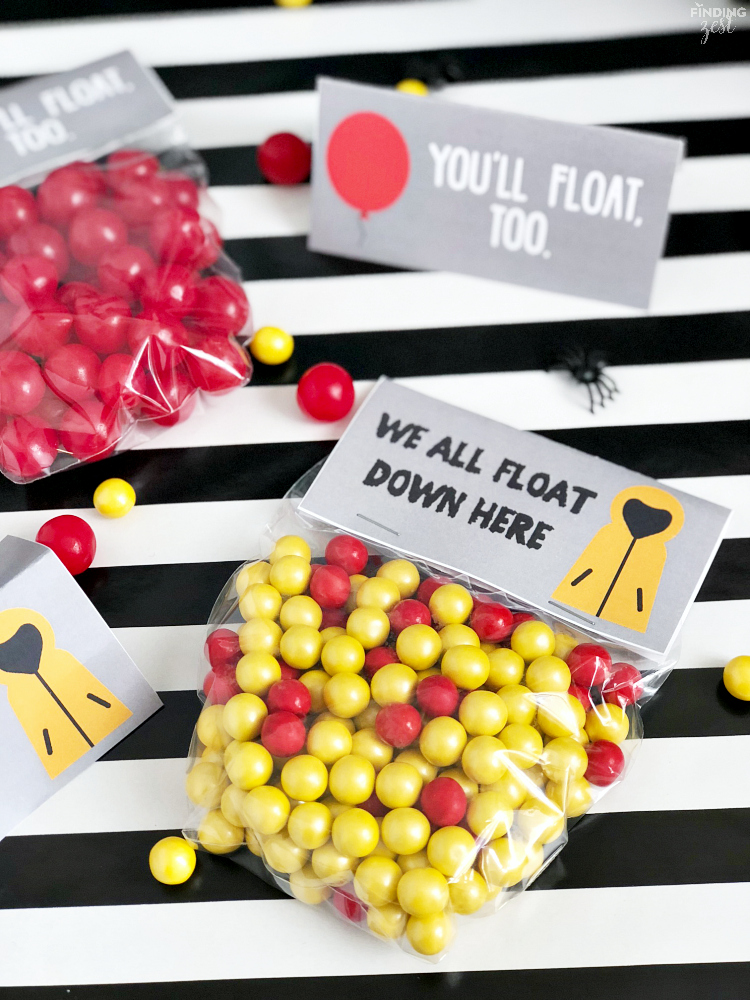 These It note card free printables work great for handing out at Halloween or fill out the back for party invites! You'll get two of each design to a page that can be printed in color on card stock. (The message from Georgie was added after printing with a permanent marker.)
You can also print out a fun It movie envelope to match the note card. You will however need to cut and tape or paste it together.
Hope you enjoy these It movie free printables!
NOTE: I am offering this printable for free but please do not take the file and upload it anywhere for sale or distribution. If you share this design please give me credit and link to the original post, not directly to the printable page.  Thank you!