I live in Minnesota. A state that is known for brutally cold weather and winters that last longer than any other season. On top of that, I live in Duluth, a beautiful port city on Lake Superior.  It has been called the "the San Francisco of the Midwest," with a whopping 820 feet elevation change.  It means that living in layers is a must.  Between the lake effect and elevation change, the temperatures at the bottom of the hill versus the top can be quite drastic.  That is why being prepared for whatever the weather brings is essential. Cuddl Duds are the perfect cold weather hack for staying comfortable and warm during the colder months.
This isn't the first time I've tried Cuddl Duds but I've used them as long underwear for activities like sledding. But have you seen their offerings lately? They have really expanded beyond this function and no longer need to stay hidden! These Softwear with Stretch leggings in charcoal heather are ridiculously comfortable and work so well with a pair of tall boots! I love the flattering "v" shaped waistband.
I also added the black Long Sleeve Cowl Tunic, also from the Softwear and Stretch line, underneath one of my favorite cardigan sweaters. I love the thumb holes that keep my sleeves down and my hands warmer! The tunic is also great for more coverage when pairing it with leggings and the cowl neck also is a nice touch. Just keep in mind this line is more form fitting. This look is perfect for running errands or having coffee with a friend.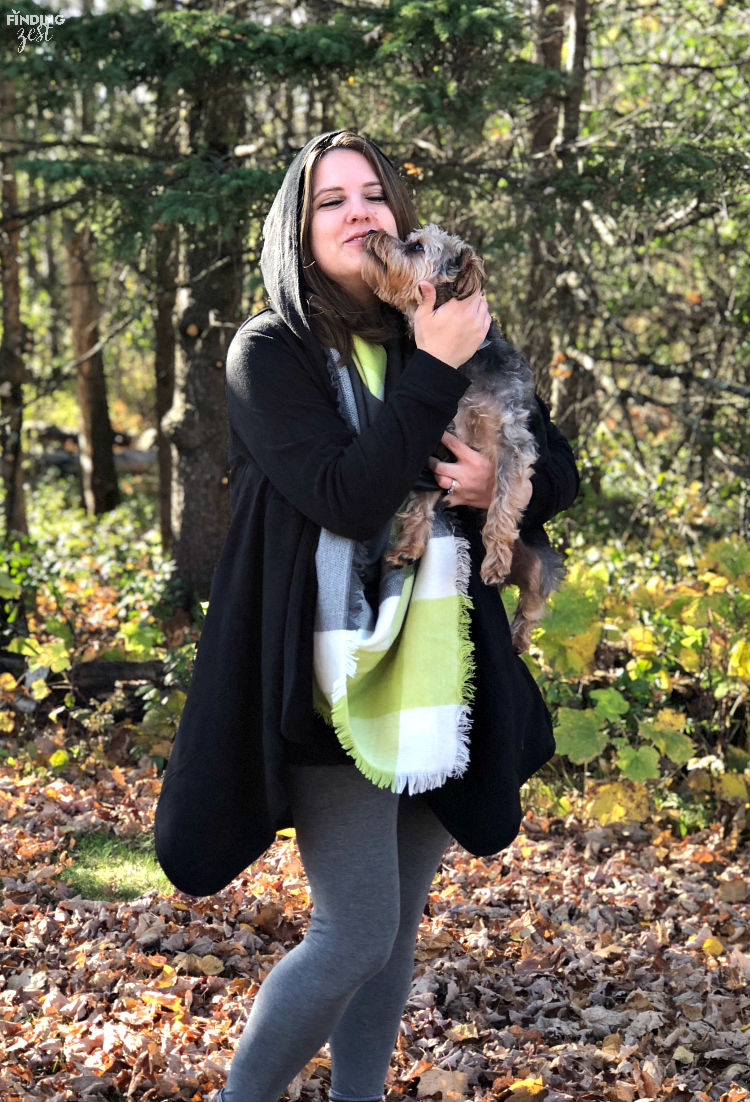 I also picked out the black Long Sleeve Hooded Wrap from the Fleecewear with Stretch collection. I absolute love the soft feel of the fleece fabric and I know that it will wash well.  The hood is perfect for making me feel extra cozy in this piece, regardless of weather I'm outdoors with my dog Leo or curled up on the couch with a good book.
If you are looking for a perfect gift this holiday season, I recommend this wrap! It is super forgiving on the size and a versatile layering piece.
Be sure to stop in at Kohl's or visit them online to get all these pieces and more!
Special Savings at Kohl's
From October 27th to November 7th, 2017  you can get $10 off a Cuddl Duds purchase of $40 or more at Kohl's. This is the perfect time to stock up on your favorites and be ready when the cold weather hits!