We are definitely a family on the go.  Whether it is going on walks to our local playground or going on our annual trip to the State Fair, we take our kids out often.  I realized when my first child Danica was born the importance of a good stroller, and when my second child was born just 2 years later I knew I needed a double stroller.  I received one used from a friend and we literally used it to death.  At the State Fair this past summer the axle broke completely leaving me with no Tandem Stroller.  Now that I am expecting my fourth child and they youngest 2 will be less than two years apart, I needed a good tandem stroller more than ever.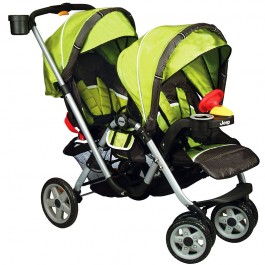 The Jeep Traveler Tandem Stroller meets all my needs in a double stroller and more.  I had no idea a stroller could roll so nicely!  This is such a smooth ride it takes no effort to push even with my 1 and 3 year old in it.  The vibrant green and black colors of the stroller make it extremely gender neutral which is perfect since we have both!
Features Include:
Big-kid friendly with easy front seat access
Child tray with toy steering wheel & cup holder
Handle adjusts to 3 height positions
Parent cup holder for drinks while on the go
Independent reclining seat backs
Both children can recline or sit upright at the same time
Rear seat can accommodate 15 different infant car seats
Sunrider canopies adjust to block the sun
Lots of storage – huge basket plus cargo bags for storing all of babies' gear
Compact fold (21 ¾ w" x 36 ¾ h" x 18 d") makes it easy to store in tight spaces
Height-adjustable 5-point harness for safety and padded sleeves for comfort
This stroller folds down to be extremely compact which is great as we continue to have less space in the vehicle as we have more kids!  The foldend dimensions are 25.5 W" x 14.5″ D x 36.5" H.  The description actually says "With its compact fold and upright standing design, the Jeep Traveler tandem stroller packs conveniently into compact cars. No mini-van or SUV required!"  I would definitely support this statement as the overall height was definitely smaller than my previous stroller and at about 36.5 lbs I think it is lighter too!
Honestly, all of those features are SO valuable to me.  I love the fact that both seats recline as in my old stroller only one did and often if we were on an outing both kids would be ready to sleep at the same time.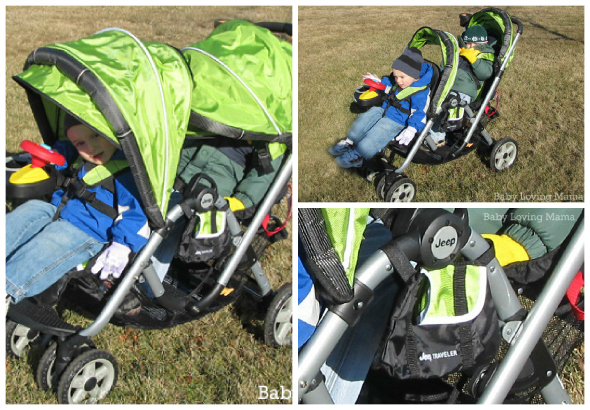 Kurtis and I both love the awesome canopies in both the front and rear seats.  They are generously sized canopies that are actually large enough to block the sun no matter what angle it is coming from.
The storage was another big must for me.  With the large basket on the bottom and the cargo bags located on both sides of the stroller we can have our diaper bags, snacks, toys, etc with us while we are on the go.  It may also sound a little silly, but a cup holder for me and one for the childseat were also very important.  I love the cupholder located on the tray of the front seat and it definitely works perfectly for little hands to keep the sippy in on the go.  I do not love the location of the cupholder for me.  It sticks out from one side and I can see myself clipping it and breaking it off.  I realize it needs to be there for compact folding and it still works, I am just afraid I may lose it over time.
One of my favorite features was with the rear seat reclined it can accommodate 15 different infant carrier seats.  The infant carrier I currently own is not one of the ones listed.  It did fit, but only in a forward facing position.  The stroller has safety straps to strap the infant carrier safely in place.  When not in use the straps have their own little pockets to tuck into.
The overall weight capacity for the stroller is 80 lbs (40 lbs for each seat).  This seems very reasonable as if they were much bigger than that the stroller would not be appropriate.  What I didn't love is that the rear seat was hard for Kurtis to climb into and it seemed more practical for us to have him in the rear seat.  This won't be an issue soon as the baby carrier will take over the rear seat, but for now it was a bit inconvenient to have to lift Kurtis in.  This would definitely not affect my choice in buying this stroller, I love it, but something I thought I should point out.
Keegan loves his steering wheel on the child tray.  I love that the child tray does not go completely across and I could get Keegan in and out of the stroller without removing the tray.  It is definitely convenient.
BUY IT:
The Jeep Traveler Tandem Stroller has a retail price of $249.99 and is available at a variety of online retailers including our affiliate Amazon
or use the convenient store locator on the product page to find a retailer near you.
Disclosure: I received a sample for the purpose of this review however all thoughts remain 100% my own.