I'm sharing French's® in my life as part of a sponsored series for Socialstars™ #FrenchsCrowd #FrenchsMustard
My husband and I recently visited a new local pub that opened up near our house. While looking at the menu I saw that they are known for an award winning "Juicy Lucy" burger. If you aren't already familiar, these hamburgers are popular in the Minneapolis area where they became famous. The Juicy Lucy features stacked cheese in the center of the hamburger patty, making them an ingenious way to enjoy a burger.  When it comes to burgers, sliders are king in our house so we thought it would be fun to make Juicy Lucy sliders.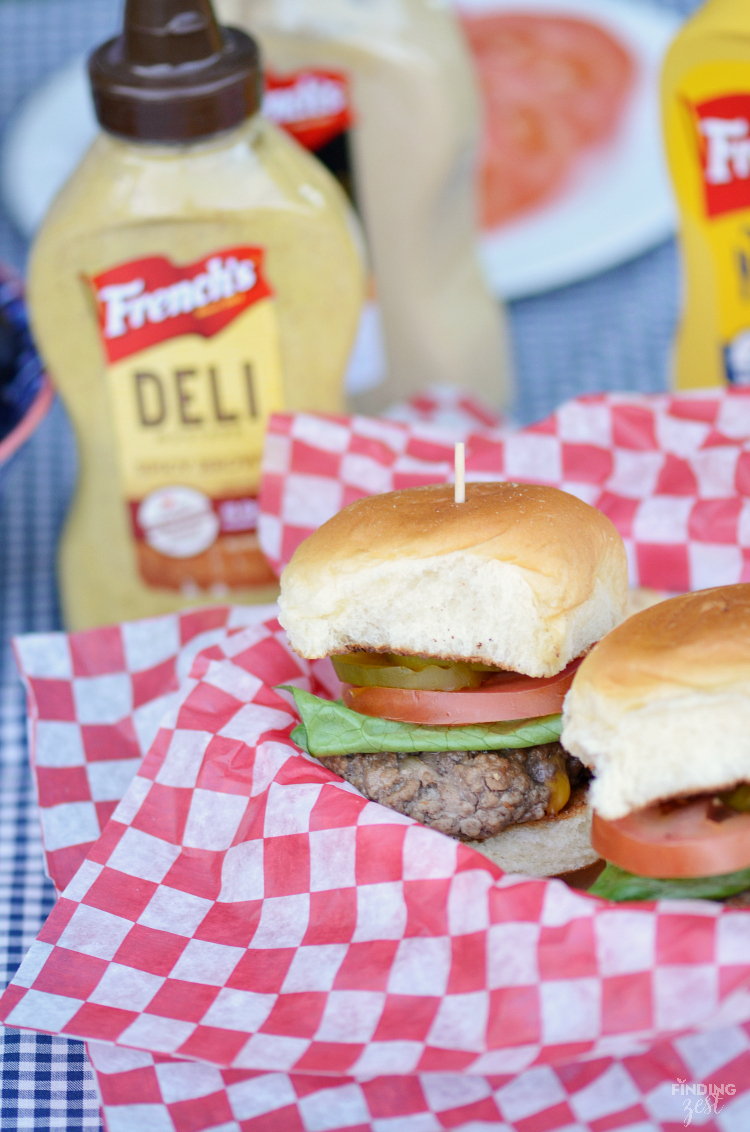 For this recipe we used 85% lean hamburger and block American cheese. You'll want to create small slices that can be stacked. You can try other kinds of cheese that melt well such as pepper jack.
These burgers are essentially two sliders stacked together so you'll want to pinch the edges to seal in the cheese.
My husband loves to cook his sliders in a cast iron skillet over onions, but you can also throw these on the grill if you prefer.
Ketchup and mustard is a must for these sliders. Although French's is known for its iconic Classic Yellow mustard, did you know that it also has a deliciously bold tasting Spicy Brown mustard AND a smooth & creamy Dijon? These is a great recipe to offer all three varieties!
My husband went bold with the big taste of French's Spicy Brown.  He likes the extra kick that goes beyond French's Classic Yellow mustard so he loaded his slider up! It is perfect for everything from sandwiches to brats and is a new staple in our fridge.
This Juicy Lucy Slider turned out incredible! I love that I didn't have to worry about any cheese coming off when my husband stacked them on a platter for serving.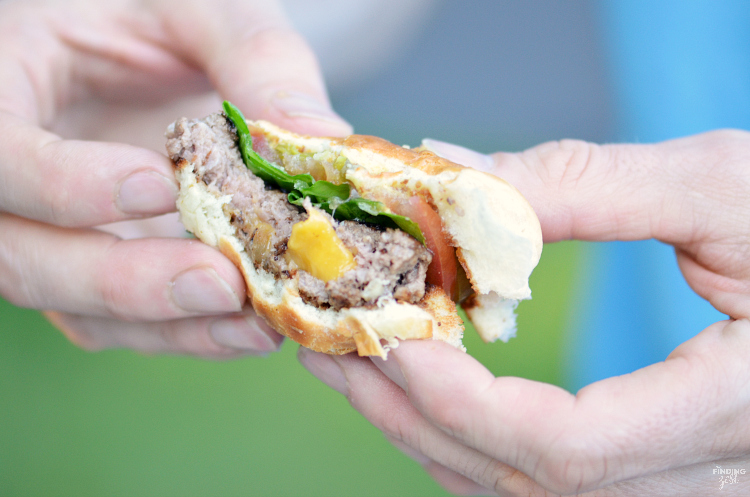 The flavor of these mini burgers is out of this world!

Juicy Lucy Sliders
Recipe Type:
Appetizer/Lunch/Dinner
Ingredients
2 pounds hamburger (I used 85% lean)
16 Hawaiian sweet rolls
6 ounces American cheese, cut into 32 squares
1 small onion, finely diced
½ tablespoon butter
romaine lettuce
roma tomatoes, sliced
burger pickles
ketchup
French's® Spicy Brown Mustard
Instructions
Divide up hamburger into 16 equal size balls.
Flatten balls and stack two slices of cheese into center of half of the patties.
Top with second patty and gently pinch and shape the edges of the patty to make a circle.
Preheat cast iron skillet over medium heat.
Add butter and onions.
Cook burger patties on top of onions, flipping once, just until done.
Meanwhile, cut sweet rolls in half and place them with insides facing up on baking sheet. Broil for one minute or just until golden brown. (Keep a close eye on them)
Serve sliders some lettuce, tomato, pickles, fried onions on a broiled bun. Use French's® Spicy Brown Mustard for extra zest!
I love that we tried these new sliders and topped them with French's® Spicy Brown Mustard so we could enjoy this delicious flavor combination.
Looking for more great meal ideas? Be sure to check out the French's Instagram and Facebook page for more inspiration!
Have you gotten bold and tried the big taste of French's Spicy Brown?