Mesmerized by the current mermaid craze, I thought it would be fun to create some fun mermaid inspired treats with my mini chef. Wesley's favorite color is blue so he was super excited to create this mermaid party bark which features various shades of blue, green and white to mimic ocean waves. With edible gold glitter and pearl dust, we created a chocolate bark that certainly sparkles!

For this recipe you'll need three colors of Wilton candy melts including bright white, blue and turquoise. Turquoise and bright white together in equal amounts were used to create the beautiful aqua color you see. (You will have extra candy melts left over with this recipe.)
Mermaid Party Bark Candy Melts:
Wilton 1911-1300 Candy Melts, Bright White
Wilton 1911-1351 Candy Melts, 12-Ounce, Blue
Wilton 1911-9424 Turquoise Candy Melts Candy
You can find these colors in most major craft stores but to save time you can also have them shipped directly to you from Amazon using the links above.

We melted ours using glass measuring cups in the microwave, but you can also do this over the stove top.
We dropped ours by spoonfuls in random intervals on a silicone mat lined baking sheet. Before long our little piles started to spread out.
Using a butter knife, we made swirls in the bark by gently moving it through the chocolate in both directions a couple of times. Be careful not to over swirl your chocolate if you want to achieve this look.
Mermaid Party Bark Supplies:
Wilton Edible Glitter, Gold Stars, 0.04 Ounce
Pearl Dust 3g-Silver
Wilton 1907-1352 5-Piece Decorating Brush Set
Wilton 710-0442 Blue Raspberry-Flavored Sugar Pearl Sprinkles, Teal
CK Products 3.2 Ounce Jimmies/Sprinkles Bottle, White
Wesley then adding sprinkles over the top, including edible gold glitter stars!

Once it had a chance to harden in our refrigerator (make sure the spot is level) he added silver pearl dust to the top with a food safe brush. You'll want to be gentle as you do it to avoid removing the gold stars.
The result is a beautiful blue and green bark that resembles ocean waves, perfect for a mermaid party!
Wesley was pretty pleased with the results.
You'll want to be sure your bark is cold when you break it. I like to just use my hands so I can better control the size.
Mermaid Party Bark
Author:
Emilie at FindingZest.com
Recipe Type:
Dessert/Snack
Ingredients
1½ cups Wilton bright white candy melts, divided
1½ cups Wilton turquoise candy melts, divided
1 cup Wilton blue candy melts
2 tablespoons oil (canola, vegetable or coconut)
Wilton blue raspberry sugar pearl sprinkles or (pastel blue/green Sixlets)
Wilton edible glitter gold stars
white jimmies
Wilton silver pearl dust
Instructions
Following package instructions to melt candy melts in four containers with ½ tablespoon oil in each.
cup bright white, 1 cup blue, 1 cup turquoise, ½ cup bright white + ½ cup turquoise (for aqua). Be sure to stir often and watch closely.
Drop spoonfuls of melted chocolate randomly but fairly close together on large baking sheet lined with a silicone baking sheet, parchment paper or foil.
Gently tap baking sheet up and down on counter a couple of times to smooth out and remove air bubbles.
Using a butter knife, swirl chocolate in both directions, making sure not to over-mix.
Top with various sprinkles including white jimiies, edible gold stars and blue and green pearl sprinkles.
Place level in refrigerator until firm, about 20 to 30 minutes.
Gently add silver pearl dust, being careful not to rub off gold stars.
Break cold bark into larger pieces.
Store in airtight container until ready to serve.
Store it in a airtight container or Ziploc baggie in the fridge or room temperature. (Do not keep at room temperature if it is hot.)
What have you been up to with your mini chefs this week?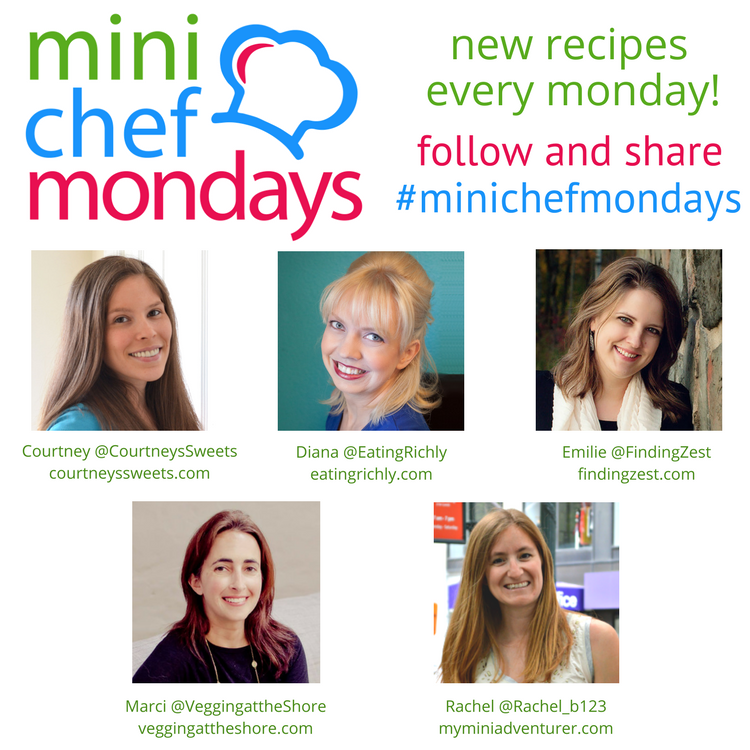 I am hosting Mini Chef Mondays along with 4 fabulous bloggers, find out more about the Mini Chef Mondays Team!
Join our facebook group to find even more recipes and share your own recipes!
Get featured and follow us too!
Be sure to check out each of their Mini Chef posts as well!