Living in Northern Minnesota it is very important to have quality outerwear for the winter.  Actually, we basically require outerwear all year round as it gets chilly most evenings even in the summer.  For that reason I have found my new Free Country Glade 3-in-1 systems jacket to be very practical.
For anyone who is not familiar, a 3-in-1 jacket is actually 2 separate jackets that can be zipped together to make a 3rd thicker jacket.  This allows it to be worn in several different weather conditions.  The outer layer is more of a slightly insulated windbreaker type jacket perfect for warm winter days or cool spring days or summer evenings.  The inner jacket is more of a stylish lightweight winter jacket, and when the two are zipped together they make a very warm yet stylish winter jacket.
The Glade coat is 3 jackets in 1, combining an insulated, outer shell in signature Free Country Radiance fabric with a separate, polyfil inner jacket. Jackets zip together for the ultimate in winter function, and each jacket can be worn separately as weather dictates. Subtle contrast color splices on the shell and plaid print on the inner pop your look whichever way you decide to wear the versatile Glade.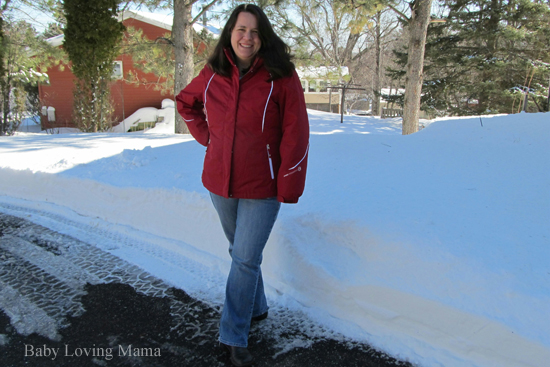 I chose the Glade 3-in-1 systems jacket in red because I really loved the color.  It is a nice deeper shade of red that I love.  It also comes in Black or White.  I think that the white accents are very slimming.
The inner jacket is white with a light subtle plaid print.  I love the look of a white jacket, but have always hesitated to buy one as I fear getting it dirty.  I love the plaid print on this one as I think it will disguise dirt a little bit, yet allow me to have the look of a white jacket.
The jacket fit a little snug and I would encourage you to err on the larger side when ordering.
Some of the features I love:  The jacket was very warm and I love the faux fur lining on the inside which is very soft.  I really appreciate that the hood is removable as I don't often wear hoods.  The two jackets zip together and are then held in place with snaps inside the sleeves and at the collar.  I love that the sleeves have Velcro at the ends so you can tighten them.
Free Country offers a wide variety of outerwear for men, women, boys and girls including jackets, hats, gloves, swimwear and much more.  A couple of my favorites are the
Men's Guide 3-in-1 systems jacket
and the
Women's Chute Softshell Jacket.
To learn more visit FreeCountry.com or like them on
Facebook
.
BUY IT!
The Free Country Women's Glade 3-in-1 Systems Jacket retails for $160.00 but is currently on special for $75.00 at
FreeCountry.com
.
Disclosure: I received samples for the purpose of this review however all thoughts are 100% my own.