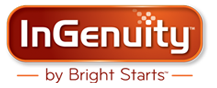 I find myself doing more laundry than ever these days.  Not only do I now have a family of 6, but it is flu season and I just feel like I can't keep things clean enough.  I like to wash everything my kids touch periodically and one thing that I have never been able to wash is the pack n play or playard.  That has all changed now with the Ingenuity Washable Playard.  You read that right, WASHABLE.  The entire playard can be taken apart and all cloth surfaces can be washed in the washing machine.

The InGenuity Washable Playard Deluxe with Dream Centre goes where no playard has gone before: the washing machine! This innovative playard is made of fabrics that can be completely removed for machine washing. Now you can know that baby's playard is free from dirt, germs, allergens, food spills, and diaper mishaps. Playard fabric zips off and on in just a few minutes. You'll also fall in love with the InGenuity Dream Centre, the perfect little place for your newborn to rest. All this combined with the sophisticated fashion styling of InGenuity makes this playard a must have!
There are a variety of sheets and mattress pads available for playards now so you can protect the playard floor/mattress, but what happens when your child removes their diaper when using the playard and decides to wipe the contents ALL over the sides?   Yep, this happened to me, it was actually a child I was doing daycare for.  This was before I had the washable playard so I was left to clean the best I could with clorox wipes, washcloths, lysol, etc.  I did the best I could, but it would have been SO easy to clean if it was the Washable playard.

This is so easy to use too!  I worried that taking apart the playard to clean would be incredibly cumbersome and that was not the case at all.  There is a zipper on the bottom of the playard floor and four boards are easily removed from pockets in the floor.  EASY!  Machine wash in cold water, gentle cycle.  Air dry flat.  No bleach.  Spot clean with a soft, clean cloth and mild soap.

To remove the sides of the playard, unfasten the 4 hook-and-loop straps on each of the four legs and fold fabric inside playard revealing a zipper.  Unzip the zipper.  Locate the red spring-loaded button at the top inside of each of the four legs and press down to disconnect legs.  Undo Velcro at the bottom of each leg and slide fabric up off of all four legs.  SIMPLE.  Now you can throw the whole thing into the wash!

Features:
Innovative playard with completely removable machine washable fabrics which include: top rail cover, playard floor, side walls, changing table cover & mattress

Dream Centre™ – A comfortable place for your newborn to rest; features soft cozy fabrics and breathable mesh

One Less Step:™ Quickly fold and go without removing bassinet

Just Right Height: Elevated changing table easily pivots out of the way

Removable organizer tray

Soothing sounds station requires 3AA batteries, not included

Changing table cover and mattress are machine washable

Includes travel bag

Wheels for easy portability

Delaney loves the dream center.  She will lay there for long periods of time in the super soft fabric looking up at the animals dangling above her.  The soothing sounds station offers either music or nature sounds which are both very pleasant and soothing for baby.  The only downside is the Dream center is a little small and I don't think she will fit into it much longer.

There were just a few things that I don't like about the playard, but none would discourage me from buying it, I think it is wonderful.
The playard seemed a little heavy so harder to move. 

It does come with a travel bag for carrying, but the changing table and dream center do not fit into the bag, only the playard with bassinet. 

The playard has wheels on one end, but for some reason it did not roll easily for me. 

The dream centre and changing table are a little difficult to remove.
With that said, I LOVE that you can fold this playard with the bassinet in it and don't have to completely remove it to disassemble.  I LOVE the fact that it is washable.  I LOVE the dream center and how soft it is.  I LOVE the removable organizer tray.  I LOVE that the changing table pivots to move out of the way.  I think the neutral colors and animal print on the mattress are adorable.
The InGenuity Washable Playard with Dream Centre does have a somewhat higher price as far as playards are concerned at $179.99 but I believe it is worth every penny to be able to wash it and no it won't be ruined if it is heavily soiled.
To learn more about the  InGenuity Washable Playard and other great InGenuity products please visit the InGenuity Baby Website or Like InGenuity on Facebook.
BUY IT:
The Ingenuity Washable Playard with Dream Centre is currently available at Babies R Us for $179.99.
________________________________________________________
Disclosure:  This review was made possible by Double Duty Divas and Kids II. I was provided the featured product free of charge to facilitate my review, but all opinions are 100% mine.