Artisan Books partnered with me to support an exciting new cookbook! All thoughts are my own.
My mom is an amazing cook. She has a love for trying new recipes so I was raised with a wide variety of food and grew to love cooking and baking in the process. I learned a lot along the way but over the past several years I've come to discover just how much I actually don't know. It is part of the reason I started doing Mini Chef Mondays with my kids. It was a fun opportunity to teach them while trying out new recipes and techniques.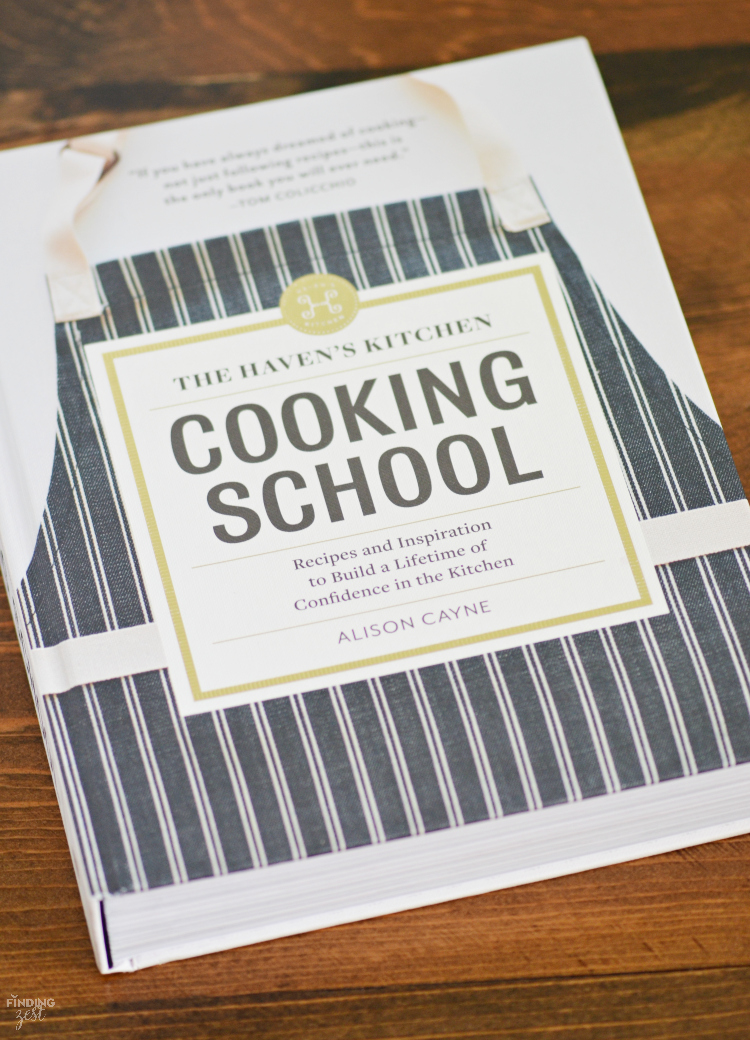 Alison Cayne has created a book, The Haven's Kitchen Cooking School, dedicated to helping others build confidence in the kitchen. She is the owner of Haven's Kitchen, a cooking school, café, and event space in New York City. Cayne started Haven's Kitchen as a place to inspire and educate people about food and sustainability issues. With her master's in food studies from New York University, she has been featured in numerous publications, serves on two boards and is an adjunct professor. Cayne lives in New York City with her five children.
The Haven's Kitchen Cooking School includes 100 delicious recipes carefully chosen by Cayne and her expert staff with food inspired by global cuisine and a modern sensibility of how we like to eat today.
Each of the book's nine chapters revolves around a key lesson taught through a collection of recipes to ensure that readers are not simply memorizing a canon of tried-and-true instructions; they are learning how to cook for a lifetime.
From basic to more advanced techniques and recipes, you'll find everything from how to boil eggs to pickling tips!
I've enjoyed browsing through the selection and look forward to testing out more of her recipes and tips! Curious to see more? Check out the The Haven's Kitchen Cooking School excerpt!  Excerpted from The Haven's Kitchen Cooking School by Alison Cayne (Artisan Books). Copyright © 2017. Photographs by Con Poulos.
Cayne equips home cooks with fundamental building blocks they need to feel confident and at ease in the kitchen. Those skills include:
How to Get Over Your Fear of Frying
How to Pick & Cut Herbs
How to Make Stock
How to Stock Your Refrigerator & Pantry
How to Make an Omelet
How to Make Dressing
How to Filet a Cooked Fish
How to Roast Garlic
How to Make Stock
How to Make & Store Sauces
Knife Cuts: Slice, Dice, Julienne, Oblique, Brunoise, Chiffonade, Supreme
How to Cook Vegetables: Blanche, Braise, Sautée, Roast & Grill
How to Cook Proteins: Poach, Roast, Steam, Broil, & Stew
If you could stock your kitchen with some new items or replace old favorites, what would they be? I personally can't imagine not having my favorite kitchen products such as silicone baking sheets and high quality jelly roll pans. I also love my Henckels chef's knife and 12 inch saute pan. It is called the Everyday Pan for a reason because I use it almost every day!
Some of My Favorite Kitchen Products:
Calphalon Unison Nonstick, Everyday Pan, 12-inch
Artisan Silicone Baking Mat for Half-Size Cookie Sheet with Red Border, 16.5 x
Nordic Ware Natural Aluminum Commercial Baker's Half Sheet
J.A. HENCKELS INTERNATIONAL Classic 8-inch Chef's Knife
Qadira Silicone Baking Spatulas – 7 Inch (Set of 6) Spoon Style Dishwasher
Ipow Stainless Steel Fine Tea Mesh Strainer Colander Sieve with Handle for Kitchen
Enter below for your chance to stock up your kitchen!
The Fundamentals of Cooking Giveaway:
One (1) winner receives:
Giveaway open to US addresses only. Prizing and samples provided by Artisan Books.