Now that I'm a mother of three, I have gained wisdom in these last several years. One thing I've learned as a parent is that with baby comes a whole lot of baby gear. While some may argue which are most important, there is really no easy way to get around having some big pieces taking up room if you want to keep your sanity have a break. If there is one thing that is a must, it is an activity center that  your baby can sit and play in. Not only does it provide plenty of stimulation for baby but it also gives you some piece of mind that your baby won't be mobile while they play so you can actually get something done, like sweep the floor.

The new Kolcraft Sit and Step 2-in-1 Activity Center does that and more. You can use it now as an activity center from 4 months to walking and as your child grows it turns into a fun walker toy for 9 months and up! The mom in me loves products that grow with my child and have multiple purposes.
Features include:
Activity center rocks and spins
Toys and activities entertain and help develop motor skills
Electronic Discovery Center™ includes lights, music and whimsical sounds
Multi-position height adjustment for growing babies
Walker's wide stance and easy roll wheels makes learning to walk easy
Base locks for stationary play
And look who is thrilled with his new activity center!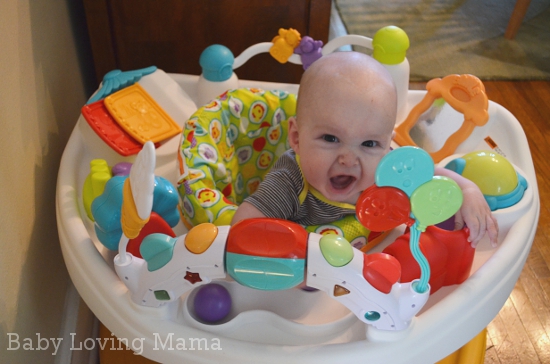 Now that Wes is just shy of 6 months, he is gaining good head and neck control and is no longer content to play while laying on his back. He still needs support and has yet to fully master sitting on his own but can sit up unassisted for short periods of time. He is constantly rolling over onto his tummy from his back to get a better look at his toys and then getting all frustrated because he can't see or play with them like he wants to.
With so many fun toys to play with, Wesley is content to spend longer time frames in his center, around 15-20 minutes which allows me some time to make dinner or actually eat some food while it is still hot. The bright, gender neutral colors are stimulating and the musical sounds and lights grab his attention and are easy to activate but aren't annoying for the rest of us.
He loves all the options to choose from which are many more than any other activity center we have owned. This gives him more variety and different types of play to better develop his motor skills.
Some other fun features which come from the walker allow for play outside of the typical activity centers. This ball drop can be used for both the walker and for the stationary activity center.
When dropped, the ball falls into a fun track below. My four year old Warren loves to sit near his brother and play with this! When Wes starts to crawl I know he will enjoy this as well.
I love that Wes can easily switch between toys with his rotating seat and his legs get a workout and some practice to move.  And with his center in the dining room, he sits up higher to see us at the dinner table and feels more part of things. Even as I write this post, Wes is playing in this activity center and giving me adorable smiles and fun coos as he plays.
The only issues we have had is with the red pieces that attach to the base which keep the center stationary. They tend to come off frequently. While it doesn't hurt my baby and I haven't been able to tell what is causing them to come off, it is a bit annoying to my husband who keeps reattaching them.  This isn't something however that would deter me from using or purchasing this center.
Another thing to keep in mind, the center is for ages 4 months and up, however it is stated that for safety purposes, your baby should be able to sit unassisted before using this toy. It is not typical for a 4 month old to be able to do this so even if your child is tall enough, they still might not physically be strong enough yet for this toy at that age. We started Wes out just after he turned 5 months and while he struggled to play for more than 5 to 10 minutes until he built his strength up, he seemed stable enough to use it.
BUY IT:
The Kolcraft Baby Sit and Step 2-in-1 Activity Center comes in this gender neutral color or pink and has a retail price of $99 It is available online at Walmart, our affiliate Amazon
 for a discount and at Diapers.com. Use the Kolcraft store locator right on the product page to find a retailer near you!
WIN IT:
I have a Kolcraft Baby Sit and Step 2-in-1 Activity Center to give away to one of my lucky readers!
Disclosure: I am a Kolcraft Mom! I received a sample for the purpose of this review however all thoughts remain 100% my own.