Kraft Foods brought five of my favorite brands with a fun Halloween twist which helped me to prepare for my spook-tacular Halloween costume play date last week!
With some simple Mini Pedestal Cups to make them extra special, I created some fun Jell-O pudding parfaits. I had envisioned something like this for my party guests but I let the kids dig in and make them for themselves.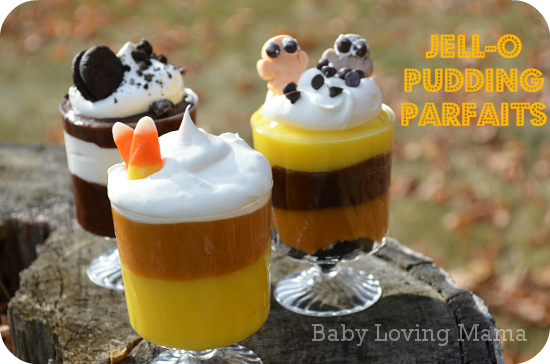 Of course they didn't turn out looking like this but it certainly made them special! I offered chocolate, french vanilla and butterscotch JELL-O pudding. Since each box made two cups, I used a two cup plastic container to make it easier to have choices throughout the table.
I also offered Cool Whip topping, mini oreos and super fun Kraft Ghostmallows to top them off! It was amazing how much more fun everything is in a special serving dish, even if they are plastic!  They were a huge hit.
Kraft offers several different seasonal marshmallow varieties, perfect for all your fall celebrations. My kids went nuts over the Jumbo PumpkinMALLOWS.
NEW! JET-PUFFED MARSHMALLOW (PumpkinSpiceMALLOWS, GhostMALLOWS JUMBO PumpkinMALLOWS):  JET-PUFFED is celebrating Halloween with three holiday inspired varieties. Have Fun with Your Yum by visiting theirFacebook Community to get recipes, coupons, new product news and tips!
JELL-O Molds (Halloween brain mold and JIGGLERS Halloween mold): Create a spook-tacular JELL-O brain mold and some ghoulish JELL-O JIGGLERS to help make your Halloween frightfully fun! You can purchase both molds online from the Kraft store—each mold comes with recipe ideas that you can share with neighbors and friends this Halloween. We're including strawberry and orange JELL-O to use to make these spooky molds, but you can use whatever flavor you want.
I also made a strawberry JELL-O brain again this year. Last year we created a black brain with grape and lime but this year we went more traditional. I had plans to create an oozing brain with gummy worms but unfortunately I ran out of time when I was serving.  There are so many fun things you can do with this brain mold and it is a huge hit with kids. Even better, it is super easy to create a wow factor!
Halloween OREO cookies:  Check out the dressed up orange creme OREO cookies this season. You can find "Boo-rific" shapes on the side of each OREO cookie: a witch, pumpkin, ghost, black cat or bats. OREO is also excited to show off refreshed packaging for Halloween—with a group of witches brewing up the orange creme!
Normally I would have used my orange creme OREO cookies crushed for this pudding parfait but I'll admit we devoured them a week before my Halloween party. When I went to purchase another package they were all sold out at my grocery store! Instead I opted for some mini oreos which are perfect for this project and little hands.
More great products for your Halloween bash:
NEW! VELVEETA Cheesy Potatoes (Au Gratin and Bacon Scalloped): In between those snacks and sweets, make sure you check out the smooth & creamy Liquid Gold of VELVEETA cheese sauce on 100% real potatoes. This will be a side dish the whole family will be sure to love.

NEW! PHILADELPHIA Indulgence Cinnamon and Dulce de Leche: Dive into two new flavors of PHILADELPHIA Indulgence, Dulce de Leche and Cinnamon.  Luscious caramel and sweet cinnamon are combined with the creamy smoothness of PHILADELPHIA cream cheese to give you a unique taste experience.  And pairing them with crisp, fall apples is just the beginning.  If you can dream it, you can dip it.
WIN IT:
How would you like to create your own spook-tacular celebration with Kraft?  I have this amazing prize package for one lucky reader.
Disclosure: Kraft Foods is providing the prizes for this program at no cost to me and has provided me with a gift of equal value for review.  This program is not administered or sponsored by Kraft Foods or its affiliates, but solely by Baby Loving Mama. All thoughts remain my own.