There is no shortage of patriotic holidays, just begging me make something in red, white and blue to celebrate the occasion. Whether it be Memorial Day, Independence Day or Labor Day, I never turn down the chance to have a BBQ with family. We like to enjoy items on the grill like cheeseburgers or steaks and serve them up with some deliciously easy salads and sweet corn.  But there is no easier way to make a colorful patriotic dish than with dessert. Berries are just such a delicious choice and a good way to enjoy the fruits of the season.
Because I'm part of the Kraft Tastemaker blogging program, I've been spending even more time on the Kraft website looking at recipes.  I recently came across this awesome Flat Bottom Fruit Pie. I loved the idea of this using a ready-t- use pie crust but I happened to have a left over pastry sheet sitting in my freezer. I thought I it would be a great substitute.  I also switched out the peaches for strawberries so I could stick with the red, white and blue theme and went with cheesecake pudding to shake things up.
I used cheesecake pudding but so many other flavors would taste great as well such as vanilla, french vanilla, coconut cream (with a little toasted coconut even), lemon, etc. The possibilities are endless.
My raspberries were huge so I cut them in half as well so they would lay flat and I could spread them out better throughout the layers.
I thought this dessert might be very difficult to cut but I found that by waiting an hour and using a serrated knife, it was actually quite easy.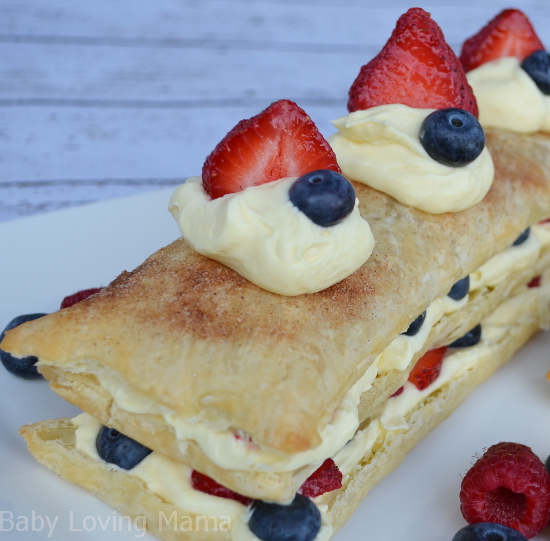 What is your favorite Patriotic dessert?
If you are looking for more great Labor Day recipes such as kabobs or layered salads, be sure to check out Kraftrecipes.com. Don't forget to follow them via Facebook and Twitter to stay connected.
___________________________________________________________________
Disclosure: This post was created for the Kraft Tastemaker Blogger Program. All thoughts remain my own and are not influenced by the monetary compensation received.