One of my favorites parts of warmer weather has to be the addition of the grill into our cooking and entertaining options. In my mind, nothing really beats a good barbeque and in our house we have the perfect division of duties. My husband handles the grill while I prepare the sides. It is a great way to make a fairly stress free meal when you aren't tackling it alone!
For my Dad's birthday and Memorial Day, we celebrated with quite the feast at my parents house. My mom spoiled us with baby back ribs, brats, potato salad and so much more! Doesn't it look amazing? I really couldn't fit half of it on my plate.

I always like to help by bringing a few things to the party. Kraft sent me some of these cute HONEY MAID Lil' Squares Honey Grahams. They've made a great snack for our boys and they are so easy to take with us on the go!
I decided I had make a recipe for Chocolate Marshmallow Dip to go with them using only three ingredients. It was a great alternative to s'mores and the kids gobbled it up!
I also made these Patriotic Jello and Fruit Parfaits. Anything in an individual cup seems to get the kids extra excited and I liked the idea of single servings. I created this recipe as well since I couldn't seem to find any layers from recipes that used my beloved Philadelphia cream cheese. This recipe could easily be converted for a full gelatin mold to save time.
Kraft also sent me two different new flavors of KOOL-AID. While I don't typically serve this to my kids, I thought it would work well for a punch and found this great recipe from Kraft. While the original recipe called for Tropical Punch, I substituted Peach Mango. It was delicious and so easy to prepare!
Ingredients
1 env. KOOL-AID Tropical Punch or Peach Mango Flavor Unsweetened Soft Drink Mix
1 cup sugar
2 cups cold water
2 cups cold orange juice
1 bottle (1 liter) ginger ale, chilled
Instructions
PLACE drink mix and sugar in large plastic or glass pitcher. Add water and juice; stir until drink mix is completely dissolved.
REFRIGERATE until ready to serve.
STIR in ginger ale just before serving. Serve over ice cubes in tall glasses.
Another big hit was the COUNTRY TIME Half & Half Lemonade Drink Mix. My whole family loves this stuff, even those were aren't typically fans of iced tea. My niece was even mixing the punch with this drink mix. It created an interesting flavor but tasted pretty good!
Excited to learn about Kraft's new products?
KOOL-AID New Unsweetened Peach Mango and Unsweetened Strawberry Kiwi Drink Mixes: Beat that summer heat and keep the kids happy and cool with great summer refreshment for entertaining the whole gang. New Unsweetened Peach Mango and Unsweetened Strawberry Kiwi flavors from KOOL-AID Drink Mixes are a good source of Vitamin C per serving and, most importantly to your little ones, pack the flavorful fun they expect from your best outdoor shindigs! (Peach Mango and Strawberry Kiwi flavors are also available in KOOL-AID Sugar Sweetened Drink Mix and Ready-to-Drink Jammers).
New COUNTRY TIME Half & Half Lemonade Drink Mix: Who could enjoy the summer's heat without a taste of COUNTRY TIME refreshment? This season try a delicious new spin on the lemonade classic. Pour out a glass and enjoy each sip of this amazing combination of Half Lemonade and Half Iced Tea, Lemonade Iced Tea Flavored Drink Mix.  
VELVEETA Slices Queso Blanco:  Top a burger or your favorite sandwich with the brand new Queso Blanco flavor cheese from VELVEETA Slices for a delicious spin on a barbecue must-have. Heat it up grill-side and enjoy Queso Blanco's creamy, mild and super melty effect!  Look for the new packaging and new pricing now available.
KRAFT SIZZLING SALADS Southwest Chicken Dinner Kit: Talk about jazzing up a main dish! KRAFT SIZZLING SALADS are cooking sauces and salad dressings, perfectly paired to create a delicious chicken and salad dish your family and friends are sure to love!! Four easy steps, 20 minutes and you've answered that "what's for dinner" question with a bang! Try the Southwest Chicken Dinner Kit with Zesty Fajita cooking sauce for sautéed chicken paired with Barbecue Ranch dressing for salad.
HONEY MAID Lil' Squares Honey Grahams: These bite-sized versions of the graham crackers you love are great as a wholesome snack or for wrapping up your party with a creative, s'more-style dessert. Made with 8g of whole grain per serving, no artificial flavors and no high fructose corn syrup – you'll feel good about letting this snack help fuel your kids' days!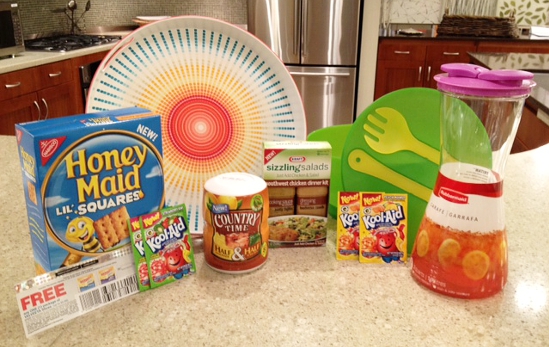 I have a prize package which includes all the products mentioned above along with a Rubbermaid Carafe that I have fallen in love with.  The Carafe's design is not only chic, beautiful and stylish, but also provides a comfortable grip for easy pouring. Made with Tritan™ material, the Carafe is durable and resists stains and odors. The leak-proof lid is ideal for shaking or mixing beverages. Also included is  Chill Salad Bowl with Salad Servers  from Crate and Barrel and a  Colorwheel Serving Tray from Target!
This prize package is worth $50. How would you like to win it?
Disclosure: Kraft Foods is providing the prizes for this program at no cost to me and has provided me with a gift of equal value for review.  This program is not administered or sponsored by Kraft Foods or its affiliates, but solely by babylovingmama.com. No monetary compensation has been received and all thoughts remain 100% my own.