*This apple tarts post is brought to you in partnership with Wilton as part of the Sweet Treat Team program. All thoughts are my own.*
Every few months, a package arrives at my door with several new products from Wilton to try out. It is always fun to see the mixed assortment, and our most recent goodie box was no exception. Several items caught my eye like the caramel apple candy melts, but the mini tart pan got my wheels turning. I've always just used my mini muffin pan in order to create smaller tarts, but they never had that traditional tart look. And I knew I wanted to experiment with a sugar cookie rather than traditional pie crust to make these mini apple tarts with crumb topping.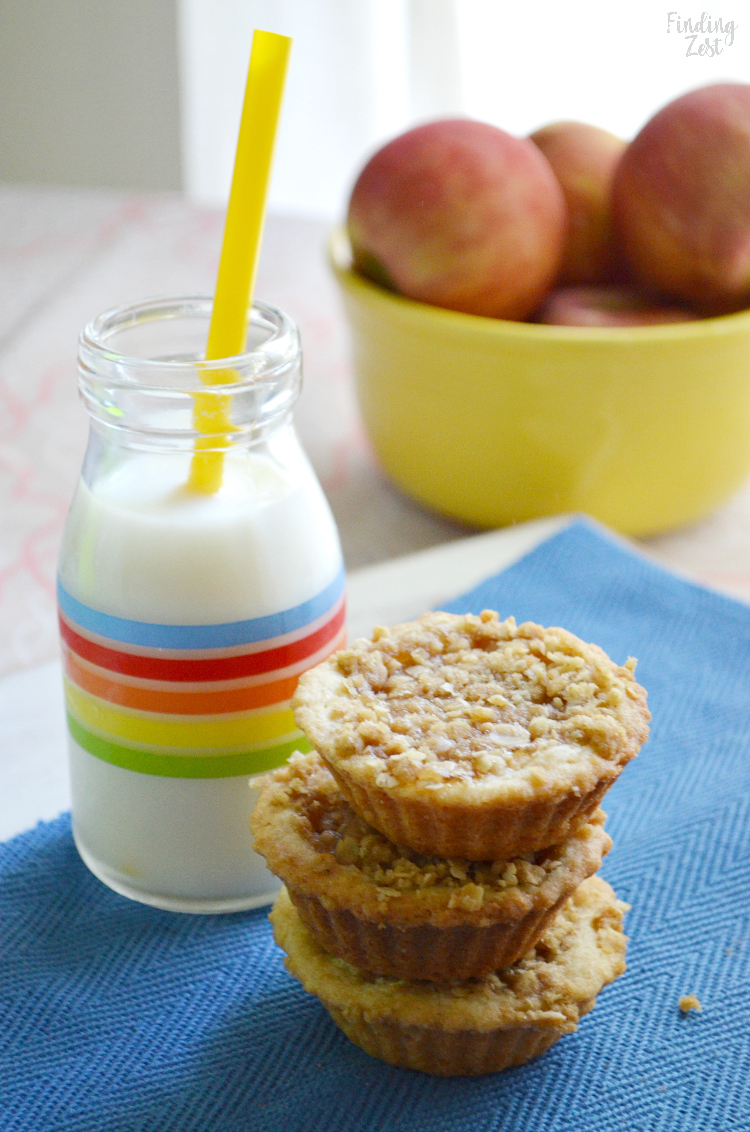 Mini Apple Tart Supplies
In order to make this recipe as is, you'll need this non-stick Wilton mini tart pan. Get it from Amazon and avoid shopping around in stores to find this awesome tart pan!
Wilton 2105-0089 12-Cavity Nonstick Tart Pan, Mini
Comstock More Fruit Pie Filling & Topping, Cinnamon 'N Spice Apple, 21 Ounce
Betty Crocker Baking Mix, Sugar Cookie Mix, 17.5 Oz Pouch
You can make do with one mini-tart pan for this recipe, but two is definitely faster.
How to Make Mini Apple Tarts
I was pleasantly surprised to find this pan not only easy to work with, but my tasty little apple tart turned out amazing on the first try.
Be careful to not over-pack the tart cavity with dough. If you leave them just a bit shallow and push them to only 2/3 or even  3/4 of the way up, they will rise to the top. Those that were towards the top still tasted great but didn't look quite as pretty.
I used a sugar cookie mix and canned pie filing to keep it super simple, but feel free to swap those out with your favorite homemade recipes. Just keep in mind that shorter cooking time might mean your apples may not get as soft if you use fresh. Consider chopping them up small or slicing them very thin instead.
Besides making baked tarts, this pan is also great for cold treats as well. You could use it as a mold for a graham cracker crust with fruit and cream cheese filling instead.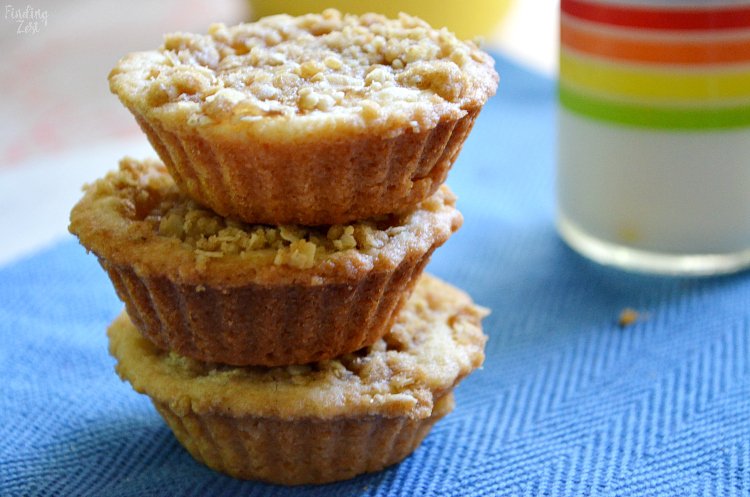 The sugar cookie really takes this apple tart up a notch. Try swapping out your favorite tart recipe's crust with cookie dough.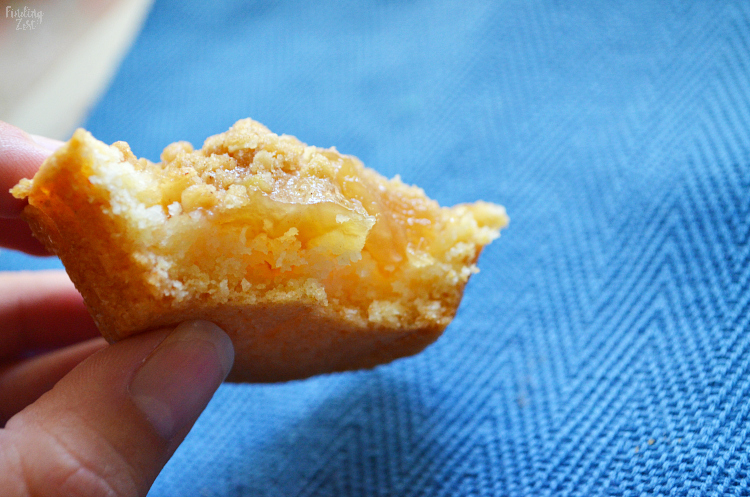 An apple tart was the perfect treat to welcome my boys home from school after their first day back last week.  My eight year old proclaimed them to be 10 out of 10 stars. (Can't argue with that!) These mini tarts were a big hit.

Mini Apple Tarts with Crumb Topping
Author:
Emilie at FindingZest.com
Ingredients
1 can cinnamon apple pie filling
1 pouch (17.5 oz) Betty Crocker Sugar Cookie Dough
⅓ cup butter, softened
1 egg
1 tablespoon all purpose flour
½ cup brown sugar
½ cup oats
4 tablespoons cold butter
½ teaspoon cinnamon
Instructions
Heat oven to 350 degrees F.
Spray two Wilton 12 cavity mini tart pans with Wilton Bake Easy Non Stick Spray (or your favorite cooking spray)
Prepare cutout cookie version of the cookie dough pouch: Stirring dry cookie mix and flour in a medium bowl. Add softened ⅓ cup butter and egg. Stir until soft dough forms.
Drop cookie dough by rounded teaspoons, pushing dough into the bottom and up sides ¾ of the way.
Fill each cavity with 1 tablespoon pie filling.
Prepare crumb topping by mixing brown sugar, oats and cinnamon in medium bowl. Cut in cold butter with pastry blender or two forks until well combined and crumbly.
Sprinkle crumb topping over tarts.
Bake for 14 to 16 minutes or until sugar cookie crust is golden brown.
Cool 5 minutes before moving tarts to wire rack to cool completely.
For more fun baking and cake decorating ideas, be sure to check out the 
Wilton blog
. And if you love the taste of cinnamon and apples, you'll love my pumpkin spice sauteed apples recipe!