My 5 Favorite Laundry Tips
This is a sponsored post for SheSpeaks/P&G.
When it comes to laundry, I freely admit I'm not a fan. Since having kids I'm certain I've never had all the laundry done at once, and I envy those that do. But one thing I have been pretty good about is making my clothes soft, never shrink and last longer. Here are my 5 Favorite Laundry Tips.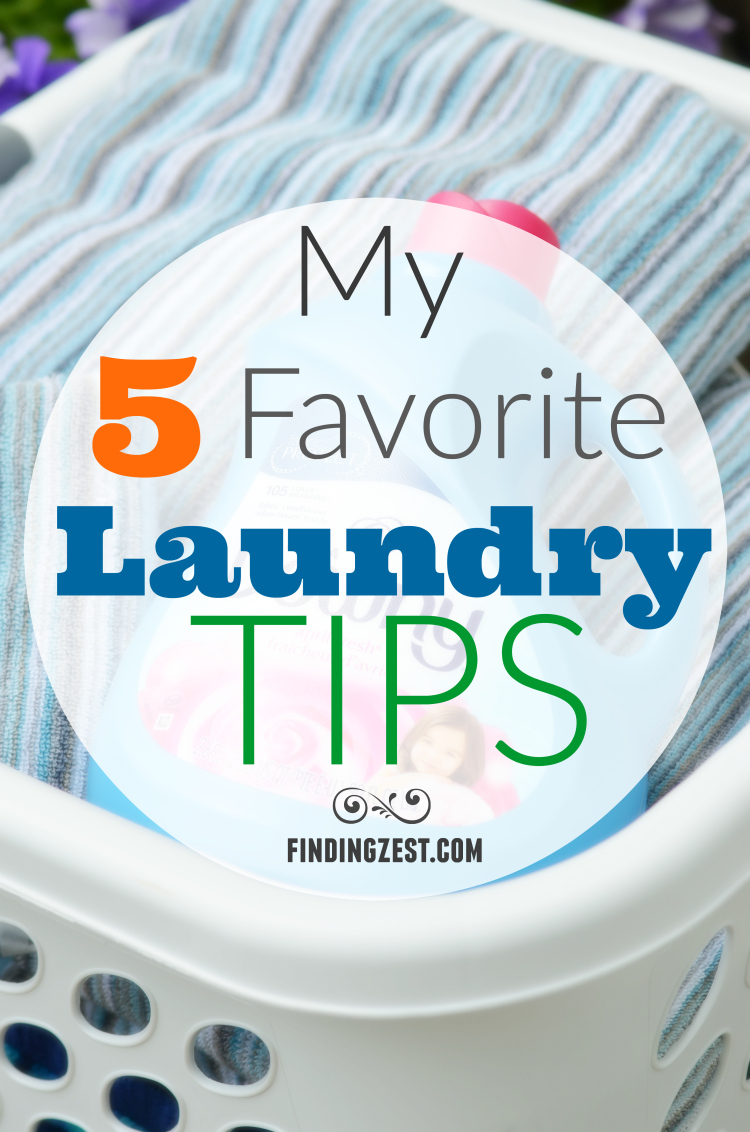 Wash on lower temperature setting: I love to wash clothes on cold, cool or warm. I rarely wash on hot unless I really need to sanitize.  Hotter temperatures break down fabrics and cause more fading and shrinking. I follow the same rule with drying. Turning clothing inside out also helps, especially with fading and pilling.
Don't give dirty or stained clothing a chance to set.  I'm no stain expert, but I do everything I can to not allow a stain to set in. For example, I will wash my son's sheets immediately after a bloody nose. If I don't have time to wash right away, I always rinse them out well.  I typically don't need to pre-treat or soak if it hasn't had a chance to set.  Even dirt can break down fabric as it sits and be harder to remove.
Use liquid fabric softener. On clothing that is hung on the line or laid flat to dry, I like to use liquid fabric softener like Downy Fabric Conditioner to keep them nice and soft. I'm not a fan of stiff towels, sheets and clothing, are you?
Don't over stuff the washing machine. I often have to remind myself of this rule because it is easy to want to get as many clothes in as possible. But over-stuffing means the fabrics rub together more causing them to wear out sooner. They also have more wrinkles and don't get as clean.
Wear clothing more than once. It is easy to want to wash everything that has been worn once, but if it isn't dirty or smell at all it isn't necessary. Clothing lasts longer when it is washed less. It is also less work!
I was recently sent Downy Fabric Conditioner from Walmart. Beyond just softening your clothing, it can help you say goodbye to stretching, fading, and pilling, giving your clothes a longer, happier life. Downy conditions, strengthens, and lubricates each fiber to protect clothing from the friction, and agitation of typical washing cycle.
Downy Product Benefits:
Instead of losing their shape, clothes bounce back to their store-bought form.
Colors stay true and resist fading.
Towels are protected from pilling and fuzz.
Fabrics are softened for added comfort.
I recently purchased some socks for the whole family from Walmart. I like buying darker socks so I don't have to worry as much about stains and Walmart definitely had plenty to choose from. Now I have such soft, fresh smelling socks after washing them with Downy. Nothing beats putting on a new, clean pair of socks!
Downy Fabric Conditioner is available at Walmart and Walmart.com for everyday low prices. Learn more and shop for it here. Be sure to try adding Downy Fabric Conditioner into your laundry routine to experience longer lasting clothes.
What are your favorite laundry tips?