This is a sponsored post on behalf of Pfizer.  All thoughts remain my own.
The time has once again come for runny noses, coughs, aches and general misery.  That's right, it's cold and flu season again here in Minnesota and sadly my house always gets hit hard.  With 4 little kids in the house, we are a germ factory and every school year the kids are kind enough to share all of the germs they pick up at school.  It's hard enough to watch the kids feel miserable, but it is even worse when my husband and I feel miserable with them.
When I was growing up, my Mom would make me a home-made tea remedy to sip when I had a bad cold or flu.  I remember it only as hot water, with honey and lemon.  Now that I am an adult, I usually make myself a similar recipe, though I usually make tea and flavor with lemon and honey.  Somehow the combination just seems to soothe a sore throat and cough and warm me when I have a fevered chill.  As an adult, I am also a huge fan of cough and cold medicine because the tea often isn't enough.
Robitussin has just the solution:
One dose of Robitussin® 12 Hour Cough Relief provides up to 12 hours of cough relief, delivering long-lasting cough control and all day and all night. Robitussin® Maximum Strength Severe Multi Symptom Cough, Cold & Flu products offer powerful relief from your worst cough, cold, & flu symptoms and come in both daytime and nighttime formulas.
The Robitussin Maximum Strength Severe Multi-Symptom Cough Cold & Flu is really one of my personal favorites when I get hit really hard with a bad cold or the flu.  It offers temporary relief for:
Cough due to minor throat and bronchial irritation
Nasal Congestion
Headache
Sore Throat
Minor aches and pains
Runny Nose
Sneezing
Itchy, watery eyes
Itching of the nose and throat
Temporarily reduces fever
Robitussin made sure that I am ready for this cold and flu season with a "Feel Better Care Package". This will be the perfect package for me to take some Robitussin, sip some tea (with lemon and honey of course), curl up with a warm blanket and binge watch Gilmore Girls on Netflix until I feel like facing the world again. That is my Feel Better Formula.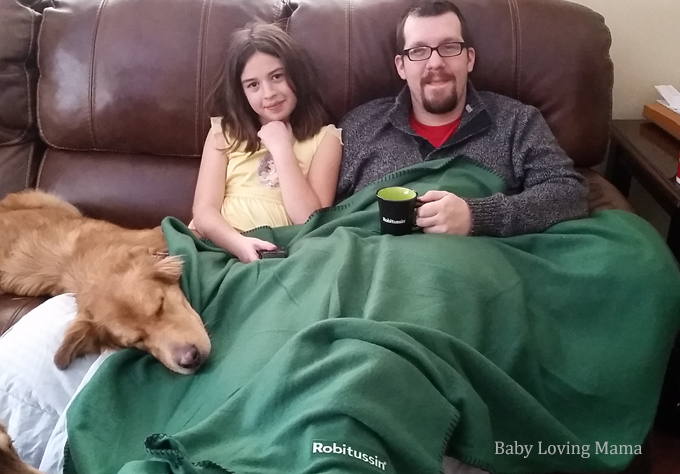 What is Your "Feel Better Formula"?
One lucky reader will win their own "Feel Better Care Package" from Robitussin including:
A $50 Netflix gift card to enjoy your favorite movies and television shows as you rest up during cough and cold season
Robitussin products, branded blanket and mug, and Green Tea Sampler Pack
a Rafflecopter giveaway

The Robitussin® products, information, and additional gift pack have been provided by Pfizer.