One of the sweetest aspects of learning some cake decorating techniques from Wilton is the ability to offer to make your niece's 2nd birthday cake for your dear sister. Little Bella has become a huge lover of anything with frogs so my sister wanted it to fit with that theme.  I searched Wilton for some ideas and came across an adorable Leap Frog Cake which utilizes this butterfly shaped pan.
I love a pan that can be used for more than one design and I fell in love with some of the options. Isn't that bee cake absolutely adorable? I chose the frog cake using this pan because it seemed a bit easier than some of the 3-d frog options and I knew I'd be swamped with my own son's cake the following week.
I won't lie. Because I had to bake a batch of sugar cookies for the face and the extra time to draw in the frog since I wasn't actually following the pattern directly on the cake, it took a while to complete. The actual decorating for the most part was a lot of fun and when it really started to come together I started to get excited. I'm not much of an artist and I freely admit that. But having both a pattern for the frog face to cut out a sugar cookie and having the colorful picture to follow, I was able to produce a cake that really looked like a frog.
Isn't he cute?
Please check out my Leap Frog Cake Tutorial on my baking blog, Oh My! Sugar High to see how I created this frog cake in more detail!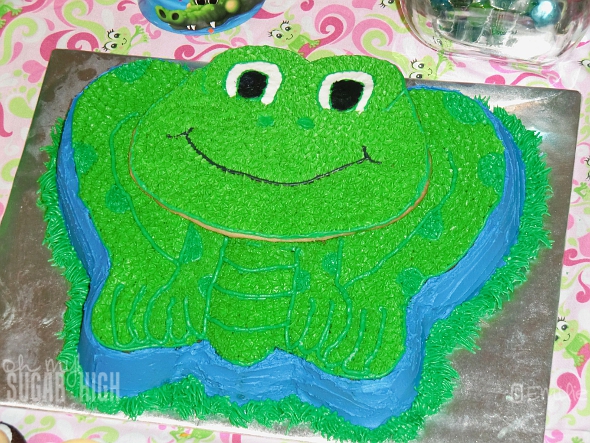 My only regret was that I wasn't able to get better lighting for the pictures. I finished the cake at night after my kids went to bed and unfortunately the events of the overcast day of the party didn't allow me to showcase the final results in natural light. Still, I was thrilled with how it all turned out!
Since the frog cake itself only takes a single cake mix, I knew it wouldn't be enough for the party. And with the style of cake I knew it would be difficult to write Happy Birthday anywhere on the cake itself. So I incorporated the extra sugar cookie dough to make small cupcake toppers in which to write. I used a small circle fondant cutter to create the discs and then with white cookie icing for the background, I piped letters on the cookies with left over colored icing.
I hadn't seen anything like this anywhere, I was simply working with what I had! I also used a set of bug themed cookie cutters (the ladybug became the turtle) to create some cute sugar cookies which I laid out directly on the table after using the same cookie icing and leftover colored icing I used for the lettering.
The results made for one smashing dessert table and one very happy birthday girl!
The smile on her face made all the work so worth it. And the sense of accomplishment after completely this cake is definitely special.
This cake is one that even a very inexperienced decorator could do with a little bit of patience. By simply practicing the star tip and grass tip (both of which are very beginner techniques), you too can take on this adorable frog!  Instructions can be found directly on Wilton.com.
BUY IT
If you are looking to  purchase online, you can purchase these products on Amazon and Wilton Online Shop or check your local craft store including Michael's, Jo-Ann Fabrics, Hobby Lobby and AC Moore. Target and Walmart are also carrying seasonal Wilton products!
 Update: Giveaway is closed.
---
Disclosure – As a Wilton Mom Ambassador I was provided with the Wilton products used in this post, while baking ingredients were purchased by myself. Opinions expressed are my own and are not influenced by monetary compensation.