My sister in law recently found out that she has a gluten sensitivity and it has led to some interesting conversations and taste testing.  She brought some gluten free cookies to one of our last get togethers and they were terrible to say the least.  We discussed how most of the gluten free foods seem to have a bad taste, a terrible after-taste, or a strange texture.  In some cases all of the above. For these reasons I was very hesitant to try the new Eggo Gluten Free Waffles from Kellogg's.  I can honestly say that they are fabulous.  Great tasting and no after-taste!
Eggo sent me a fabulous package including a package of their new Gluten Free Original Waffles, Gluten Free Cinnamon Waffles and everything I needed to make some great freshly squeezed orange juice to go with our meal.  My 2 youngest children were home with me and extremely excited that I was actually going to make waffles on a week day.
On weekends at our house we often have home-made pancakes or waffles.  My children love them.  But during the week we usually eat something that is a little quicker to prepare.
I had not really considered Eggo Waffles, but after realizing how easy they were to prepare, I may have to change my ways.  We simply popped them into the toaster oven, set it to toast and they came out perfect.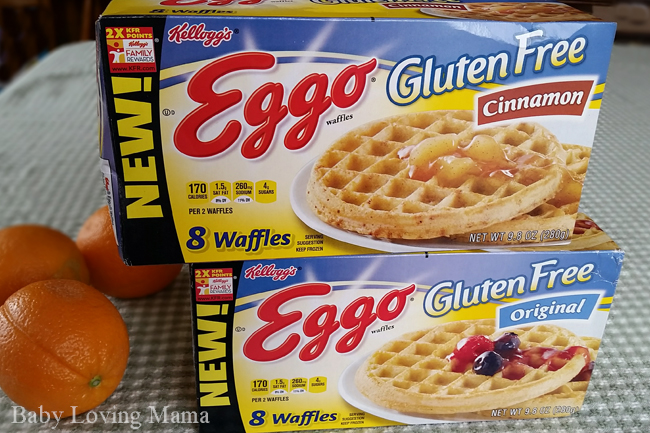 About Eggo Gluten Free Waffles:

 
Eggo Gluten Free Waffles are available in Original or Cinnamon flavor.
Eggo Gluten Free Waffles contain 8 vitamins and minerals for a nourishing breakfast option.
Eggo Gluten Free Waffles are an excellent source of calcium and iron, with 25 percent daily value of each.
Eggo Gluten Free Waffles are a good source of whole grains, with 15g per 70g serving
Eggo Gluten Free Waffles contain fewer than 200 calories.
I served the waffles with butter and syrup and the kids and I loved them.  My 2 year old Delaney is SO picky these days, and she even cleaned her plate.  They really taste good.  There was absolutely no after-taste.  They had a slightly different texture than the regular waffles, maybe a little bit more grainy, but certainly not bad at all.  I made one of each flavor for myself, a cinnamon and an original.  I honestly didn't taste a huge difference between the two.  The cinnamon had just a slight cinnamon taste, but not overpowering.   I would love to try them with fruit topping like strawberries or blueberries.  The Gluten Free waffles are made with rice flour and whole oat flour.
I would absolutely recommend them to anyone looking for a gluten free option and I will certainly buy them for the days when I watch my friends daughter who has celiacs disease.  I already told my sister in law that she needs to try them.
The other very pleasant surprise about the Eggo Gluten Free Waffles is the price.  Eating Gluten free is typically very expensive.  With a suggested retail price of $3.39 for an 8 count package, they are an extremely affordable option for Gluten free.
BUY IT!
Kellogg's® Eggo Gluten Free Waffles™ are now available nationwide in the freezer section of grocery and mass retail stores where breakfast items are sold.  To learn more, please visit
leggomyeggo.com
, Like them on
Facebook
, and follow them on
Pinterest
.
Disclosure:  I received samples and a gift package for purpose of this review however all thoughts remain my own.