New Walker Wish List sponsored by Safety 1st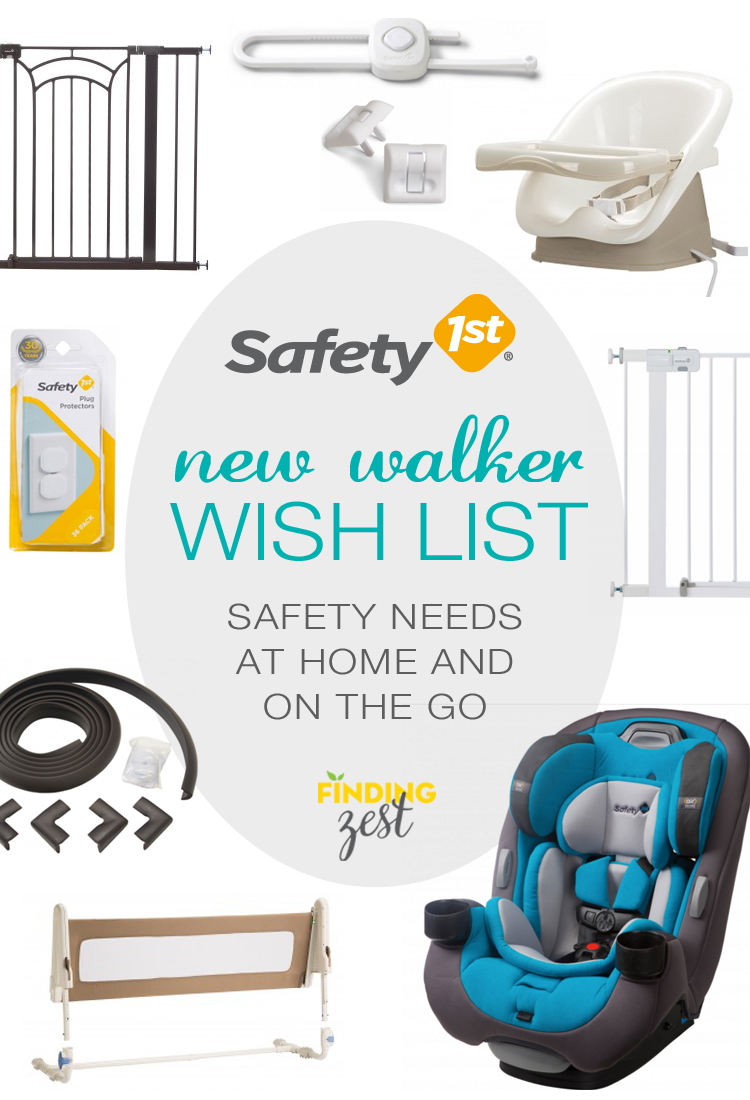 Our little one recently turned the big ONE and with it came so many changes. Not only is she talking more and exploring the joy of table food, she's walking – often running now. This is a major change from the days of sitting contently on her blanket in the living room. With these changes comes an entirely new set of safety needs and upgrades in our baby gear. From gates to car seats to plug protectors, Safety 1st had exactly what we needed to keep our new walker safe at home and on the go. I've included a New Walker Wish List below!
CAR SEAT:
Gone are the days of carrying my sleeping baby in her infant seat. My little one was excited to help daddy install her new 3-in-1 Grow and Go™ Air Car Seat from Safety 1st. This is the last seat we'll ever need as it's designed to adjust and fit the needs of every stage from rear-facing infant  (5-40 pounds), forward facing with buckles (22-65 pounds), all the way to a big kid booster seat in a forward-facing position (up to 100 pounds).
I love how easily the buckles work with my often inpatient toddler. The harness holders keep the straps in an open position making it easier for you to get your child in and out of the car seat. No more looking for clips. The QuickFit™ Harness offers additional convenience in both forward and rear-facing by letting you adjust the height of both the headrest and harness with one hand making it easy to ensure you have the best fit at all times.
I like that the Safety 1st seats feature Air Protect for added safety if we were to be in an accident.
The seat was easy to install in the rear-facing position with the help of a simple pool noodle or folded towel to ensure the seat sits level in the vehicle for little ones who can't sit on their own yet.
The Safety 1st 3-in-1 Grow and Go™ Air Car Seat also includes pillow inserts under your child's bottom (which is great if you soak through or have a spill), on their back/sides (which allows for a snug and safe fit in the seat), and around their head (which I love so they're supported when sleeping). All of these pillows easily adjust with the seat and can be removed for cleaning without removing buckles. The material is soft and comfy although I've found on hot summer days it's very warm.
I love how easily the seat adjusts both in height (with one hand!) as well as reclining which we use on longer trips when I know she'll sleep.
I had some trouble with the shoulder straps snagging early one when using this seat. Customer service was incredibly helpful in solving the problem quickly. Although the straps don't loosen/tighten as easily as I had hoped I believe it's simply because of the angle that I'm pulling in my minivan with the seat positioned near the center of the vehicle. If I crawl in and pull from above it's much easier.
SAFETY GATE:
The next big hurdle in life with a new walker was safety on our living room stairs. Safety 1st had the perfect gate for our family's needs with the Easy Install Auto-Close Gate.
This walk-through gate makes it easy to ensure safety on our stairs with no need to reinstall it each time you pass by. We have a 7-year old who's room is on the second level so we needed to ensure she could not only use the gate herself, but also have the peace of mind that it would always be closed without her needing to remember. A magnetic latch ensures the door swings closed and locks automatically, without a reminder from mom and dad.
For reassurance, the SecureTech indicator lets you know with a glance that the gate is securely closed by showing the green lock symbol.
The gate is 28 inches high and can be adjusted from 29 to 38 inches which worked perfectly in our wide stairway. I absolutely love the fact that I can easily open this gate with ONE hand. This means I can have my busy 1-year old in my arms and still easily open the gate. My 7-year old can also easily open the gate without help.
New Walker Wish List:
Are you prepared for your little one to become a new walker? Check out this wish list and be sure to visit Safety 1st online to prepare your home as your baby becomes a toddler.
Disclosure: This post was sponsored by Safety 1st. I received a car seat and gate sample. All thoughts and opinions are my own.