Have you ever eaten steelhead trout? I hadn't until last weekend while picking up a few items at my local warehouse store. I passed by the food samples and noticed what I thought was salmon being offered. It certainly had the appearance of salmon but it turned out to be steelhead trout! This trout was prepared very simply with just olive oil and Parmesan cheese but it absolutely delicious. I decided it would make the perfect Sunday dinner so I grabbed a filet to bring home. I came up with this simple Parmesan Baked Steelhead Trout recipe inspired by the sample and it was a hit!
What is Steelhead Trout?
If you are like me and completely clueless about steelhead trout, I'll fill you in. Rainbow trout and steelhead trout are really the same fish. The difference is that steelhead trout spend two or three years in the ocean and then typically comes back to fresh water to spawn whereas rainbow trout stays in fresh water their whole lives. And while they may be the same species, I found that steelhead trout tastes much more like salmon than it does rainbow trout.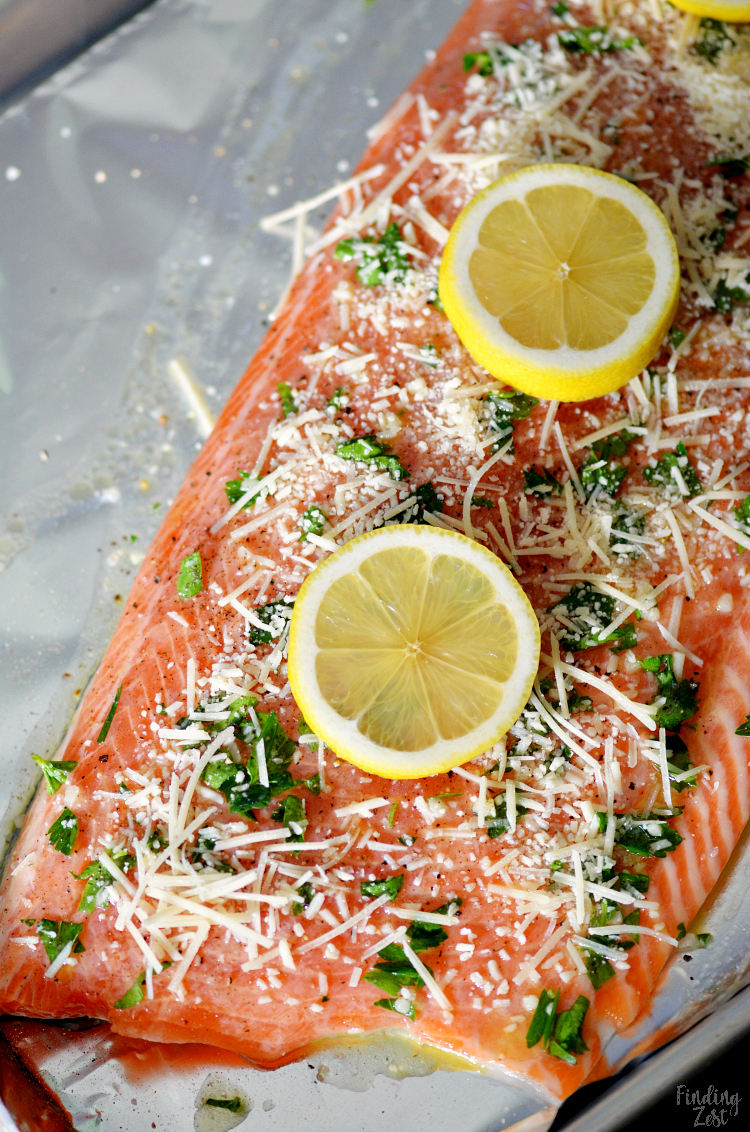 How to Bake Steelhead Trout
You can cut your steelhead trout filet into individual portions or you can leave it whole with the skin on like I did. I wasn't sure what my kids would think of this fish and thought it would be easier to take smaller portions off the larger filet to avoid any waste. Serving the whole filet looks pretty on a serving dish but cutting them before cooking makes for a nicer presentation on your plate.
For this steelhead trout recipe I chose to add garlic, lemon juice, parsley and Parmesan cheese because I love these flavors for fish. If you have a favorite salmon recipe you can easily swap out steelhead trout for salmon. You might not even notice the difference.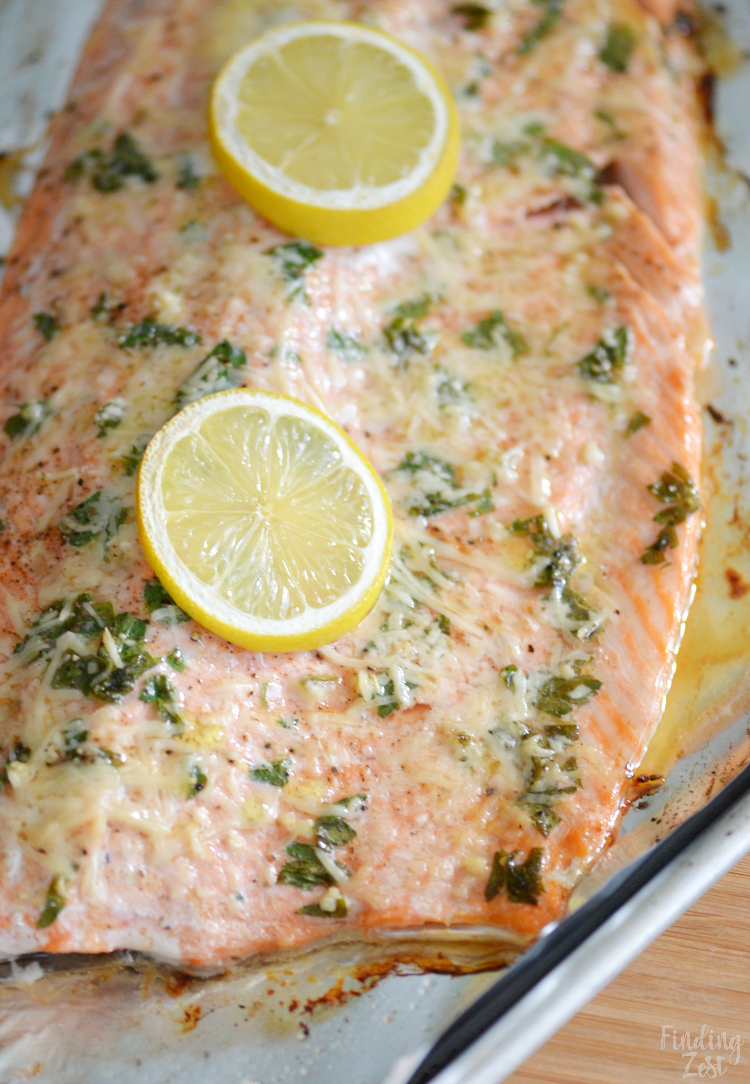 This steelhead trout recipe was an overall hit with my family. My 10 year old said it was the best fish he ever had and my husband really liked it, even though he normally doesn't care for baked salmon. My other two boys ate it but said they preferred my pan fried fish. I loved it myself, but I can't win them all over apparently!

Parmesan Baked Steelhead Trout Recipe
Author:
Emilie at FindingZest.com
Ingredients
2 lb steelhead trout filet
2 tablespoons olive oil
1 to 2 cloves garlic, minced
2 tablespoons finely chopped fresh parsley
1 lemon (half sliced, half juiced)
3 tablespoons fresh shredded Parmesan cheese
sea salt and freshly ground pepper to taste
Instructions
Preheat oven to 400 degrees. Line baking sheet with aluminum foil.
Place filet skin side down on baking sheet.
In small bowl, stir together olive oil, parsley, garlic and juice from ½ of the lemon.
Pour oil mixture over fish gently rub to coat.
Sprinkle with sea salt and pepper to taste.
Top with Parmesan cheese and sliced lemon.
Bake for 12 to 15 minutes or until fish is flaky.
Optional: Broil for 1 to 2 minutes at the end of cooking to slightly brown filet.
Serve immediately.
Give This Steelhead Trout Recipe a Try!
You can have this fish dinner on your table in under 20 minutes. Serve them with my ridiculous easy drop biscuits and a fresh salad for an easy weeknight meal.  Steelhead trout is loaded with lean protein in addition to vitamins, minerals and omega-3 fatty acids. It also contains a low level of contaminants so it is a dinner you can feel good about feeding it your family.
More Baked Fish Recipes
If you love fish, here are some more great baked fish recipes to add to your upcoming meal plan.