Do you love a good poke cake? I've been wanting to make a pudding poke cake for a while now and finally made one with my son for his birthday. We went out of town for a couple of nights to celebrate his 6th birthday and when we came back he got sick the next day. Poor guy. I realized the following weekend that we never sang to him or blew out candles like we planned. So last weekend I asked if he wanted to make his birthday cake with me and together we came up with this Strawberry Poke Cake which turned out AMAZING.
Pudding Poke Cake
Some members of my family are a bit picky about their cake, myself included. I don't like cake that is too dry so poke cakes are a great way to avoid that and add a ton of flavor.  In the past my poke cake recipes were ones that use pureed fruit like this strawberry refrigerator cake or gelatin like this JELLO poke cake. But since my birthday boy loves pudding, I thought it would be a perfect choice his birthday cake. I love hacks like this to make cake mix taste better and super easy cake recipes like this vanilla crazy cake!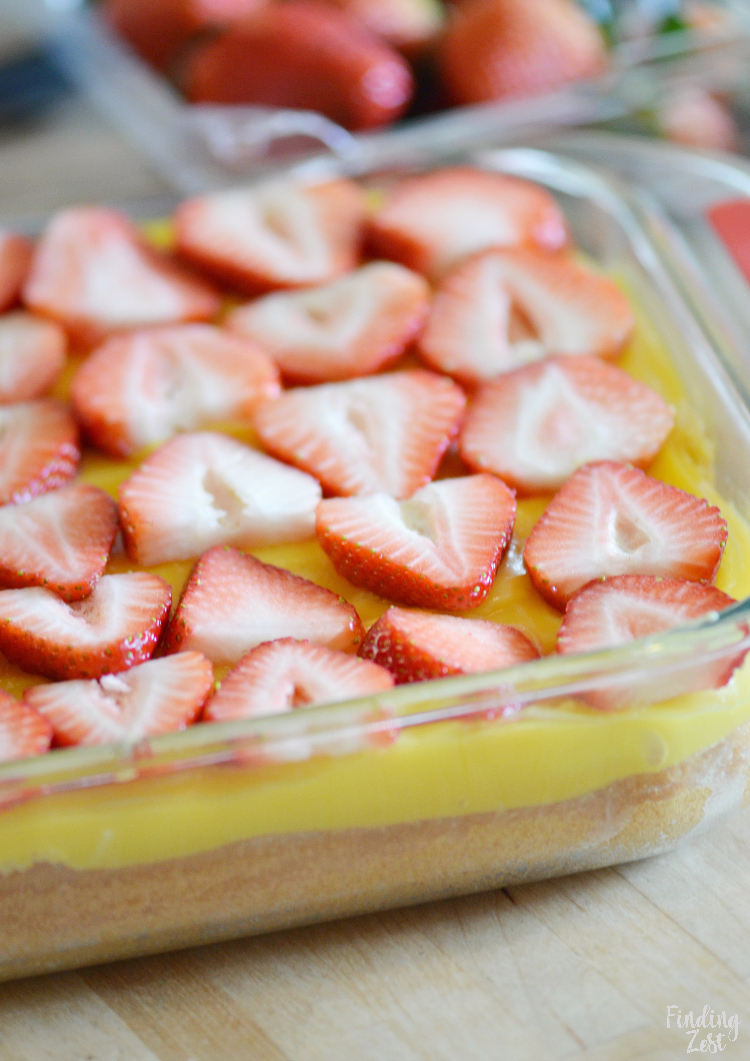 How to Make a Strawberry Poke Cake
This poke cake recipe could really be switched up with different cake and pudding flavors and various fruits. I've found that strawberries hold up fairly well over time on baked goods and are classic. They also happen to be in season and a favorite fruit of the birthday boy so a strawberry cake was an easy choice. Blueberries could also be added for a more patriotic look.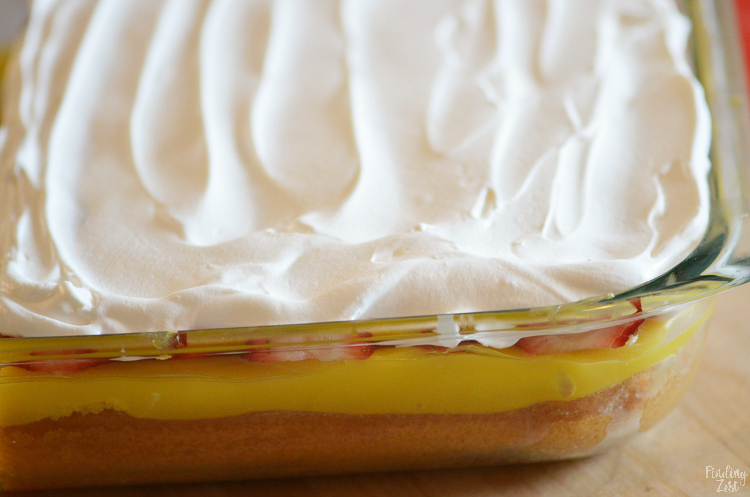 You'll want to be sure to give your strawberry poke cake plenty of time in the refrigerator to given your pudding time to sink into the cake and firm up. But hold off adding the fruit, whipped topping and coconut until closer to serving if possible for best results unless you plan to eat it all the same day. This cake will last a good 24 hours or longer if your strawberries aren't over ripe and leaking juice.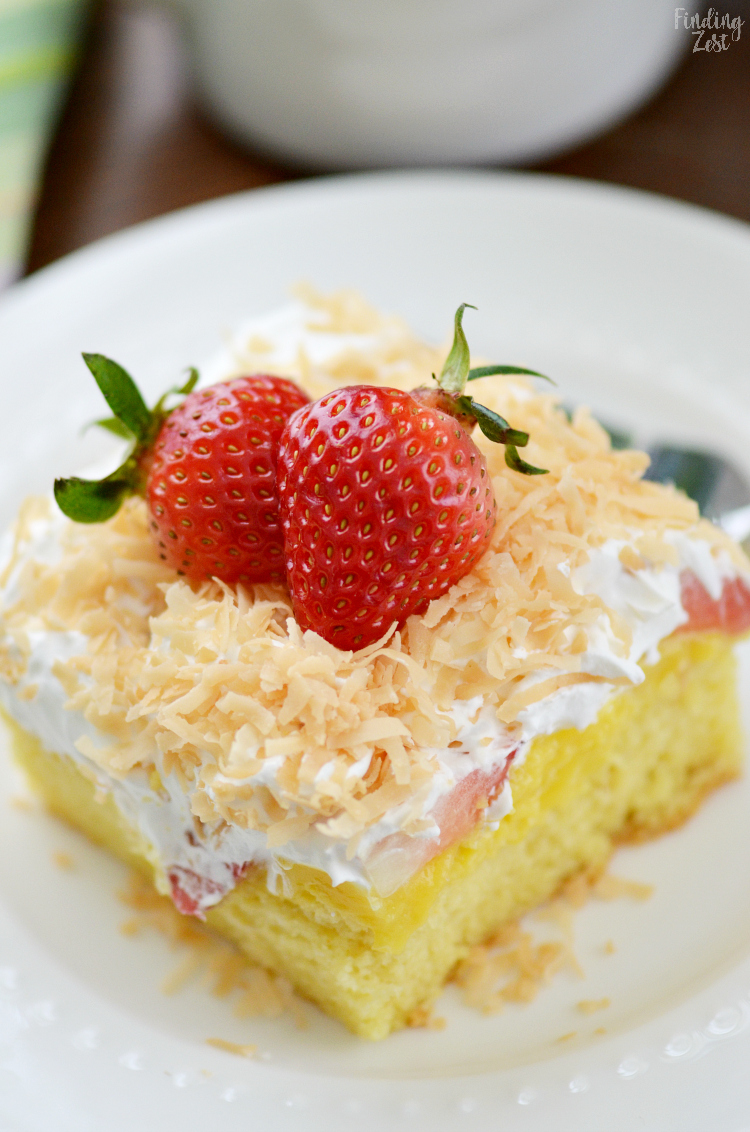 Tips to Toasting Coconut Perfectly
Toasted coconut is definitely tricky. Whether you are wondering how to make toasted coconut at all or you've had trouble in the past making toasted coconut I can help!  The trick to toasting coconut is to pay close attention and stir often. It is easy to walk away but just like when you are using your broiler, popping some popcorn or cooking bacon, it is very easy to overcook in a short period of time.  And if you've ever burnt coconut like I have, then you know the smell is awful.
How to Toast Coconut:
You'll want to bake your coconut on an ungreased baking sheet with sides in a preheated to 325 or 350 degrees Fahrenheit oven. Stir every couple of minutes until slightly brown. Then stir about every 30 seconds until light golden brown. It is more work but worth it!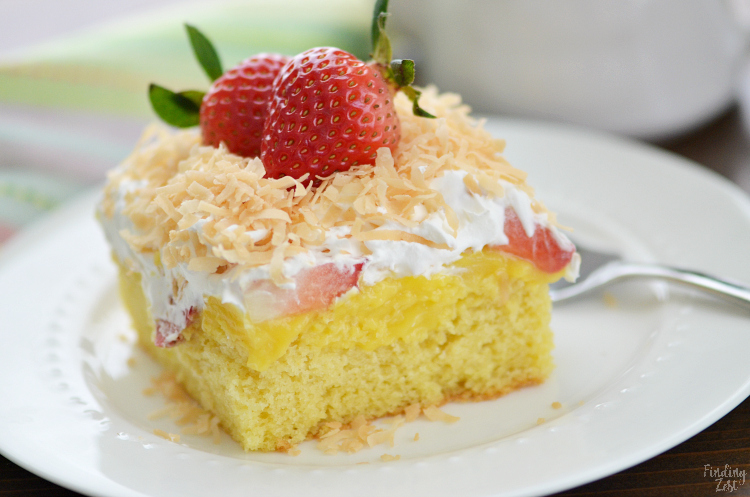 To get the evenly cooked, golden brown toasted coconut shown here, here are some key tips:
Do not overcrowd your coconut. Be sure to use a big enough baking sheet and spread your coconut out in a nice, thin and even layer.
Stir often. The key to even cooking is to stir it often so your coconut has a chance to brown evenly. If you don't do this you can end up with parts of the coconut flakes white, the middle golden brown and burnt tips.
Watch your coconut carefully. As soon as you notice your coconut flakes starting to brown, stir it more frequently and watch it closely. Once it finally starts to brown it doesn't take long to burn.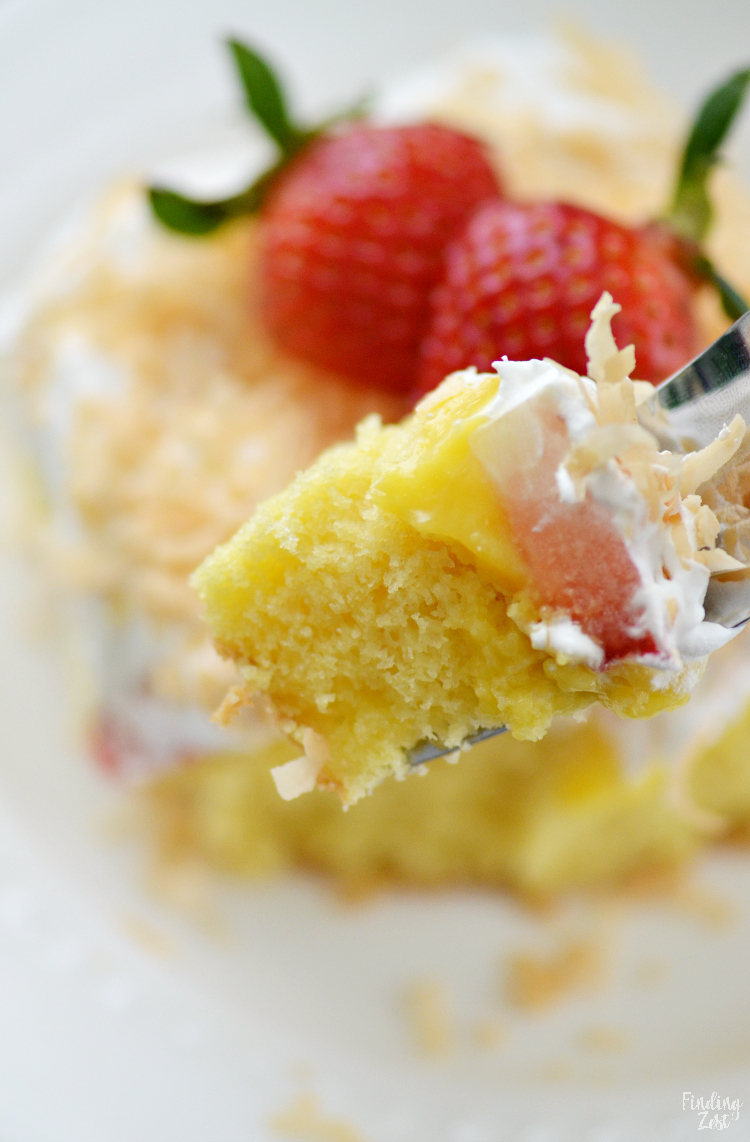 Don't like coconut?  You can skip this step and just garnish with fresh strawberries or substitute your favorite crushed cookies such as vanilla wafers.

Strawberry Poke Cake with Toasted Coconut
Author:
Emilie at FindingZest.com
Ingredients
1 box yellow cake mix
(Water, oil and eggs called for on cake mix)
2 boxes (4-serving size each) french vanilla instant pudding and pie filling mix
3 cups cold milk
1 quart (about 4 cups) fresh strawberries
1 container (8 oz) frozen whipped topping, thawed
1¼ cup toasted coconut
Instructions
Heat oven to 350°F. Butter and flour a 13x9-inch baking pan.
Prepare cake and bake cake according to directions on the box for 13x9-inch pan.
Cool for 5 to 10 minutes in pan on wire rack.
With handle of wooden spoon (1/4 to ½ inch in diameter), poke holes every half inch. Go as far as you'd like your pudding to reach. (I went about halfway but you can go almost to the bottom if you prefer)
In medium bowl, whisk pudding and milk. Pour over cake immediately before it has a chance to set.
Spread pudding evenly and gently push down into the cake to push pudding into the cake. (Some pudding will remain.)
Refrigerate 1 to 2 hours.
Add sliced fresh strawberries to top of cake, covering entire top.
Spread whipped topping evenly over cake.
Before serving, top with toasted coconut.
Top each piece with strawberry sliced in half. (optional)
Store any leftovers in refrigerator. Best if consumed within 48 hours.
This strawberry poke cake recipe with toasted coconut was such a hit with my whole family. We polished off this cake in just a couple of days. Even picky about cake family members thought this poke cake was a keeper so I'll definitely make it again. Next time I might play around with different fruit and pudding flavors.
Do you have a favorite poke cake recipe?