Baby's almost here and I was happy to receive a few special Mamas and Papas baby products for review. I can't wait to use them when she arrives.
Most people don't know that a baby born after the loss of another is often called a rainbow baby. This new addition to our family is very much our light after the storm. I was so excited to see the colorful gingerbread blanket. I've always loved anything with stripes when it comes to baby but it's even more special with the feeling of these bright rainbow colors.
I was amazed at how SOFT this blanket is. I can't wait to wrap our new baby girl in it or snuggle with my older daughter to read a book before bedtime.
GINGERBREAD KNITTED BABY BLANKET
This beautifully soft knitted baby blanket is luxuriously soft to the touch and will make your precious little one feel special. An ideal gift for a newborn and practical too, designed to fit all Mamas & Papas strollers, bassinets and cribs. Machine washable, dry flat reshape while damp. Ages birth & up. $49.99
Mamas and Papas also has a wide variety of travel toys. I love the bright Klank the Robot Activity Toy with a variety of patterns, textures and interactive shapes to keep baby entertained at home or on the go. This will be great as we enjoy walks this spring.
KLANK THE ROBOT ACTIVITY TOY
Klank the Robot is a perfect activity toy for on-the-go, easily attaching to strollers and infant carriers with the handy c-ring. The soft toy has six entertaining features for baby, including chimes, crinkles and fabric knots, and a baby safe mirror to help to promote self awareness and recognition. Baby can also relieve sore gums by chewing on plastic teethers and c-ring. Ages birth & up. $15.99
One of their newest products is the Light & Sound Lotty Playmat and Activity Gym! This cute playmate has all the bright color and whimsy you expect from Mamas and Papas with adorable illustrations and interactive toys. Keep tummy time fun for your little one. (Enter to win below!)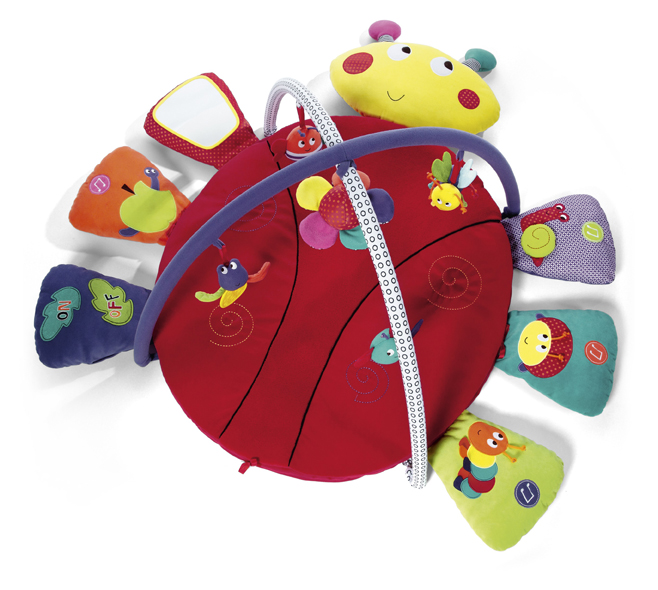 LIGHT & SOUND LOTTY PLAYMAT & ACTIVITY GYM
Baby will have endless fun with the Light & Sound Lotty Playmat & Activity Gym from Mamas & Papas. This luxuriously soft padded playmat and activity gym is packed with 16 interactive features that encourage key senses such as touch and hearing. Lotty's head is a  detachable tummy time cushion that helps encourage babies to lift their head, strengthening their neck, upper arm and chest muscles.  This brightly colored and interactive playmat and gym will quickly become a favorite place for both baby and parents. Ages birth & up. $99.99
BUY IT:
All of these items and more are available at online at Mamas and Papas, select retailers and Amazon
.
WIN IT:
One lucky reader will win their own Mamas and Papas Light & Sound Lotty Playmat and Activity Gym worth $99.99!
Disclosure: I received a sample of the blanket and travel toy in exchange for this post. All thoughts and opinions are my own.