Lately we've been making a ton of pumpkin recipes. 'Tis the season after all. But often recipes only need a partial can of pumpkin.  What do you do with that leftover pumpkin? One option is to simply freeze it for later use.  Another is to make some recipe that only needs a smaller amount like this delicious Pumpkin Banana Smoothie we made for Mini Chef Mondays.
Some of the best ways to get kids excited about their time in the kitchen is to make recipes with a quick result.
This smoothie can be ready to enjoy in under 10 minutes,  making it ideal for kids that are younger or with shorter attention spans.
If you want a really cold smoothie, you'll want to be sure to use cold pumpkin and a frozen banana. Another option would be to add some ice!
I topped off our smoothie with a little whipped cream and pumpkin pie spice which Wes loved!

I made just enough for one smoothie, but Wesley was nice enough to share with me. Alternatively you could serve this as a smoothie bowl and top with additional ingredients like dried or fresh fruit (bananas, pears or apples would work well) or granola.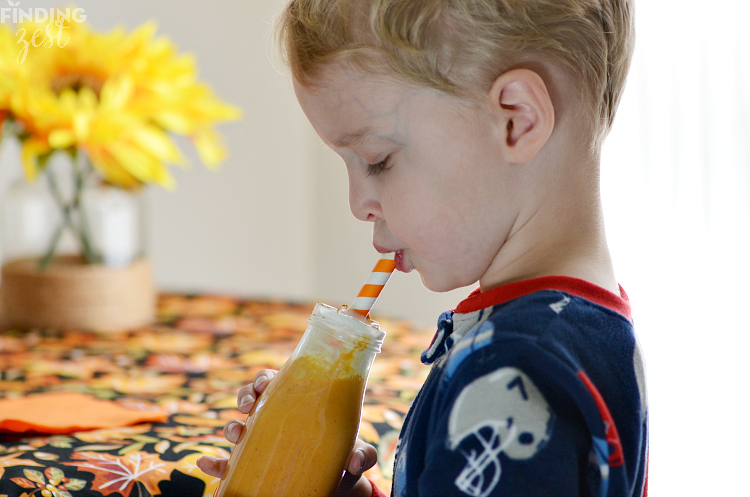 Yum!
Pumpkin Banana Smoothie
Ingredients
½ cup canned pumpkin, cold
1 medium banana, frozen
½ cup vanilla yogurt
¼ cup milk
1 to 2 teaspoons honey
⅛ teaspoon pumpkin pie spice
whipped cream and pumpkin pie spice for garnish (optional)
Instructions
Blend all ingredients besides garnish in blender until smooth.
Top with whipped cream and pumpkin pie spice if desired.
Notes
Pumpkin/banana doesn't need to be cold or frozen but necessary if you want a cold smoothie.
What have you been up to with your mini chef this week?
I am hosting Mini Chef Mondays along with 5 fabulous bloggers, find out more about the Mini Chef Mondays Team!
Join our facebook group to find even more recipes and share recipes too!
Get featured and follow us too!
Be sure to check out each of their Mini Chef posts as well!