Over the weekend I made a delicious pumpkin cream cheese monkey bread for my family for breakfast. But I ended up with a cup of canned pumpkin left over. Normally I'd opt for some pumkpkin muffins, bread or cake cookies. They are always top of mind for me when I think of pumpkin. But I've made all of them multiple times this fall, and I needed something I could make quickly. Knowing I had cream cheese in my fridge, I thought a cream cheese dip would be perfect for my family to enjoy. I served it with apple slices and vanilla wafers. They absolutely loved it! Make this Pumpkin Cheesecake Dip for the perfect appetizer or dessert  for your next fall get together. Imagine bringing this to Thanksgiving? 
Pumpkin Cheesecake Dip for Dessert
Ingredients
1 8 oz brick of cream cheese, softened
1 cup canned pumpkin (not pumpkin pie filling)
¾ cup powdered sugar
¼ cup plain or vanilla yogurt
1 teaspoon pumpkin pie spice
1 teaspoon vanilla
vanilla wafers, sliced apples, grapes, graham cracker sticks
Instructions
In medium bowl, beat softened cream cheese until smooth.
Add pumpkin, sugar, pumpkin pie spice and vanilla. Mix until well blended.
Serve immediately or store in refrigerator until ready to serve.
Serve with any combination of vanilla wafers, sliced apples, grapes or graham cracker sticks.
I garnished my dip with a sprinkle of cinnamon and a vanilla wafer. But toasted or candied pecans or walnuts would also be lovely. Sprinkle some graham cracker crumbs on top to really give it that cheesecake taste.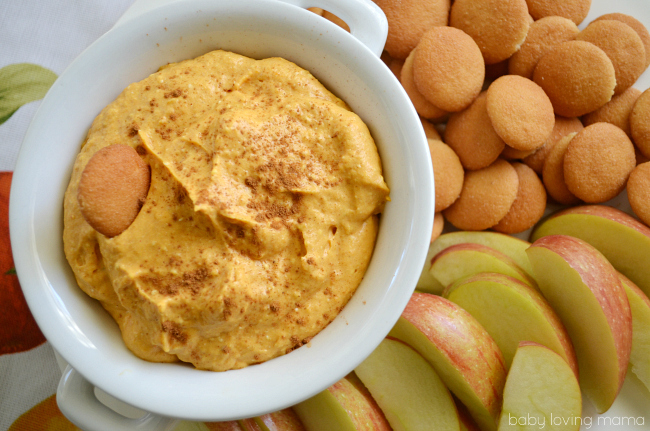 You can easily reduce the amount of calories by using a light cream cheese if you prefer. You can also substitute more of the cream cheese with yogurt instead, although the dip won't be as thick. Play around with this recipe to get the exact flavor you are looking for!