This pumpkin coloring page printable is available for free download. The perfect way to relax, this pumpkin free printable is great for both adults and kids. Two versions are available including one with and one without text. Print them off for a fun Halloween or Thanksgiving activity.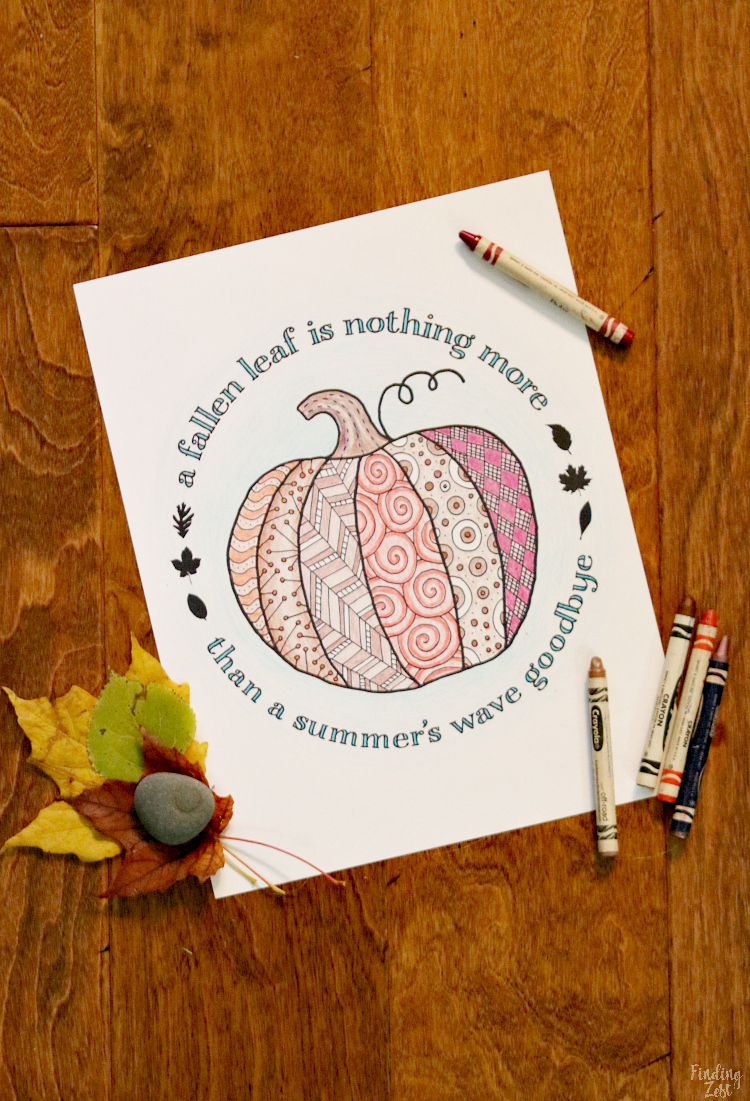 Fall is one of my favorite times of the year with the leaves changing color all around us. Our house has dozens of maple trees and they look so beautiful as we're surrounded by orange, gold and sometimes red leaves. Of course it's also the time of year when we see pumpkins popping up everywhere to celebrate the fall harvest, Halloween, or Thanksgiving. I created this fall pumpkin coloring page to celebrate the changing of the seasons.
I surrounded my graphic pumpkin illustration with the sweet message, "a fallen leaf is nothing more than a summer's wave goodbye." Although it's always hard to see the summer days go, I'm so grateful they leave with such a bright celebration of color.
I chose to color my pumpkin design using crayons. Sometimes I think we don't give these elementary art tools enough credit. If you keep a sharpener nearby you can create beautiful details. I found my daughter's favorite metallic crayons for this page and love how they give a little shimmer to the page.
How to Add Depth When Coloring
I decided to fill each patterned section with a single color and still achieved depth by adjusting the pressure on the crayon. I also expanded the traditional orange color palette and included other warm tones such as shades of brown and even raspberry. Surrounding the pumpkin with cool shades of blue makes it stand out on the page while still adding a bit of fun to the text. I hope you, or maybe your kids, enjoy adding a pop of color to this pumpkin coloring page.
Pumpkin Coloring Page Download >>>
Download Pumpkin Coloring Pages by clicking the links below.  
You can also download this Halloween Jack-o-Lantern Faces Printable for another fun fall activity for kids.
Please respect my design copyright (©Janelle Wourms Design) for this free printable, as well as the original link to Finding Zest where I'm sharing this printable.  I am offering it for free but do not take the file and upload it anywhere for sale or distribution. If you share this design please give me credit and link to the original post. Thank you!