After cooking with my mini chef every week for a year, I've come to appreciate simple recipes that can be enjoyed in short period of time. This Pumpkin Dessert Flatbread combines so many of my favorite things. The flavors of pumpkin and pumpkin spice, a sweet and crunchy topping, and warm flatbread is something special.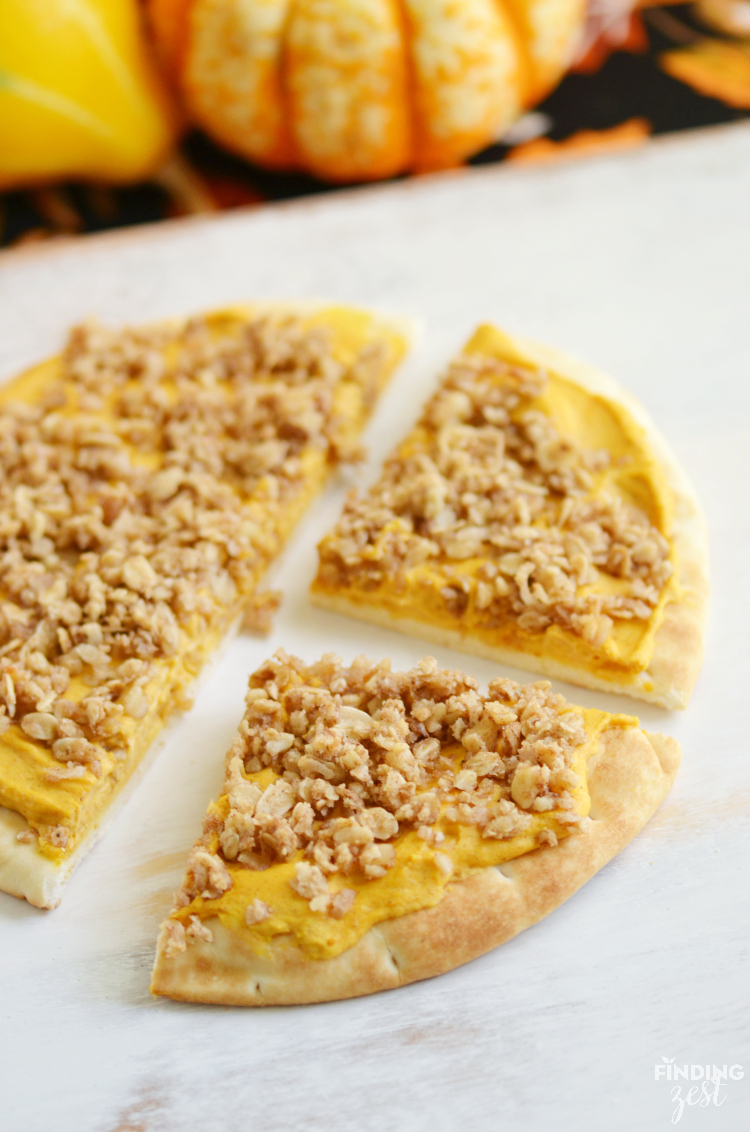 This is a recipe that still has plenty of steps for a mini chef, but can be completed and enjoyed in a very short period of time.
Because I wanted something fast, we opted for a handheld mixture versus or Kitchenaid Stand Mixer. Wesley loved operating the beater while I closely supervised.
The result is a tasty pumpkin cream cheese mixture that can easily be used as a dessert dip. You can always stop there, but why not kick it up a notch and enjoy it warm on some soft flatbread?
I didn't use a recipe for inspiration, but instead combined some general ideas of previous recipes I've done. For example, the crumb topping reminds me very much of this Pumpkin Cream Cheese Coffee Cake, which I highly recommend.

Wesley loved these dessert pizzas and he couldn't wait to share them with his brothers. They all loved it again that night for dessert! It tastes great warm or cold.
Pumpkin Dessert Flatbread
Recipe Type:
Dessert/Snack/Appetizer
Ingredients
4 Greek pita flatbread
6 oz cream cheese, softened
⅓ cup canned pumpkin
½ teaspoon pumpkin pie spice
1 tablespoon sugar
½ teaspoon vanilla
Topping ingredients:
2 tablespoons flour
2 tablespoons brown sugar
½ teaspoon pumpkin pie spice
½ cup oatmeal
⅓ cup shredded coconut
⅓ cup chopped walnuts or pecans
2 tablespoons cold butter, cut up into small chunks
Instructions
Preheat oven to 400 degrees F.
In medium bowl, beat cream cheese, pumpkin, pumpkin pie spice, sugar and vanilla until well combined and completely smooth.
In separate bowl, mix together topping ingredients, cutting butter in with fork or pastry blender until combined.
Top flatbread with pumpkin mixture and crumb topping.
Bake for 5 minutes or until topping is a light golden brown.
Cut into quarters and serve.
Why don't you give it a try?
What have you been up to with your mini chefs this week?
I am hosting Mini Chef Mondays along with 5 fabulous bloggers, find out more about the Mini Chef Mondays Team!
Join our facebook group to find even more recipes and share recipes too!
Get featured and follow us too!
Be sure to check out each of their Mini Chef posts as well!