With the start of the new year almost upon us, I can't help but reflect on some of the amazing trips I've taken this year. Vacations are so important for both feeling refreshed and also reconnecting with family, especially my husband. For so long we went without time away together, that we forgot what it was like to enjoy each other on vacation. Family vacations are great, but they aren't nearly as relaxing as a getaway for two. Going on a media trip with Princess Cruise for 5 days aboard the Caribbean Princess, I was reminded of just how important it was to make time for my husband and myself.  I could eat a meal while it was hot and not worry about cutting up food for my kids or watching their table manners. We could go to bed and get up when we wanted.  And I wasn't limited in my experiences. We swam with dolphins and stingrays and we went on a wild ATV adventure, neither of which we could have done with our kids. 
While on board the Caribbean Princess, we were able to enjoy some relaxation in the Lotus Spa. My husband opted to get a facial and shave while I went for an exotic lime and ginger salt glow with full body massage. It was absolutely heavenly!

We also enjoyed our time in some of the adult only areas which were so peaceful and relaxing.
Just my husband and I in a hot tub while cruising the Caribbean? Yes, please!
We also enjoyed a morning reservation in the Sanctuary. It was very windy the morning we went, but the cover over the lounge area meant we could enjoy the warm weather without the wind.
This area features extremely comfortable lounge chairs and extra special service by the attendants.  There is even private areas set up for massage!
We also enjoyed two wine tastings. I highly recommend going to both, or if only choosing one, splurging a bit and paying the $25 fee per person for the Maitre d' Wine Club. The quality of the wines and food pairings including caviar and truffles make it worth paying extra. There wasn't a wine we didn't enjoy and it was a great chance to learn more about wine.
Also included on board is plenty of entertainment! Our schedule was such that we missed a lot of the shows, but we did catch a musical, Born to Be Wild,  on the last night.  Other showtime options included a comedy show or illusionist. If you like more interactive entertainment, there were plenty of options for dancing, karoke, and game show style. Movies also played midship on the top deck where  you could lounge in the pool or hot tub while enjoying a show! There were so many options it was hard to choose what to do next!
But one thing I can't forget are the sunrises and sunsets like the sunrise as we arrived in Grand Cayman.
And my absolute favorite, the sunset on the first night at sea!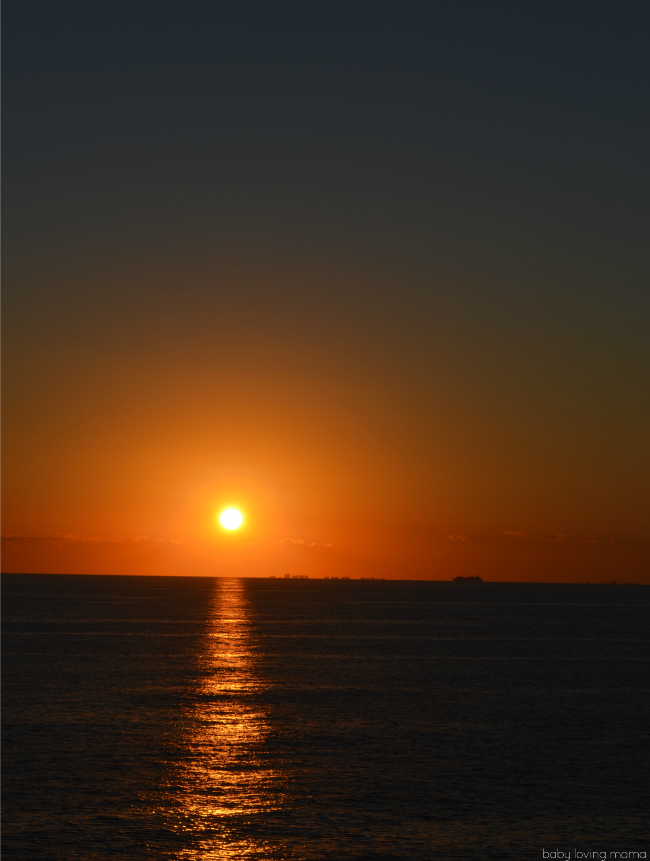 Enjoying views like this on deck or on our private balcony with my husband, it was hard not to be in awe. Vacations are the perfect reminder to slow down and appreciate the beauty in the world around us.
THIS COULD BE YOU!
With this year behind us,  it is a great time to consider how you will explore new places, relax and connect with friends and family in the new year. A cruise is a great way to do all three!  Learn more about the Caribbean Cruise Desinations Princess Cruises has to offer so you can come back new like us!
A big thank you to Princess Cruises for inviting us on board their beautiful ship during a media trip. All thoughts are my own.