Jeans can be a difficult item to shop for, with finding just the right fit meaning you have to try on what feels like a thousand pairs before finding one that you are moderately okay with and might actually purchase to walk out of the store with. How many times have you gone in for a pair of jeans and walked out with nothing? How many pairs have you tried on that looked terrible? NYDJ is here to help you! NYDJ is a Los Angeles based clothing company offering stylish jeans with a touch of other slimming clothing lines. They are "The Original Slimming Fit" brand, and have the testimonials to show it. They focus primarily on jeans for women with Lift Tuck Technology.
Slimming Jeans
All of NYDJ's products are slimming on the body. Jeans are available in a variety of colors, and the company also offers dress pants in many colors, slimming dresses and tops, and leggings with the same slimming technology. It's time that you start feeling comfortable in your clothes again! Whether you need an everyday pair of jeans, work pants, or jean leggings to go with other outfits, NYDJ has something to offer for every body type.
Skinny Jeans (Super Skinny, Stretch Skinny, Petite Skinny)
Skinny jeans are available from NYDJ in a variety of colors and styles. From regular denim skinny jeans, to super skinny, stretch skinny and petite skinny jeans in colors like bold blue or red, there is a size or style that will fit every body type! Skinny jeans are not just for the skinny women anymore! Embrace your body with NYDJ skinny jeans!

Style
It's easy to be in style when shopping with NYDJ. They offer prints, patterns, dress pants, denim, leggings and a wide assortment of other clothing such as skirts, dresses, tops and sportswear. From polka dot skinny jeans to pink dress pants, you are bound to find something that shows off your sense of style and fits you just right!
Comfort and Technology
The company has designed a technology that they call "The Original Slimming Fit". It shapes your body beautifully using simple but effective design touches, such as strategically placed pockets, a rise that sits at the perfect point on your body, and comfortable fabrics that move with you instead of against you.  Get comfortable in your clothes with NYDJ!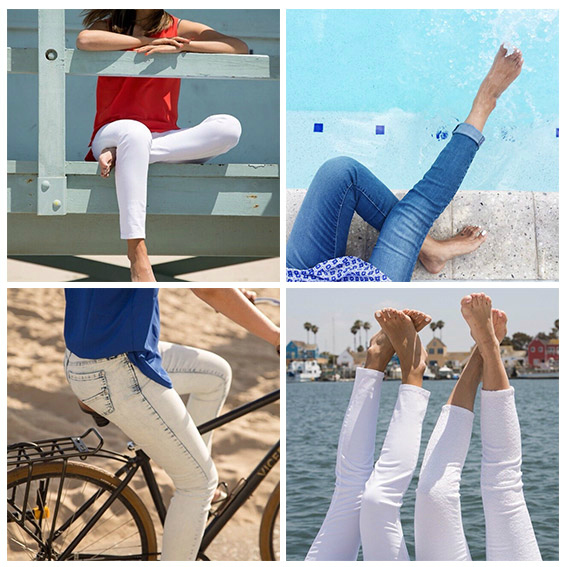 Thank you to Mariah Meyer for this guest post!