The night time routine has always been important for my boys. After getting ready for bed, all of them enjoy story time to relax and have white noise in the background to help block out sounds. But my youngest Wesley needs a little something extra to help him drift off to sleep and self soothe in the night. He has always had some sort of mobile or crib toy with soft music and lights. When I was asked to test out the Tiny Love Magical Night 3-in-1 Mobile and Projector, I was happy to give Wesley a new option in his crib.
What makes the Magical Night so unique are these grow-with-me features:
0-5 months: Musical mobile with overhead canopy projection
5-18 months: Crib music box with ceiling projection
18+ months: Charming starry musical night-lamp
My Wes is too old for the mobile version but I just had to set it up and check it out. Isn't it cute? (Be sure to click the sound button so you can hear the music!)
There are a total of nine soothing and relaxing tunes in three different  musical categories. And I absolutely love that it will play for 30 minutes continuously.
Three animals are  featured in this mobile and projector including a giraffe, owl and monkey.
Aren't they adorable?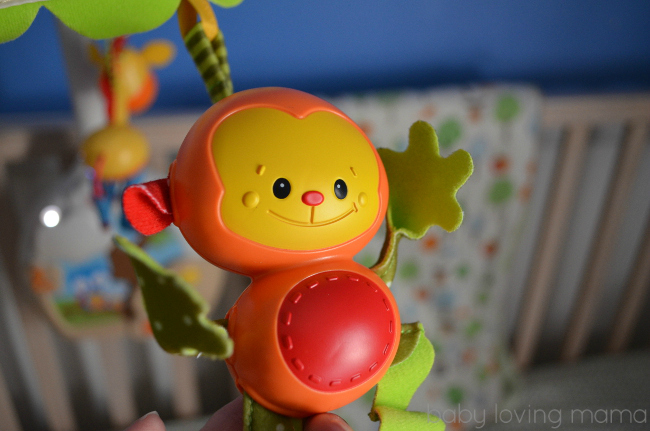 They are also the same three animals featured in the overhead projector. The animals themselves are in color, but there are a lot of black and white accents as well.
When the mobile is used, the animals are projected on the canopy over head. When the mobile with canopy is removed, you'll see these same animals rotate along the ceiling. And once the projector is outside the crib, you can put the canopy back on to display a beautiful starry night instead.
We've been using the projector in the crib for some time now and Wesley has become a pro at working all the buttons. There is nothing sweeter than being woken up in the middle of the night to hear his music from this projector playing on our baby monitor and no crying from him at all.  He can and will turn on the projector to self-soothe when he wakes up in the wee morning hours and will fall back to sleep. This is important since he hasn't used a pacifier since he was 6 months. While it gives off quite a bit of light into his bedroom, it is still soft. I like having that option for him in case he gets scared.
While I try to put Wesley in his crib while he is still awake but relaxed, some days such as when he is sick or teething, that hasn't been an option. And I can tell you that listening to the music and watching the projector overhead on his ceiling creates a very serene atmosphere. I always have a very hard time not falling asleep myself. (Haven't we all been there?)
My only complaint is that this runs on "C" batteries. I wish there was a plugin option, but I do feel that the batteries last a while at least.
BUY IT:
You can find the Tiny Love Magical Night 3-in-1 Mobile and Projector has a list price of $69.99, although I've seen it for much less at retail. Look for it at select retailers nationwide including Buy Buy Baby, Meijer, Toys "R" Us and Amazon.
WIN IT:
I have a Tiny Love Magical Night 3-in-1 Mobile and Projector to give to one lucky reader in the US or Canada.
a Rafflecopter giveaway

Disclosure: I have received a sample for the purpose of this review however all thoughts remain my own.