The kids went back to school last week, including my kindergartner.  I'm am stoked! Since I work from home my time to get things done was really limited. Now that I have the house to myself for the first time I can GO WILD and do whatever, whenever. I feel like how I did as a kid when I finally got left home alone for the first time or when I got my first car. The feeling spells F-R-E-E-D-O-M. Time to celebrate!
It might be tempting to fall into a simple routine, but why would I want to be so boring? I've got the time so why not have a little fun. I can add a little sparkle into my life with Sparkling Ice.  With 15 fabulous flavors on Amazon to choose from, I can pick my flavors based on my current mood and be not bland. Switching things up has never been so easy. It might even be enough to make me forget how difficult it is to get all three boys out the door in the morning.
The above picture is a re-enactment of a typical morning in our house. Me yelling, "It's time to go!" while my middle child is still playing with the dog wearing no socks. Not a care in the world. A look of bewilderment on his face that I'm yelling, even though it is the third time I've said it.
While I might be adding a bit of sparkle into my own day, I can liven up a simple fruit cup for my kiddos in their lunch. All I have to do is add in splash of Sparkling Ice in the morning.
Some chopped up fruit like this mango, pineapple and grape combo is perfectly paired with the Coconut Pineapple or Orange Mango varieties. The fruit soaks up some of the flavor and really packs a punch!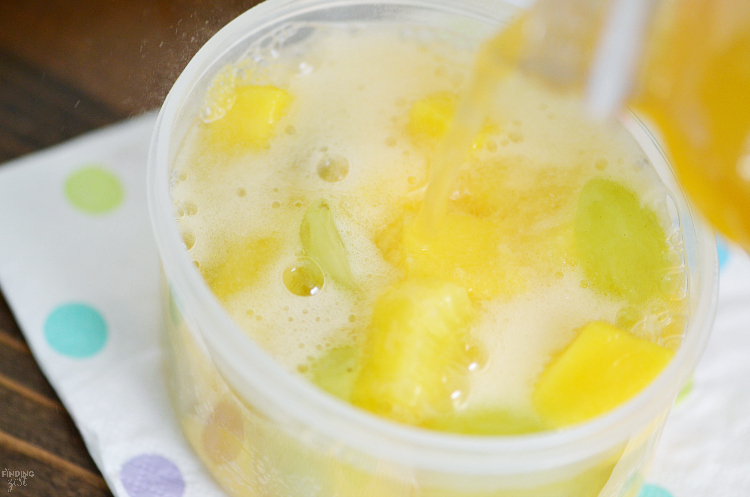 Play around with different flavor combinations, even those fruits that typically brown by lunchtime. Some sliced apples or pears drenched in the Sparkling Ice Crisp Apple would be perfect for fall.
A little goes a long way with the fruit cup so of course all the leftovers are for ME. I can pour the rest of the Sparkling Ice into a glass and top with some ice, diced mango and a pretty straw.
Sparkling Homemade Fruit Cup
Author:
Emilie at FindingZest.com
Ingredients
¼ cup chopped mango
¼ cup chopped pineapple
6 large grapes, cut in half
⅓ cup Sparkling Ice (Orange Mango or Coconut Pineapple)
Instructions
Place fruit in small airtight container.
Top with Sparkling Ice.
Refrigerate or seal and store in lunchbox with ice pack.
Best enjoyed within 4 hours.
Great way to make my own morning sparkle! Get your own
here
!
How would YOU be not bland?