Disclosure: Buffalo Chicken Sliders posts is sponsored by Mirum Shopper but all opinions are my own. 
We've all been there. That moment you realize that you need something awesome to serve on game day or appetizer for that upcoming holiday party. Maybe you have leftover rotisserie chicken that you need to eat up or you just need something new and different for lunch. Whatever the reason, these Easy Buffalo Chicken Sliders are for you! Loaded with plenty of flavor, these sliders pack a serious punch and will please the crowd!
We love sliders in our house. I'm not sure if it is the small size just makes them taste better or if they are just more fun. The best part of this recipe is it can be thrown together in no time. If you've never tried making a slider before, you'll be shocked just how simple they are to make!
How to Make Buffalo Sliders
I found this recipe from the I Can't Believe It's Not Butter! website. When I spotted this recipe I couldn't wait to try them out with a few twists. Have you spotted the NEW I Can't Believe It's Not Butter! Organic at Target? I found a great offer on the Cartwheel app for 20% off and got significant savings to try it out. You should give it a try too! Why? It is a USDA Certified Organic, non-GMO spread. I like that it is made up real, simple ingredients with no artificial flavors, preservatives or partially hydrogenated oils. This is a great option for those who want to cut out or limit their dairy intake.
Because this recipe is made up of prepared ingredients, your job is mostly just mix and assemble.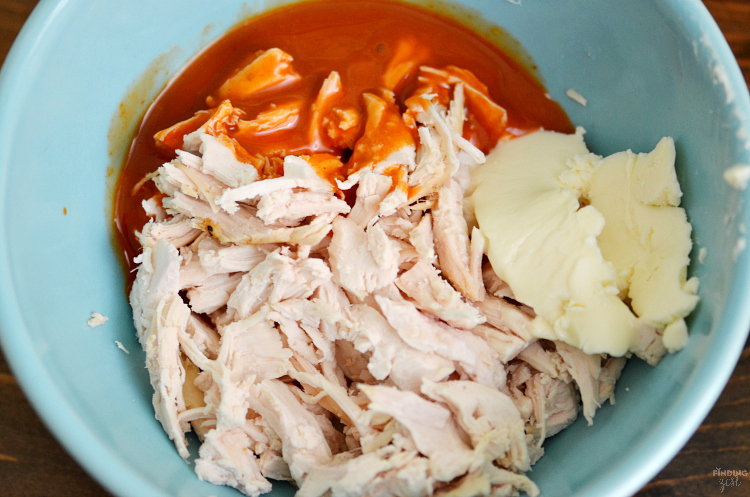 You don't have to heat up the chicken mixture if your chicken is already very hot, but I wanted my sliders warm so I added that step.
I also love the flavor of Hawaiian rolls so I went with those instead of potato party rolls. I also love them toasted so I spread a bit of I Can't Believe It's Not Butter! Organic spread over them and broiled them just until golden brown. (Be sure to keep a very close eye on them as they brown quickly.)
Set your rolls and two mixtures up assembly style and load them up! I wanted more chicken in mine so I did increase some of the ingredients in this recipe to have bit larger slider.
I served these easy buffalo chicken sliders with the traditional celery sticks and additional blue cheese dressing.
Easy Buffalo Chicken Sliders
Author:
FindingZest.com / Altered Recipe from Unilever
Recipe Type:
Appetizer/Lunch
Ingredients
3 cups shredded store-bought rotisserie chicken (warm)
⅓ cup prepared buffalo hot sauce
¼ cup butter or I Can't Believe It's Not Butter!® Spread
2 cups coleslaw mix
⅓ cup diagonally and thinly sliced celery
¼ cup chunky blue cheese dressing
24 party-size Hawaiian rolls
Instructions
Combine chicken, buffalo sauce and I Can't Believe It's Not Butter!® Spread (or butter) in medium bowl; set aside.
Combine coleslaw mix, celery and Wish-Bone® Chunky Blue Cheese Dressing; set aside.
Slice buns in half and spread lightly with I Can't Believe It's Not Butter!® Spread (or butter).
Broil for 1 to 2 minutes or until a light golden brown.
Evenly top rolls with chicken mixture, then coleslaw.
I hope you love these buffalo chicken sliders as much as we do!