With Christmas coming, it's a great time to spruce up a doll's wardrobe. I was asked to share information with you about the adorable and affordable 18" Springfield® Dolls ($21.99) – Ella, Paige, Alexis, Madison and Savannah. This doll collection with beautiful hair and eyes now has a brand new Boutique Collection of cute dolls and clothes at a budget friendly price, found exclusively at Jo-Ann Fabric Stores.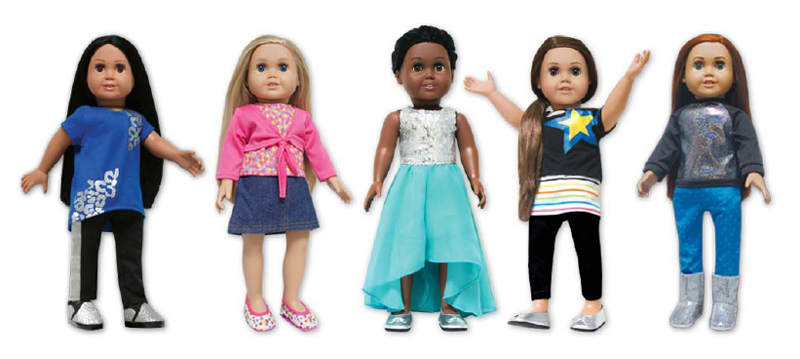 With so many adorable outfits it was hard to choose just one! I decided on this purple gown with gold glitter design on purple tulle, white gloves and black patent shoes.
My daughter goes to a fancy ball each year with her daddy and I thought she might enjoy pretending with her new Savannah Springfield Boutique Doll.
Savannah comes ready for bed with her purple nightgown.
Her features are detailed with beautiful lips, teeth and green eyes that open and shut.
I thought the purple ball gown would look beautiful with her long, red hair.
The dress and accessories (fancy white gloves and black patent shoes) were easy to put on. I like the added touch with the black choker necklace.
Every girl needs a fancy pair of shoes for the ball.
I was a bit disappointed by the quality of the shoes. They're made of a paper-like material. I could see my daughter getting frustrated putting these on. The back collapsed and when trying to pull it onto her heal the stitching on the back already started to tear.

Her white gloves were stretchy and easily slid onto her arms and hands.
I love that these 18″ dolls ($21.99) and their fashionable outfits are affordable and easily paired for gift giving whether it be for the coming holidays or a friend's birthday.
Trendy tops, pants, skirts and even gowns reflect the fashion tastes of upcoming fashionistas. This month, Jo-Ann Stores will start to stock perfectly packaged outfits like a "Paris printed White T-shirt, floral printed leggings and pink patent shoes" at $14.99. For those unfamiliar with Springfield Dolls, they have been around since 1996! The "girls" have sparkling lifelike eyes that open and close and boast silky, long, rooted hair that can be brushed and styled. Each doll is soft and huggable with moveable arms and legs, making dressing and undressing easy. Springfield Dolls are a division of Fibre-Craft®, LLC, the beloved company that is celebrating 60+ years of making children's craft products. As the Springfield Collection proudly explains on its website, www.SpringfieldDolls.com, "we know the importance of imagination and creative play in a young girl's life."
Meet the Fall 2015 Springfield Boutique Dolls, each placed in a gift box and comes wearing brightly colored nightgown featuring a heart print on the front.
Ella – a beautiful Latina doll with brown eyes dressed in an apple-green nightgown.
Paige – a sweet doll with brown eyes and long brown hair comes wearing a hot pink nightgown.
Alexis – an enchanting blue eyed, blonde haired doll wearing a bright blue nightgown that matches her eyes.
Madison – a gorgeous African-American doll with brown eyes, curly black hair in a yellow nightgown.
Savannah – a striking green eyed, red haired doll arrives wearing a purple nightgown.
BUY IT:
Springfield Boutique Dolls ($21.99) and Boutique Outfits ($14.99) can only be found at your local Jo-Ann Fabric and Craft Store.
WIN IT:
Win an 18″ Springfield Boutique Doll of your choice!
Disclosure: I received a doll and outfit in exchange for my review. All thoughts and opinions are my own.