This post is sponsored by Sparkling ICE but the content and opinions expressed here are my own.
Summer is just around the corner and with it is the opportunity to enjoy some of your favorite fruity flavors. I added some extra fun in to this easy Strawberry Watermelon Cocktail just by adding some sprinkles to my glass. Whether you like add pops of color with fun straws, glasses or garnishes offering guests something unique and unexpected is just more fun, right? What if you added some mystery as well?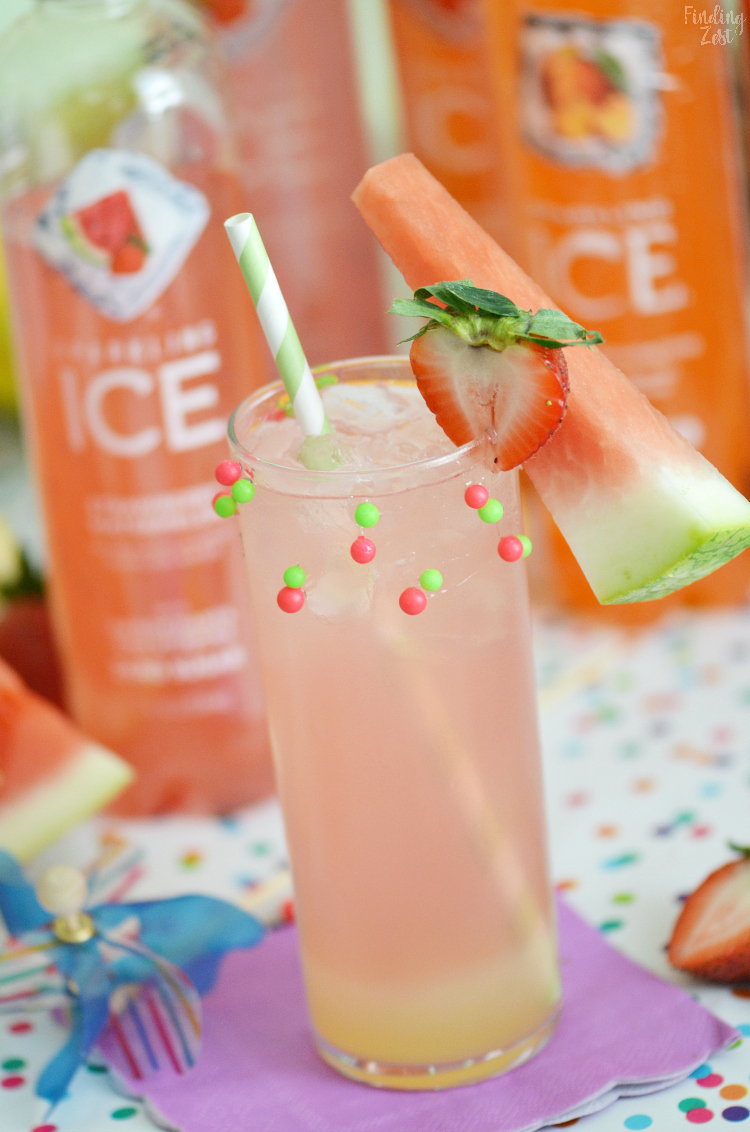 Add Some Mystery to the Drink Selection
Are unicorns real? What is the new Sparkling Ice mystery flavor? That second question will be answered soon, but you'll just have to wait to find out the latest fruity fizz variety in the Sparkling Ice lineup.
Sparkling Ice Mystery Flavor Sweepstakes
Pick up a clear bottle of the mystery flavor at your local Target and select grocery retailer nationwide. Take a guess at what flavor combination is tickling your taste buds and you could one of my many sweet prizes including iTunes gift cards, a Bose® sound system, fun mystery prizes and more!
Can't find the Sparkling Ice Mystery Flavor?
No problem! You can still take a crack at guessing the flavor for a chance to win. Enter up to one time daily through July 31, 2018 to increase your chances of winning! 
How to Enter:
Visit the Sparkling Ice Facebook page by filling out the form or by sharing your guess to Instagram or Twitter using the hashtag #WhatTheFlavorSweeps
What flavor do I think is in this clear mystery drink? Sparkling Ice has refused to spill the beans so I'll have to keep taste testing to try and narrow it down. I'm convinced it has melon in it, but I can't be sure anymore. Guess I'll have to go pick up another few bottles to get it right.
Frozen Fruit Instead of Ice
Switch things up a bit at your next get together by offering frozen fruit instead of ice in your cocktails. No need to water down your drink when frozen fruit can cool you down instead. Let guests build their own drinks (both alcoholic and non-alcoholic options) with Sparkling Ice, including the newest mystery fruit flavor so guests can have a crack at guessing.  Sparkling Ice can add the mystery and fruity fizz! It is a delicious soda replacement and perfect for making skinny cocktails!
I filled my drink glass with frozen melon balls, 3 oz of vodka and topped with cold Sparkling Ice Mystery Flavor. It was easy, delicious and downright magical. Not as magical as a unicorn, but you get my drift.
If you want to try fruity drink that tastes like summer, you can also give my simple Strawberry Watermelon Cocktail a try. It features Strawberry Watermelon Sparkling Ice (of course) vodka, pineapple juice and lime juice.
If you have time for some sparkly fun you can added sprinkles with corn syrup to the glass like I did or just stick to some fruit garnishes instead. 
Here's the recipe to this slightly fizzy but oh so tasty concoction!

Strawberry Watermelon Cocktail
Author:
Emilie at FindingZest.com
Ingredients
4 oz. Sparkling Ice Strawberry Watermelon
1 oz pineapple juice
½ oz. lime juice
2 to 3 oz vodka
ice
strawberry and watermelon slices for garnish
Instructions
Add ice to a tall glass.
Add pineapple juice, lime juice, vodka and Sparkling Ice.
Garnish with a fresh strawberry and watermelon slice if desired.
Serve immediately.
Don't forget to enter to win the Sparkling Ice Mystery Flavor Sweepstakes! Who knows, you might be the grand prize winner of a mystery trip to California.  Each guess has an equal chance at winning so even if you don't crack the mystery, you can still win!
Good luck!