Nurses play such an important role in patient care. I'm sure it is often an exhausting job both physically, mentally and emotionally. It takes a special kind of person to be a nurse and that is why they deserve our gratitude. Yesterday marked the end of National Nurse Appreciation Week, the perfect time to give thanks. Pampers offered me a grant to benefit nurses in my community as part of their Thank You Nurses campaign and my place on the Pampers Baby Board.
From holding their hands during labor, to teaching them how to change a diaper, nurses dedicate themselves to providing the best care for mom and baby, leaving a deep, long-lasting impression that fosters a bond of trust and transcends the hospital experience.
I couldn't wait to shower our local hospital with treats!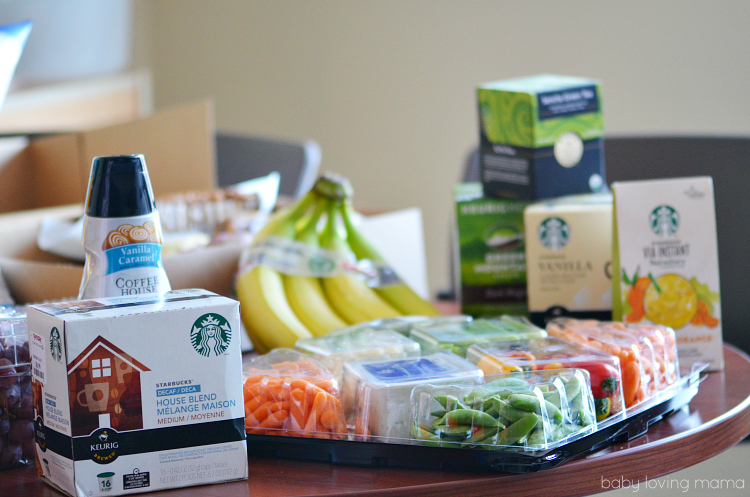 On Monday I hit up my local warehouse club and purchased veggie trays, fruit, K-cups, lemonade, popcorn and other goodies for the nurses to enjoy in the birthplace and NICU break rooms.
 I also placed a special order with our local Great Harvest. They were kind enough to box up six different packages of their amazing baked goods, one for each of the three shifts in both the birthplace and NICU.  Each was tailored to the time of day and number of staff. All the nurses I spoke with were super happy to see treats from Great Harvest.
I tried to add some extras that would last longer than Monday so those not working could enjoy something too, including 200 or so K-cups.
Today I was asked for my address so they could send me a personalized thank you which isn't necessary but so thoughtful. I also received kind emails of thanks.
The nursing staff has been very busy today in both units. For at least a half a dozen of them, your treats have been all they have had to eat today. Your card and meaningful words meant so much. I made a copy of it and brought it over to the NICU.

Your thoughtfulness was warmly received by the staff to have someone recognize the work that they do.

Kim, RN-CNML Nurse Manager
Seeing how much this was appreciated makes me want to do it again next year! I'm so glad I was able to show appreciation for their hard work.
Thank You Nurses Campaign
The first annual Thank You Nurses campaign, in partnership with the Association of Women's Health, Obstetric, and Neonatal Nurses (AWHONN), honors nurses across three award categories: Labor & delivery, NICU and Postpartum.
Labor & Delivery nurse, Anne Gallagher, was selected as the Pampers Swaddlers #ThankYouNurses Award Grand Prize honoree! Anne has been a nurse for 38 years and is currently a nurse at University of Illinois Hospital. She focuses on empowering moms to form special bonds with their newborns.
Check out the Grand Prize #ThankYouNurses Award winner and her incredible story.
Pampers Swaddlers wraps baby with comfort, protection and blanket-like softness, helping to take care of babies during all the precious first moments they share with their parents, and the months and years to come.
Visit Pampers to learn more about Pampers products, join the Pampers Rewards program, and find ideas and information to help your baby get the most out of love, sleep and play.