Thank you to Travel Iowa for sponsoring this post, "Things to Do in Waterloo, Iowa". All thoughts are my own.
Do you sometimes desperately need a family getaway? We are in the midst of a kitchen remodel and last month everyone needed a break. Normally we head to Minneapolis or into Wisconsin since we live on the border, but not this time. Instead, we took a road less traveled (for us) and headed down to our neighbor to our south. Waterloo, Iowa is not far from the Minnesota border and was an enjoyable drive for us. I found the farmlands with rolling hills along the way so picturesque.  Needing some things to do in Waterloo, Iowa or a good reason to visit? Here is what we discovered with some help from Experience Waterloo!
Lost Island Waterloo Waterpark
We regularly visit waterparks but they are typically indoors. We got lucky and had beautiful weather our entire stay. Visiting Lost Island was the perfect way to cool down on a hot summer day. And because we visited on a Tuesday, the lines were minimal. I always recommend visiting any type of theme park on a weekday for a better overall experience.
Lost Island placed second USA TODAY Best Outdoor Water Park in the country, and now I know why. It is certainly the best outdoor waterpark I've ever visited.
Water Slides at Lost Island
With so many water slides at Lost Island, there is truly something for everyone.  One of our favorites was the family raft ride, Calypso Cascade. It seats up to five and has plenty of fast turns with high banks but still works for young children.
For water slide rides for single riders,  the Tangerine Tempest stood out. My kids liked getting shot into a huge 45-foot diameter bowl as they swirled around in circles before being flushed out into a splash pool. This is one has a nice viewing area, perfect for getting fun pictures.
Thrill Rides at Lost Island
For thrill-seekers, we had two clear favorites. The Wailua Kupua is hydromagnetic water coaster and one of only a few in the world! Designed for 2 to 4 riders, you go up a steep incline just like a traditional roller coaster and then are shot down through twists and turns.
It might seem fairly tame but I promise you it is not. You will catch air and go much faster than you think, so hold on tight! It was exhilarating and over much too quickly. We all loved it!
For the most daring thrill seekers, you must try the Molokini Crater. Listed as an extreme water thrill ride, you are essentially dropped into a HUGE funnel.  Two to four people can ride at a time but my kids made it clear they were not getting on it, so I never got any pictures of us. My husband and I rode it twice and it was hard to stop.  It is not for the faint of heart but absolutely awesome!
Relaxing at Lost Island
Whether you need a break from the water slides or you prefer to relax, there are still plenty of options. Soak up some sun on the Kailahi River, play water basketball in Blue Iguana Lagoon, or hit the wave pool Tsunami Bay. If you have little ones there are plenty of areas just for them!
Go-Karts at Lost Island
Lost Island has mini golf and a go-kart track that is open even after the water park closes.  We got lucky and had the track to ourselves. This race was a highlight of our trip and my husband's favorite activity because they were real go-karts rather than the extremely limiting indoor style we've experienced in the past.  Our whole family loved it!
Museums in Waterloo
If you enjoy learning and exploring, Waterloo has several museum options for you in the Grout Museum District including the Sullivan Brothers Iowa Veterans Museum and Bluedorn Science Imaginarium. Only a short drive away is the John Deere Tractor and Engine Museum at the TechWorks Campus, a 30-acre advanced manufacturing, innovation, and commercial center.
John Deere Museum Waterloo
The John Deere Tractor and Engine Museum is open daily and offers free admission. You have no excuse to not stop by when you are in town.  We aren't farmers, but we found learning the history of John Deere interesting. The kids loved checking out all the tractors.
The John Deere Museum is a well-run facility with some fun interactive exhibits including testing your strength with plowing and punching a time card.
Sullivan Brothers Iowa Veterans Museum
The Sullivan Brothers Iowa Veterans Museum was a clear favorite for my oldest son who is a history buff. Studying war and military tactics is his favorite past time so he was in heaven. This museum covers the Civil War to present with 35 interactive exhibits.
The WWII interactive map grabbed our attention,  showing a progression of the war in separate condensed sections with graphics and video.
There is a large section dedicated to the five Sullivan brothers for whom the museum is named. These sailors were tragically killed in action together while serving during World War II.
The museum as a whole had a wide variety of exhibits so it was entertaining for all ages. We couldn't resist cracking the secret code, "Attack at dawn."
Bluedorn Science Imaginarium
Explore physical science with hands-on activities at the Bluedorn Science Imaginarium. This children's museum is open Tuesday through Saturday and offers plenty of learning.
My boys love science and so they wasted no time trying out all of the exhibits.
Known as a playground for the imagination, this center with 91 hands-on exhibits is a great way to spend an afternoon with your kids.
Some of our favorite exhibits included static electricity, cloud formations, parabolic mirror, and touch spectrum.
Phelps Youth Pavilion at the Waterloo Center for the Arts
To burn off some energy, we headed to the Phelps Youth Pavilion. The Phelps Playscape is an indoor play structure for ages 4 to 12 with plenty of opportunities for physical play. If we were local this would certainly become a favorite rainy day spot.
In the Phelps Youth Pavilion, you'll also find an array of art and culture in their children's museum. There are two levels of interactive exhibits with an emphasis on art.
My seven year old loved pretending to drive a small colorful bus and milk a cow!
We could have spent many hours playing in the center without getting bored with the wide variety of options.
Exploring Nature in Waterloo Iowa
We were blessed with gorgeous weather during our stay in Waterloo so we headed out to the Hartman Reserve Nature Center in Cedar Falls. It is a great location for gorgeous pictures.
Besides a recently remodeled nature center, we found plenty of trails to explore in a pretty wide variety of types. At the beginning of our on our nature walk, we discovered well-maintained bridges and pathways.
But as we got further we also found rustic and overgrown areas before reaching a paved road, perfect for biking or running. It was a great morning hike. Be sure to grab a map in the nature center before heading out so you don't get lost!
Cedar Valley Arboretum and Botanic Gardens
Whether you love horticulture or just beautiful spaces in general, you should stop by the Cedar Valley Arboretum and Botanic Gardens. Walk the grounds and discover beautiful gardens along with mosaics and sculptures made from a variety of plants.
My boys really enjoyed the kids garden area which is suitable for all ages.
This area included fun playhouses, sand toys, a small pond with lily pads and so much more. My boys decided this small house was from The Shire.  The kids garden offered many opportunities to learn and explore.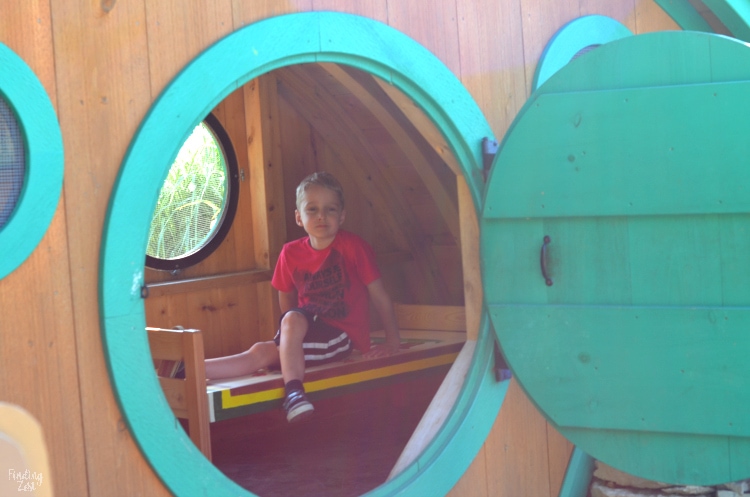 Places to Eat in Waterloo
During our stay, we ate at a lot of different restaurants and a few really stood out! My absolute favorite was Rockets Bakery. The donuts were honestly the best I've ever had. I ordered the strawberry mango filled donut and it was amazing.  We planned to get more donuts before we left for home but forgot in the hustle of checking out of the hotel. I was so sad! If I am ever in the area again you can bet I'm going out of my way to stop in.
For a sit-down breakfast, we visited the cozy Morg's Diner. With pancakes bigger than your head and friendly service, a stop in at Morg's is a must in Waterloo. Just keep in mind you may need to wait for a booth to open up. The restaurant is popular and is on the small side.
Newton's Cafe offers a great assortment of breakfast and lunch options in the downtown area. A club sandwich is one of my favorite menu items, and this is the best club I've had in quite a while.
For a fine dining experience, I recommend The Brown Bottle, an Italian restaurant.  We all enjoyed our meals and were stuffed afterward. My husband's seafood lasagna was amazing and the twice-baked potatoes and fresh bread were definitely the highlights of the meal!
Rodney's Kitchen is located in downtown Waterloo and offers a mixture of soul food,  Mediterranean and classic American fare. When we visited for lunch we had a limited menu because Rodney was on vacation, but we really enjoyed our selection of wings, po' boy, and catfish.
The most impressive part of this simple restaurant was their free sack lunch program which offers free bag lunches to any kid who needs it. We saw no less than 40 kids stop in to get their free lunch in the short time we were there. At one point the workers had run out and were making more while simultaneously helping paying customers. It was really special to see and my youngest felt proud to add some money to the donation jar. If I was local I would eat here often to support such a wonderful business owner giving back to the community.
Other great locations we tried included Basil's Pizza for specialty wood-fired pizza, Here's What's Poppin', a new sack shop in historic downtown, and Blue Iguana, an upscale Mexican restaurant located in the Courtyard Marriott. We've heard great things also about Hanson's Dairy for hand-scooped homemade ice cream and SingleSpeed Brewing located in a former Wonderbread factory.
Where to Stay in Waterloo Iowa?
We stayed in the Courtyard Marriott Waterloo Cedar Falls. This hotel was built in the historic John Deere factory and is right next to the John Deere museum and very close to downtown and the Museum District. We found it to be within easy driving distance to all other destinations on our trip.

The most impressive aspect of this hotel is the sheer size. Because it was a factory before, the windows and ceilings are extra tall and our two-bedroom suite was huge! I've never stayed in a hotel with so much extra space. We loved that there were two separate bedrooms and bathrooms so we had some privacy from the kids.

This hotel had plenty of the usual amenities including a fitness center, pool, restaurant, and bistro, although there is no complimentary breakfast. The pool is rather shallow at just under 3 feet but it made it easier for our kids to play and they absolutely loved it.

Where to Get the Perfect Picture in Waterloo
If you are looking for those Instagram-worthy shots in Waterloo, I discovered two locations that just might be perfect. The first is the Butterfly Meadow at the Cedar Valley Arboretum and Botanic Gardens.
Snap photos and enjoy the peace and quiet as you walk through a full meadow with plenty of butterflies. We had the path to ourselves later in the day and appreciated the beauty in these simple flowers.
If you like a more urban setting or love cool architecture, try this amazing covered pedestrian bridge found on fourth street.
This arched street canopy overlooks the downtown area and the Cedar River, making it a beautiful view.
Waterloo, Iowa is a vibrant community filled with plenty of art, culture, family activities, and great dining experiences. I found it much like the town we currently live in which embodies what we love. Waterloo is the perfect blend of smaller town living while still having plenty to discover. We visited for four days but we easily could have stayed longer. After our family adventure in Iowa, we definitely want to come back and explore more of the state.
What are your favorite things to do in Waterloo, Iowa?