My daughter was fascinated with our recent viewing of Peter Pan (reviewed here). We used this inspiration for a pirate craft-filled day. We have a Disney book series that has simple craft ideas to go along with each of the popular stories. When I mentioned crafting on our pirate day she used her own imagination to come with an idea though (those book ideas weren't interesting enough apparently). She ran to her room and returned with a pink hair clip exclaiming, "I want to make TinkerBell with this!" Oh bother. I think our creative crafting out of things found around the house has made an impression on my little girl. Sooo we rolled with it!
I grabbed our craft box and put together the following (and then hoped I could deliver my promise): rubber band, clothes pin, decorative paper, hair bow, pom pom, pipe cleaner, scissors, markers (tin foil optional if you chose to add a sword for Peter or Hook shown below). This is what I could put together so get creative with what you find around the house (or your local craft store if you're so inclined to actually plan ahead for your projects). I've explained the steps I took to build these little clothes pin characters below the photo block.
1) Pinch your pom pom with the clothes pin to make the head and body.
2) Wrap craft paper around the clothes pin and tape into place to make dress/clothes (this sparkly paper was a gift bag!).
3) Fold pipe cleaner in half and thread throw opening in clothes pin, leaving a loop in the back.
4) Thread rubber band through pipe cleaner.
5) Attach hair bows to each side of the rubber band and wrap around the clothes pin until it's tight. (You should have the wings in the back with the pipe cleaner sticking out the front to make arms)
6) Trim pipe cleaner and curl sharp ends to make hands.
&) Use a marker to draw eyes and color feet/shoes/pants on the bottom of the clothes pin. (If you have craft eyes or paper to glue on for the face it would likely work better than the markers on pom poms we used – but hey we made it work!)
Of course once we got Tink done (I was pretty proud actually) she wanted play mates for her and jumped out of her chair to find something to make Peter and Hook. Of course, what was I thinking? See the pictures below for pictures of those creations.
Once we had them made my daughter insisted that Hook and Peter have swords. Again, … what was I thinking? I got out the tin foil and fashioned little swords and added pipe cleaner hats on all of them while I was at it.
TIP: Since Peter Pan didn't have wings to attach I threaded the "arms" of the pipe cleaner back through the loop to secure it to the clothes pin. You could likely do the same thing for TinkerBell and attach her wings to the back. Play around with it if you think of a better idea. Don't be afraid to try new things with these and leave a comment if you find new ideas.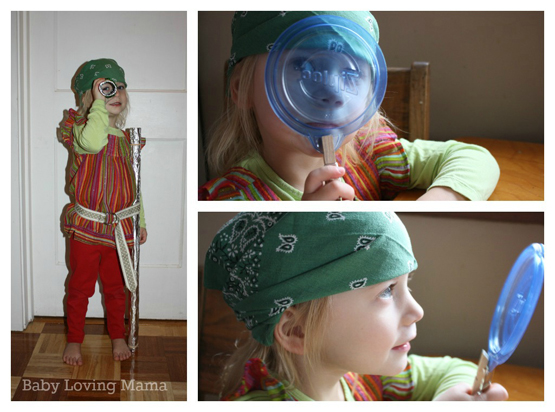 After our clothes pin friends were made she agreed to make the far less exciting pirate accessories from the craft book. Try these simple ideas to complete your little pirate's costume. A toilet paper roll and gift wrap roll with tin foil wrapped around became her spy glass and sword (fasten with a belt). A clothes pin with clear container lid becomes a "magnifying" spy glass. Make a game out of going on a treasure hunt with their spy glasses and beware of the ticking croc!