The very first Tiny Love product I ever owned was a mobile for my first son Lucian back in 2006. I put it on my registry because I loved the fun colors and design and it had fabulous reviews. He loved it and so did his brother Warren after him. I always swore that if I ever bought another mobile it would be from Tiny Love.
When Wes was born we didn't immediately put up his crib. Instead he slept in a bassinet so I didn't consider getting another mobile until we had our crib put up. When Tiny Love sent us the the My Nature Pals Mobile, this fall, I really regretted not getting it up sooner.
Variety of illumination options: overhead light, music box light and unique lights movement emanating from the dangling toys
Unique nature theme: leaf-shaped music box and adorable set of smiling nature pals
Musical variety: 9 different tunes in 3 categories
30 minutes of non-repetitive music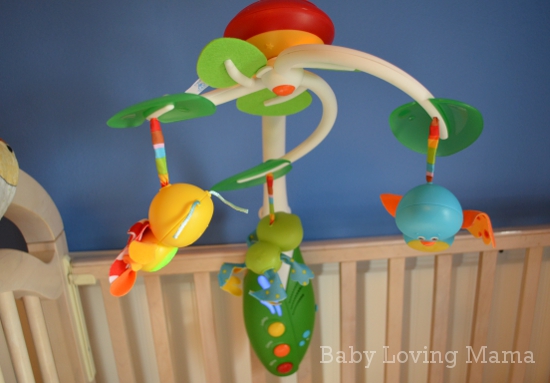 I love this mobile! While it doesn't have the same wild colors that our other mobile had, this one works so well with nursery decor.  I forgot just how convenient a good mobile can be to keep a young infant entertained. I could have used mobile when my son Wesley was younger to buy me some time to do things like take a quick shower or clean up a bedroom.
One of my favorite features of this mobile is the lights within each character's belly. My son was mesmerized watching the lights turn on and off as they spun around. This mobile offers three different categories of music with several choices in each category depending upon whether it is playtime or time to go to sleep. I also appreciate two choices in volume as well!
Most mobiles are made solely for the newborn and meant to be removed once your baby can start start to sit up and reach but this one is designed for 0-12 months. When having the full mobile is a hazard for your baby, simple remove the arm and keep the bottom portion of the mobile for its music and soft light.
Now that Wes is older he can easily switch between the music options himself (which he loves) and we use this daily as part of his go to sleep routine. I like to use it best when I put him in his crib very sleepy but not fully asleep. The light isn't as bright as other toys and because there is nothing to watch, it doesn't stimulate him like other crib toys can. It is simply soothing lullaby music with a bit of soft light to help him drift off the rest of the way.
BUY IT:
The Tiny Love My Nature Pals Mobile
has a list price of $44.99 but with the Tiny Love Friends and Family sale, you can save 20% off and get free shipping with promo code "Friends" at checkout at TinyLove.com. But hurry, this sale ends TODAY! You can also find it at major retailers including our affiliate Amazon
.
Disclosure: I received a sample for the purpose of this review however all thoughts remain 100% my own!