If you follow me on instagram or twitter you probably have already caught a glimpse into my trip to Puerto Rico, courtesy of Hilton HHonors. And to say it was an amazing experience would be an understatement. I was one of three bloggers chosen to experience one of the Relaxation Getaway options in the Great Getaway Sweepstakes from Hilton HHonors.
We got off to a bit of a rocky start as a flight delay pushed what should be a 35 minute travel time from San Juan to the small town of Dorado  to more than 1 1/2 drive during heavy Friday rush hour traffic. Since I had never met Debra from A Frugal Friend or Jeni, a contributing writer for Jen's Blah Blah Blog, we enjoyed some time getting to know each other.
Upon arrival to the Embassy Suites Dorado del Mar Golf and Beach Resort, we experienced what is typically reserved for VIP guests. A greeting of staff who in unison exclaimed, "Welcome to Puerto Rico!" (Cross off "feeling like a celebrity" on my non-existent bucket list.)

We were immediately handed our very own Coco Loco Signature Drink and introduced to the hotel staff and what I would call our personal fun coordinators from the Hilton HHonors public relations team, Michelle and Matt. They were with us every step of the way during the trip and put together a wonderful itinerary to give us a relaxing and fun filled weekend. I was so  impressed with how they both rolled with unforeseen obstacles and made everything run as smoothly as possible. I am very thankful they were there and we had a blast as a group!
 (Debra, Jeni and I)
Our rooms certainly reminded me that we were on a tropical vacation. And while I had to resist the urge to immediately crawl into this amazing bed, I took a few moments to explore my room before heading down to our hotel reception.
The towel animals reminded me of my honeymoon cruise and made me immediately smile. I never wanted to break this little guy up so I pushed him over to the side of my bed and slept with him on the corner.
While some of gifts we received in our room were special for us, including a gift basket filled with souvenirs and tastes of Puerto Rico, some were simply part of staying at the Embassy Suites.
From little details like robes and monogrammed towels to must-haves like bug spray, sunscreen and toiletries, Embassy Suites has thought of almost everything to make your stay more enjoyable.
One of my very favorite spots was the balcony. I often relaxed out here in the morning and at night to listen to the sounds and feel the warm air. It was so peaceful and the views. Oh the views!
On Friday night shortly after our arrival we headed down for a wonderful reception at Pool Bohio located just past the main lobby. The chef certainly outdid himself with so many amazing appetizers. I loved everything I tried and could have eaten my entire meal here.
But the surprise of the night were the professional salsa dancers who put on a great show for us! They made salsa dancing look so effortless…until they called us over to join them.
I snapped this photo right before joining in on salsa lessons which were anything but private. Debra, Jeni, Matt and I had a fabulous instructor who did a great job of breaking all the steps down. Unfortunately we weren't all dressed properly and I struggled a bit in my high wedge sandals. I won't even mention the dozens of people watching us either. But that didn't stop any of us from having fun and dancing through at least three songs. (Video does exist but I'm not in possession so I don't even have to feel guilty about not sharing. Perfect.)
This ended up being one of my favorite experiences of the trip, no matter how silly I looked. And it meant we were able to really work up an appetite for our dinner at the Paradise Cafe.
The four course meal offered a glimpse into the local cuisine and everything was absolutely delicious. My very favorite dish of the night was the Coconut Pudding which featured a caramelized pineapple chip. The service was superb and the atmosphere was elegant without feeling stuffy.
The hotel offers many great amenities including  complimentary cooked-to-order breakfast and evening Manager's Reception, yoga on the beach, spa services including poolside massage, Chi Rodriguez-designed golf course and of course the Dorado del Mar Casino. Kids can also enjoy the video arcade and a playground near the lagoon swimming pool.
And of course this doesn't include the natural beauty that is everywhere you turn.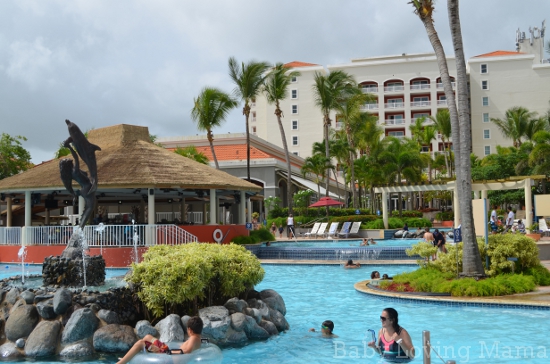 Even without all the other extras available, the relaxation opportunities to lounge around the pool, beach or on your own private balcony are always present.
A little reminder to slow down and just enjoy the sun, warm breeze and the view.
The scenery is so picture perfect, I often felt as though I had walked into my own postcard. Could this actually be real?
But it is. It is very, very real. And it could be you!
Travel is calling. Will you answer?
Enter to Win
If this resort sounds amazing (and it truly is) then be sure to enter to win the Great Getaway Sweepstakes from Hilton HHonors for your chance to experience  your own getaway. Be sure to vote daily through June 21st for your choice of Relaxation Getaway, including a stay here in Dorado, Puerto Rico! And starting June 24th you can begin voting on the adventure category. The Great Getaway Sweepstakes ends August 4, 2013.
Be sure to watch for my next post which will detail all the fun we had relaxing while taking in the sights and sounds of Puerto Rico. I've got some more breathtaking shots I can't wait to share with you!
 Update: See Part Two of my Puerto Rico trip! 
__________________________________________________________________________________
Disclosure: This is a sponsored post on behalf of Hilton HHonors however all thoughts remain my own.