I'm a recent college grad looking to build my office attire. In my area, if you want trendy clothes your choices are very limited. Usually traveling over an hour to our closest major shopping area is in order. As a mother of five with special needs, that creates many challenges. When Golden Tote asked to do a review for them I was over the moon.
Normally I tend to stay away from ordering clothes online. While my size is small, my body has some imperfections after having my children. Things don't always fit the way I like. Trying things on is how I prefer to buy my clothes. However, Golden Tote asks such thorough questions to understand your style. By the time I finished all my worries were gone.
How Golden Tote Works:
Golden Tote is the ultimate surprise grab bag. You get stylish clothing for amazing deals! The founders are clothing designers from LA who work with fashion brands to get you deep discounts and they also design clothing items as well. Each tote is personally curated and includes a variety of items to complement your wardrobe?·  You can choose from three tote offerings:
The Mini Tote: Contains two items; one you choose and another we pick for you for $59.
The Golden Tote: Contains five items; two you choose and three we will pick for $149.
The Surprise Tote: Contains three items, all of which our stylists pick for you for $89
Choose 1-2 items to go into your tote, they surprise you with the rest based on your style profile, which you create on the Golden Tote site. A new sale launches the first Monday of every month!
I received The Golden Tote so I chose two of my favorite pieces, and they surprised me with an additional three. Since the surprise items aren't usually part of the site that added to the excitement of wondering what was coming in my tote.
Inside my lovely tote was my first pick, the Maximum Style Dress. This tank dress is so soft on top and the skirt feels so silky smooth. Wonderful for those days you wish you could just stay in your pajamas all day, but life says you can't. Very versatile for many occasions that looks great with little effort.
My second choice, the Ribbed Pencil Skirt, again is so soft on the skin. Love how subtle the pattern is on the skirt. Makes it easy to go with everything yet adds fun. Great business attire by day and looks fabulous for a night out on the town with just a few simple changes.
The first surprise was a gorgeous blue wrap dress. This dress moves with me and accents my curves nicely. Because it's a wrap dress it also hides areas I want hidden.
The black and white hooded cardigan was my second surprise. Love it! Since black is my main neutral color in my wardrobe it'll go with pretty much everything I own.
Being lightweight it's great for chilly summer nights but will be a staple during the cooler fall and winter months.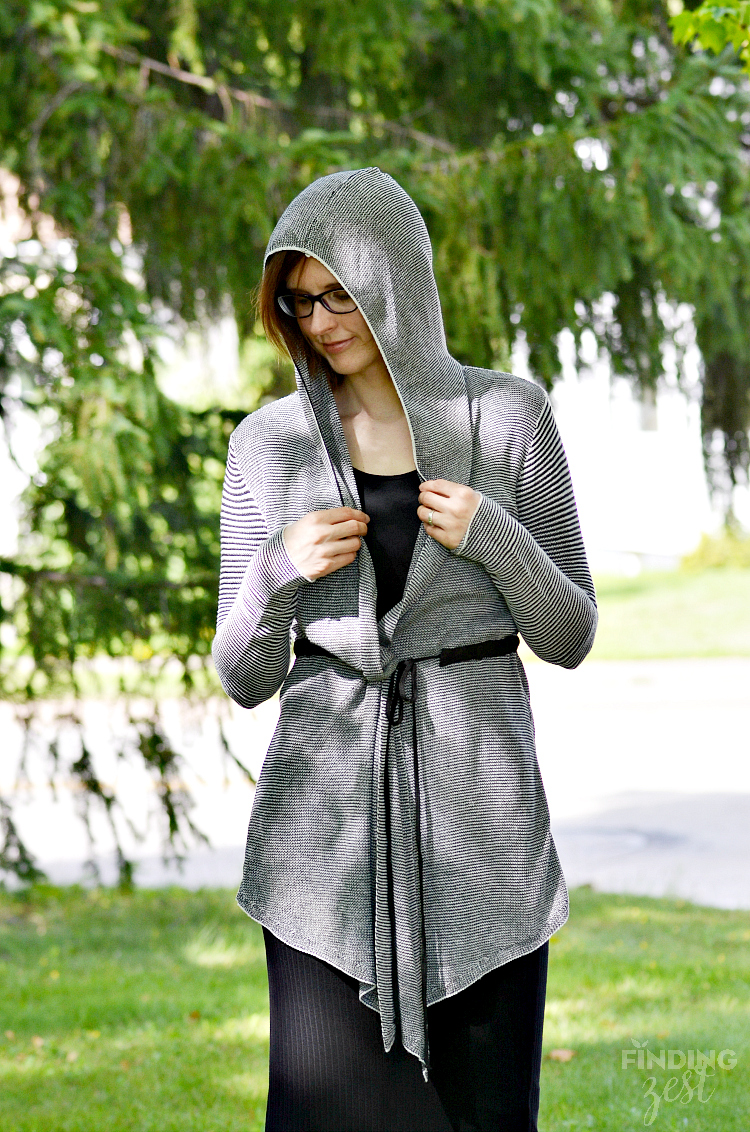 The navy shell was my fifth item. I like how it covers my stomach no matter how many ways I try to position my arms. Only downside for me (from a woman that can't iron) this tank needs to be ironed.
Overall, it was a pleasant experience with Golden Tote. Anything that makes shopping easier for me is a plus. I foresee going back for more totes in my future.
What happens if you don't love everything you received? 
Golden Tote has an updated return policy, which allows to you to keep individual items you like and return the ones you don't.
So what are you waiting for? Check out Golden Tote and give this fun service a try for yourself!
Disclosure: I received The Golden Tote for my time to share this post. All thoughts are my own.