When it comes to accessories, I love having a variety of classic and trendy options. I look for pieces which have plenty of versatility and allow me to create different looks to get more bang for my buck. I also like high quality jewelry that I don't have to worry about tarnishing or staining. Some of my favorite pieces have been those I've purchased from Stella & Dot and why I joined their affiliate program. My all time favorite statement ring is this one from Stella & Dot shown in my vegan leather clutch post earlier this year.
When I was offered the opportunity to try out any piece from their Versatility Shop, I found it hard so hard to choose. While I loved the idea of some longer necklaces, I felt I'd get more use out of something with a shorter chain to compliment a scoop or v-neck shirt style.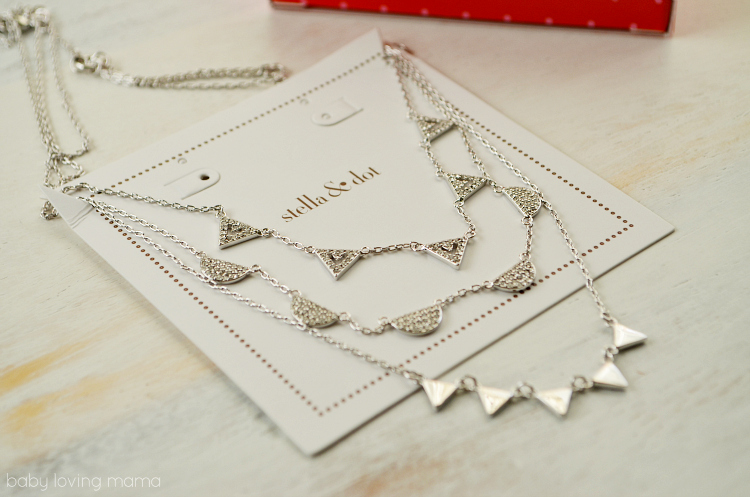 I went with the Stella & Dot Pavé Chevron Necklace in silver. Also available in gold, this 3-in-1 necklace can be worn with 1, 2 or 3 chains. It is 17″ long with a 2 " extender.
Wear with all strands clipped together as one necklace, or unclasp any of the strands to create you favorite combination.
Not only are there removeable chains, but you can also wear this necklace going either direction. When I wore this piece last week, I chose to have the middle necklace face backwards so it displayed the shining silver side.
Because of all the different combinations, I can really have fun layering this piece!
If you like this look, check out some other amazing pieces in a similar style!
Check out the Versatility Shop so you too can enjoy multiple ways to wear your Stella & Dot jewelry and be sure to take a closer look at their selection of rose gold! I think I'm in love. (Don't forget those on your holiday shopping list when you browse.)
Stella & Dot Stylist Opportunity
Love Stella & Dot jewelry and the idea of earning extra income? Well then you should consider becoming a Stella & Dot Stylist! While we all love jewelry (and money!), being a Stylist is about so much more. It's about having the freedom to style your own life and truly enjoy your work. If any of those things intrigue you, then October is the month for you to pursue your passion for style.

From now through November 2nd, anyone who signs up to be a Stella & Dot Stylist will receive an extra $100 in jewelry and accessories as a bonus. You'll also get …
A fabulous business to call your own
The ability to work from home and earn extra income sharing the jewelry that you love with others
Training and support from amazing and successful women
Free jewelry, as well as significant discounts
Expense paid vacations
A personal website and online business center and much, much more!
Sign up as a Stella & Dot Stylist today. It's never too late to style your life the way you want it.
Thank you to Stella & Dot for providing a sample. This post contains affiliate links and I will be compensated if you make a purchase after clicking on my links, which I very much appreciate!  All thoughts are my own!